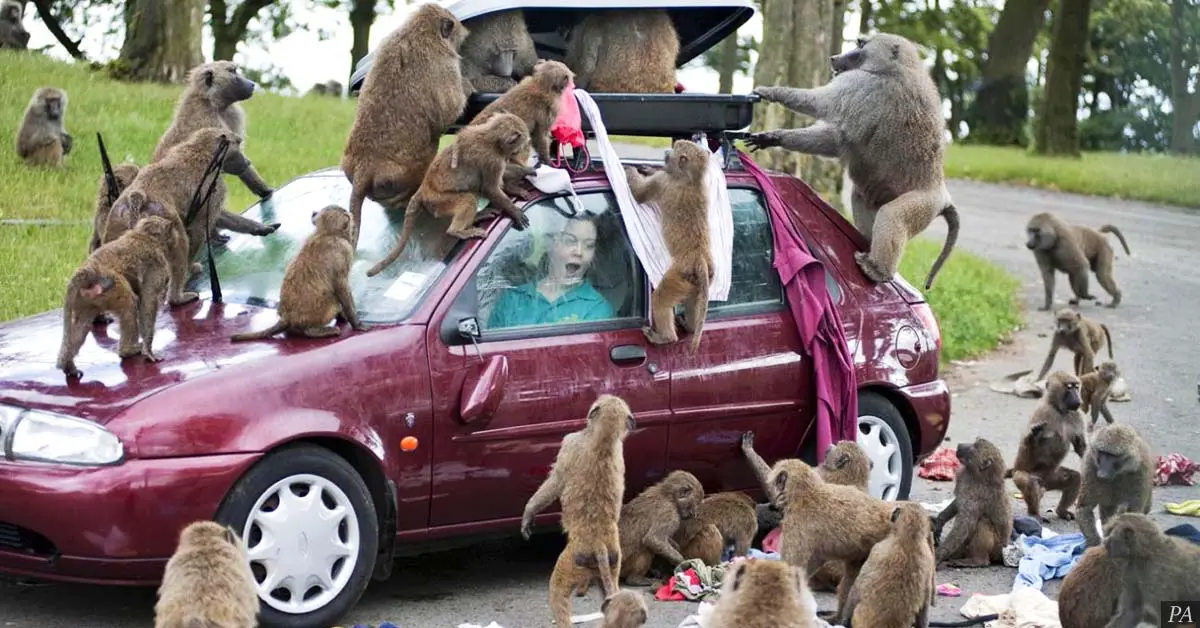 Baboons armed with 'knives and chainsaw' spotted in popular safari park
Knives, screwdrivers, and even a chainsaw were only some of the things carried by baboons at a popular safari park.
The monkeys at the Merseyside's Knowsley Safari Park already have a bad reputation, being caught numerous times on camera while stealing stuff from visitors' cars, Yahoo News reports. But it came as a complete shock to the park staff when some of the baboons were given weapons by tourists, who just wanted to have a laugh, as revealed by The Times.

Image credits: PA
An employee of the safari park said:
"We're not sure if they are being given weapons by some of the guests who want to see them attack cars, or if they're fishing them out of pick-up trucks and vans."
Reportedly, the curious primates often check out people's toolboxes and grab shiny objects such as screwdrivers. However, they were now seen carrying around far more dangerous weapons. The staff member added:
"One of the baboons was seen lugging around a chainsaw."
Some of the baboons were also seen with knives.
The staff suspects the animals were armed on purpose by considerable visitors. 
Although the monkeys sometimes cause damage to people's cars, this incident didn't appear to be initiated by the animals.

Image credits: PA
The safari park alleged that baboons carelessly walking around with weapons was likely to be an urban myth. As they are known for taking stuff from people's vehicles, the park believes some tales of the monkeys being armed had "grown in exaggeration" to make the stories seem more exciting.
Knowsley Safari Park's website includes a thoughtful message for guests planning to visit the Baboon Jungle:
"If you take a drive through our Baboon Jungle, we're unable to return any car parts that our cheeky baboons may take."