At least 25,000 Koalas Dead as Australia fears native wildlife may never recover from latest fire disaster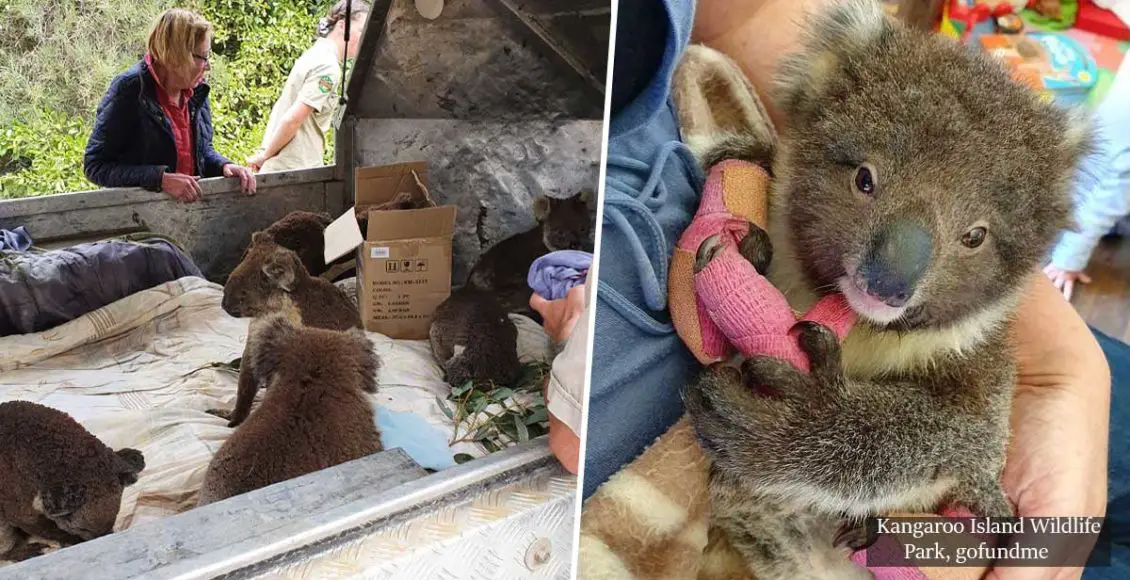 At least 25,000 koalas are believed to have perished in a monstrous wildfire in Australia that may have unspeakable consequences for the survival of the species. 
The hellish inferno on Kangaroo Island, which was thought to be a safe place for koalas because its population had escaped a horrific Chlamydia epidemic, was described as "virtually unstoppable" by firefighters last Saturday.
On Friday, koala savior Margaret Hearle informed The Telegraph that yet another vital koala group, named "the gene pool," due to its steady health, had been "wiped out" in Crestwood, New South Wales.
Video materials shot by an ABC cameraman in New South Wales last Sunday showed the burned bodies of hundreds of kangaroos and sheep lying by the roadside.
"Sorry to share these images near Batlow, NSW. It's completely heartbreaking. Worst thing I've seen. Story must be told," the camera man said on Twitter.
Chillier temperatures and mild winds somewhat stabilized the situation in Victoria and New South Wales last Sunday, but experts warned extremely hot dry weather is set to return within days and that fires will keep on burning for weeks to come.
Australian Prime Minister Scott Morrison stood by his handling of the crisis, saying "blame doesn't help anybody at this time and over-analysis of these things is not a productive exercise."
Wildlife experts estimate that around 500 million birds, mammals, and reptiles have died in the fires during the last few weeks. It is feared that endangered species in sanctuaries such as Kangaroo Island, which also held some 50,000 kangaroos before the wildfire, have been lost to the world.
Kangaroo Island Wildlife Park co-owner Sam Mitchell informed local media the area was expecting to tend to hundreds of starving and injured koalas in the weeks to follow and is constructing additional enclosures in preparation.
Australia 🇦🇺 is on FIRE in couple of days.
Cry for NATURE#PrayForAustralia #wildfires pic.twitter.com/bTrBByDYZB

— Freddie (@fredrickjustne) January 6, 2020
Around $13 866 284 worth of bluegum and pine trees on plantations were also destroyed.
Temperatures in New South Wales are set to go over 40 degrees C yet again on Friday, and Victoria tree blazes remain at extreme levels despite the cooler weather and easing winds.
Four people have been reported missing in that state, and the air and sea evacuation from Mallacoota, a place that was cut off by the fires, is continuing the search.
47-year-old Dave Harrison passed away due to a heart attack in New South Wales while trying to save a friend's property in Batlow.
His brother Peter said he,
 "was just that sort of guy… He would help anyone at the drop of a hat – he would drive hours to help you.

They had a plan to get out, but I just think he was overcome by the heat, the smoke, the exhaustion, running around putting out spot fires everywhere,"  he told Nine News.
Nearly 30% of koalas may have been killed in Australia's #wildfires. This dehydrated koala approaches cyclists for water. This is heartbreaking, very sad😥😥 pic.twitter.com/jpo1FmRxh3

— Dan Singh Lodhi🇮🇳 (@DanSingh01) January 4, 2020
At least 24 people have passed away during the wildfires. It is thought that at least 60 more homes were destroyed in New South Wales and that number is expected to go up significantly as rescue teams conduct further assessments.
It took several weeks for the government to release an additional $11million for funding waterbombers, while Australian comedian Celeste Barber raised $25million in donations for the NSW RURAL Fire Service from people around the world in the period of three days. Actress Nicole Kidman and American singer Pink gave half a million dollars each to help the cause.
What are your thoughts on this horrific disaster? Let us know by joining the conversation in the comments and please share this article if you've found it informative.