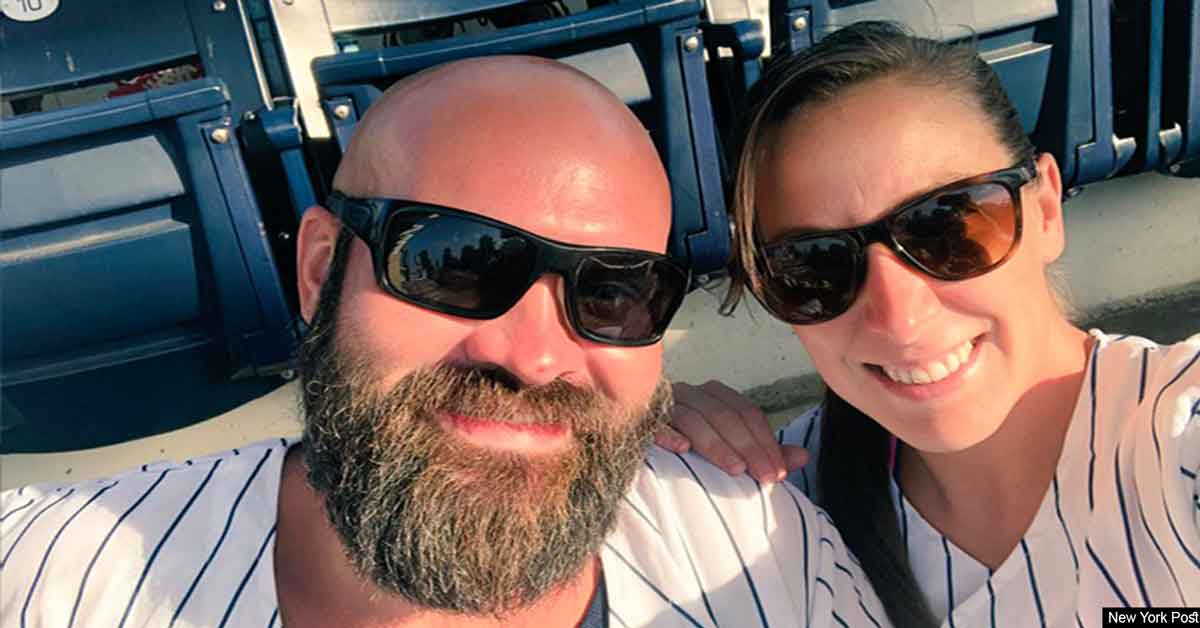 Ashli Babbitt's Husband Demands Identity Of Capitol Officer Who Killed Her Be Revealed
The husband of the woman who was shot dead during the January 6 Capitol breach, is pleading with authorities to publicly identify the officer who killed her. 
Her name is Ashli Babbitt and she was a 14-year Air Force Veteran from San Diego. Recently, her grief-stricken husband, Aaron, shared his frustration on Fox's 'Tucker Carlson Tonight'.
Last April, the Department of Justice said it would not be charging the police officer who shot Ashli as she tried to make her way through a broken window of a door that led to the Speaker of the House's Lobby. She was brought to a hospital in critical condition and later passed away from her wounds.
According to the Department of Justice, the Metropolitan Police Department had "conducted a thorough investigation" of the shooting but released no further information.
Her husband told Tucker Carlson recently that he is still unaware of the identity of his wife's killer.
Aaron is now suing the Metropolitan Police Department for withholding information about the officer's identity.
"Somebody in D.C. knows, I think a lot of people know, but nobody is telling us. And the silence is deafening," he told the show host." I never expected to lose my wife to political violence," he added.
Ashli Babbitt was an unarmed female veteran who served her country with no previous criminal history.

George Floyd was a drug addict lifetime criminal who was being detained for committing a crime.

Why does only one get justice?

— Nick Adams (@NickAdamsinUSA) June 15, 2021
Aaron said the press's characterization of his wife makes him sick.
"There has never been a person Ashli ran across in her daily life that didn't love her and wouldn't remember her in some way, shape or form for the rest of her life," he said. "But this is the game. This is the social media craziness that people just run with a theory and just take off with it. You know, it is up to us and the ones that love her and people like you for not giving up on it. So I appreciate that, Tucker."
Rep. Paul Gosar (R-Ariz.), at House hearing, says Capitol police officer was 'lying in wait' for Ashli Babbitt before shooting her. Again says Babbitt was "executed" by police, demands name of officer involved in shooting

— Josh Gerstein (@joshgerstein) June 15, 2021
Aaron's lawyer told Tucker that he has reason to believe the officer who shot Ashli is the same person who left his loaded weapon in a public men's room inside the Capitol building in 2019. 
"So if it turns out that she was shot for reasons — again, they still have not explained to us by a Capitol police officer who left a loaded handgun in a public men's room and kept his job somehow, do you think that is why they are hiding the truth?", Tucker asked.
The Capitol cop who killed #AshliBabbitt must be ID'd.

If she was Antifa or BLM, we'd know his life story and those of his family going back generations.

America has a right to know who he is and to examine his disciplinary and use of force histories.

— John Cardillo (@johncardillo) June 15, 2021
The lawyer replied by saying:
"I think one of the reasons they are hiding his identity they don't have a good reason for this shooting," the lawyer said. "I think if Ashli Babbitt had been brandishing a firearm and she was shot here the officer would be identified by now and pinning a medal on him. So I don't think we have an explanation for the shooting and why they have not identified [the officer responsible.]"
Putin suggests Ashli Babbitt was victim of 'assassination'. He's fully aware 450 people were arrested after entering the Capitol, "They didn't go there to steal a laptop. They came with political demands."

The world is watching.#BidensPoliticalPrisoners https://t.co/7RVUvFxrBG

— Jessie Jane Duff (@JessieJaneDuff) June 16, 2021
In April, the Department of Justice made a statement saying "officials determined that there is insufficient evidence to support a criminal prosecution."
Asked by Fox host Tucker Carlson, Terrell Roberts, attorney for family of Ashli Babbitt, said it is his belief that the Capitol Police officer who fatally shot Babbitt on Jan. 6 is the same person who left a loaded handgun in a public men's restroom at the Capitol. pic.twitter.com/pzw8oFdvRy

— Daniel Chaitin (@danielchaitin7) June 15, 2021
What are your thoughts on this case? Let us know by joining the conversation in the comments and please share this article if you've found it informative.