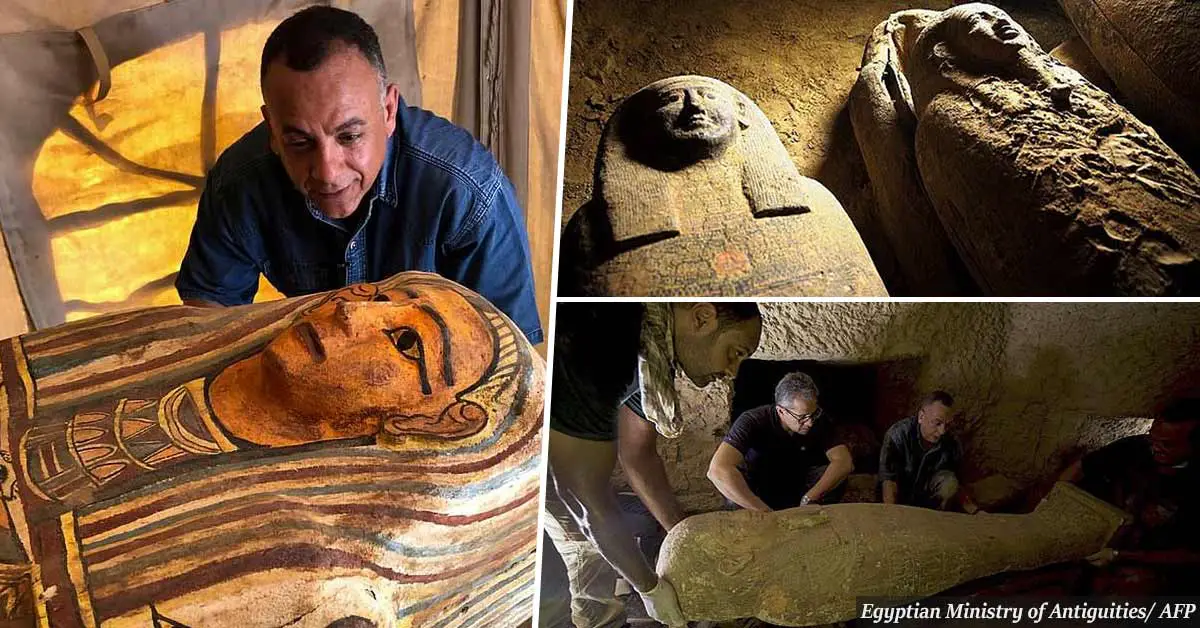 Archaeologists uncover 27 ancient wooden coffins buried for 2,500 years in Egypt in largest discovery of its kind
Archaeologists have unearthed 27 mummies buried more than 2500 years ago in an ancient necropolis in Egypt. 
In what is currently believed to be the biggest discovery of its kind, 13 coffins we found earlier this month with 14 more found two weeks after.
At the moment, the identities of the dead are still a mystery.
The sarcophagi were placed inside a well at a sacred site in Saqqara, in Cairo. 
Saqqara was declared a World Heritage Site by The United Nations Educational, Scientific and Cultural Organisation (UNESCO) as it has been a functioning burial ground for more than 3000 years, the BBC reported. 
The findings were made by archaeologists who had dug down the 36ft well under harsh conditions. 
Photos of the findings showing the astonishing sarcophagi were made public alongside other artifacts which were also found by the experts.
The country's antiquities ministry said:
"Initial studies indicate that these coffins are completely closed and haven't been opened since they were buried".
Antiquities Minister Khaled al-Anani did not immediately announce the discoveries as he wanted to visit the site first, the statement reads. 
As the team is currently gathering more information on the findings, excavation works are being continued in the area. 
The ministry has said that more secrets will be made public later on.
Sarcophaguses are normally made of stone or wood and were used to bury the dead in ancient Egypt, Rome, and Greece.
They often feature beautiful colorful sculptures, inscriptions, and paintings.
The earliest sarcophagi were used by Egyptian Pharaohs of the 3rd dynasty, as per National Geographic.
As the ancients believed in the afterlife, the coffins were designed to be a permanent resting place for the wealthiest and most notable people who passed away.
For Sky News' report on the story, please see the video below.
What are your thoughts on this astonishing discovery? Let us know by joining the conversation in the comments and please share this article if you've found it of value.