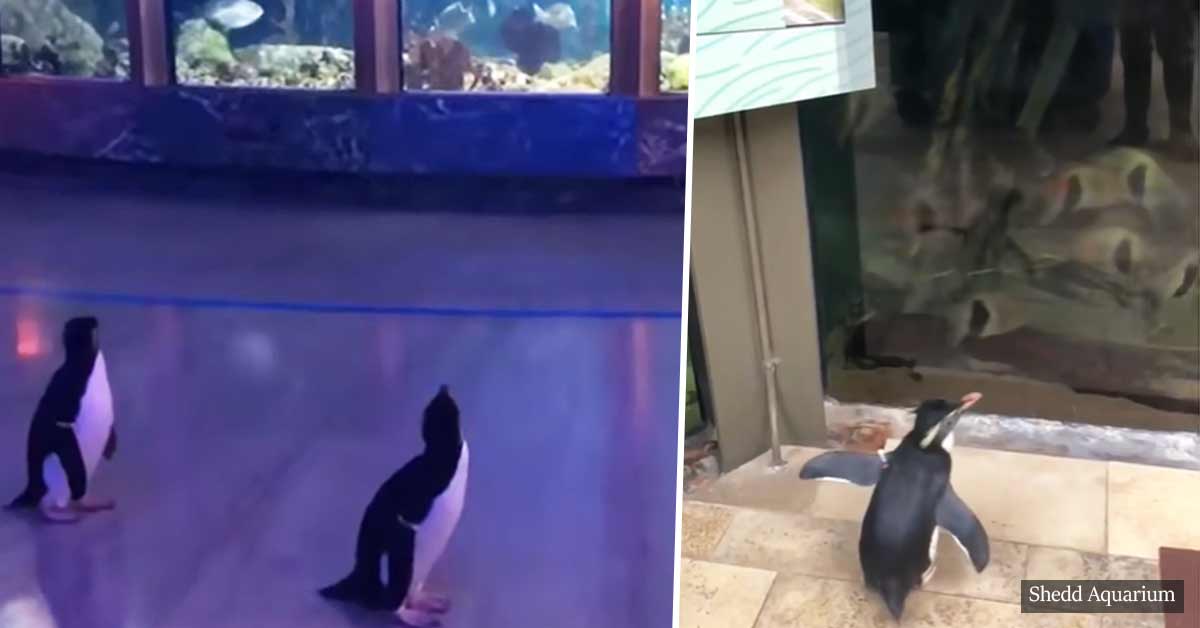 This aquarium lets penguins explore and visit other animals as it's closed to humans
The Chicago Shedd Aquarium is closed to the public until March 29, but this doesn't mean no one visits the animals.
While they won't be able to welcome people out of an abundance of caution, they still let their penguins enjoy a guided tour of the aquarium.
They have recently shared a heart-melting video of two adventurous penguins, Edward and Annie, exploring the area and meeting the other animals at the aquarium.
The caption of the video explains that these adorable penguins are "a bonded pair of rockhopper penguins, which means they are together for nesting season".
However, Edward and Annie weren't the only ones to take a tour around the Shedd Aquarium. A male penguin, named Wellington, was the first to see their home from the perspective of a human visitor.
Wellington is captured walking around the Amazon Rising exhibit. He is clearly excited about seeing his potential dinner swimming on the other side of the glass doors. This curious penguin was part of a rockhopper group that explored the aquarium, just like regular human visitors.
The Shedd Aquarium shared with the Chicago Tribune:
"Without guests in the building, caretakers are getting creative in how they provide enrichment to animals. Introducing new experiences, activities, foods and more to keep them active, encourage them to explore, problem-solve and express natural behaviors."
Meanwhile, the Shedd Aquarium will continue to share online a variety of animal activities and experiences. In such unusual times, they promise they would keep posting interesting details about the life of the animals.
On their website, Shedd's staff explains that until March 29, all scheduled events and programs will be canceled.
However, their dedicated caretakers and vets will continue to take professional, high-standard care for their animals on site. They also invite their visitors to stay in touch with the aquarium via their online platforms.
"And, until we can welcome you back, we invite you to stay connected to them behind the scenes via Shedd's Facebook and Instagram, as well as explore, experience and learn more about the aquatic animal world through our other digital resources."
Hopefully, soon the aquarium will open its doors to people as well. Until then, the penguins have an amazing opportunity to get to know the area. Besides, they can meet and befriend the other animals they share their home with.