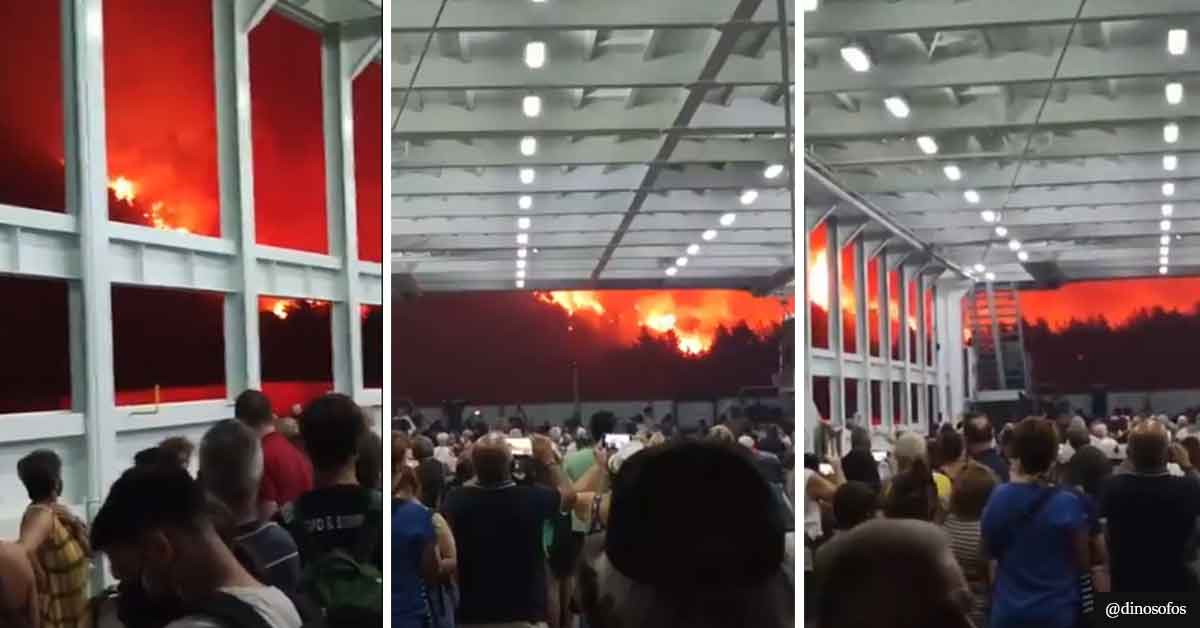 Apocalyptic Footage Of People Fleeing From Greek Wildfires Compared To Disaster Movie
Haunting, natural-disaster-movie-like footage from Greece has been shared, where wildfires have forced thousands of horrified people to flee their homes.
The infernos have been wreaking havoc in Greece and Turkey for a week now, and 8 people have lost their lives as a consequence. Civil Protection chief Nikos Hardalias said firefighters were faced with "exceptionally dangerous, unprecedented conditions" spanning through more than 150 blazes.
Around 65 wildfires were still ravaging the country over the weekend, and locals from Limni on the island of Evia were forced to evacuate by sea.
Απίστευτες εικόνες από πλοίο στη Λίμνη Ευβοίας που απομάκρυνε κόσμο από τις ακτές όπου έφτασε η μεγάλη πυρκαγιά την Παρασκευή 6 Αυγούστου 2021.
Βίντεο Stavros Dev pic.twitter.com/bSrb7BbfEu

— meteo.gr – Ο καιρός (@meteogr) August 6, 2021
A video shared by @meteogr on Twitter shows people on a ferry surrounded by catastrophic flames.
The video has already been seen more than a million times.
One commenter wrote in response:
"Not at all comfortable with the resemblance to a scene from an actual disaster film." 
Another person said:
"Blimey it's like the ferry leaving the island on fire in the latest Jurassic World film. Scary."
A third commented:
"Looks like a scene straight out of an apocalypse movie."
Hundreds of people in Greece are rescued from an island near Athens to escape wildfires https://t.co/qPq6vj2Gqj pic.twitter.com/mMPPqbfcE8

— BBC News (World) (@BBCWorld) August 7, 2021
Fighting the Apocalypse
According to Hardalias "all forces available are taking part in the fight… over the past few days we have been facing a situation without precedent in our country, in the intensity and wide distribution of the wildfires, and the new outbreaks all over [Greece]," AP reported.
Sotiris Danikas, head of the coastguard in Aidipsos on Evia said:
"We're talking about the apocalypse, I don't know how [else] to describe it."
Wildfires in Europe are becoming more frequent, intense and devastating. It is now time to develop appropriate #DRR strategies and minimize the impact of these large-scale fires. https://t.co/Te20rDO5cY pic.twitter.com/7n5wxU3SBi

— UNDRR (@UNDRR) August 6, 2021
Authorities in Greece and Europe have pointed to climate change as the reason for the fires, after similar apocalyptic fires engulfed, Italy, Eastern Europe, the United States, and Siberia.
What are your thoughts on this story? Let us know by joining the conversation in the comments and please share this article if you've found it of value.