Anti-Quarantine Protesters Gather Across The United States As Experts Warn Of New Coronavirus Surge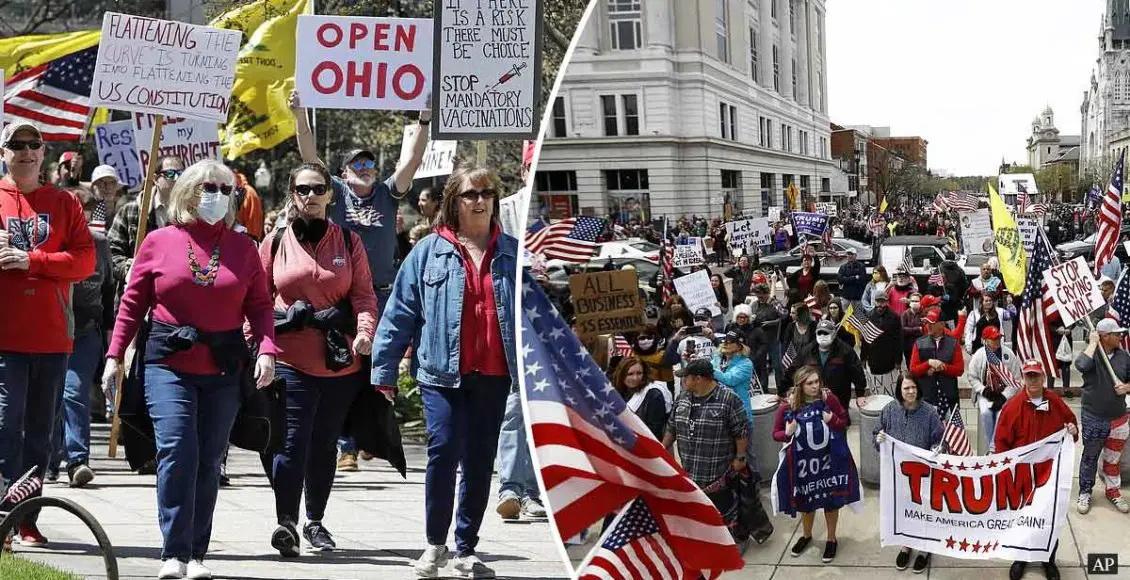 As medical workers in Pennsylvania and Colorado formed counter-protests against anti-lockdown rallies that keep on spreading across the United States, some experts warn that such mass gatherings could cause a new surge in COVID-19 cases.
A number of nurses in Harrisburg, Pennsylvania gathered last Monday, where a protest against quarantine measures was being held. They were carrying signs pleading with people to stay home.
The SEIU Healthcare union said several nurses took part, one day after two medical workers in Denver took action against a similar protest, which quickly spread around the web.
HAPPENING RIGHT NOW! Healthcare workers in Harrisburg are in the streets standing up & telling protestors of stay-at-home orders to #trustnurses because lives are at stake. #StayHomePA #StayHome @PatriotNews @PennLive @WITF @CBS21NEWS @ABC10 pic.twitter.com/f5edG4qUb2

— SEIU Healthcare PA (@seiuhcpa) April 20, 2020
Protests against the quarantine have also been running in other places such as California, Texas, Wisconsin, Ohio, and Minnesota.
Some experts foresee a new surge of coronavirus cases due to these rallies. 
Videos of an anti-lockdown event in Harrisburg showed a number of people breaking social distancing rules.
Last Sunday, a protest in Olympia, Washington, brought together over 2000 people, as per the Seattle Times. Pictures showed hundreds of people standing close to each other outside the capitol.
Epidemiologist and scientist at the Harvard TH Chan School of Public Health, Eric Feigl-Ding, wrote a Tweet saying:
"2,500 anti-lockdown rally in Olympia, Washington.

I predict a new epidemic surge (incubation time ~5-7 days before onset symptoms, if any, and transmission to associates around that time, even among asymptomatics)… so increase in 2-4 weeks from now."
2500 anti-lockdown rally in Olympia Washington. I predict a new epidemic surge (incubation time ~5-7 days before onset symptoms, if any, and transmission to associates around that time, even among asymptomatics)… so increase in 2-4 weeks from now. Remind me to check. #COVID19 pic.twitter.com/OLiGnQRkeL

— Eric Feigl-Ding (@DrEricDing) April 20, 2020
In photos taken at the Olympia protest, one person had a sign that read:
"Governmet [sic] isn't the solution, you are!!"
Another person had a sign saying:
"No to 5G!", likely refering to claims that the 5G wireless network is the cause for the virus.
A few officials from Washington took part, including Vicky Kraft, Robert Sutherland and Jim Walsh.
As per the Seattle Times, Robert Sutherland seemed to have a gun tucked into his trousers and was angered because of the ban on recreational fishing.
"Governor, you send men with guns after us when we go fishing, we'll see what a revolution looks like," he said.
Over in Denver, hundreds came with their cars to show their disapproval of Colorado Governor Jared Polis' stay-at-home orders.
Footage as well as images showed two people dressed in medical clothing standing blocking traffic.
A video showed one person being verbally abused. A woman was captured leaning out of her window holding a sign that read:
"Land of the free."

"This is a free country," she said. "Land of the free. Go to China if you want communism. Go to China. You go to work, why can't I go to work?"
Two nurses, who have witnessed first hand the toll Covid is taking in Colorado, stood up and peacefully counter protested. Here is how they were treated. I had join them. pic.twitter.com/iJnNcqZxSv

— Marc Zenn (@MarcZenn) April 19, 2020
In California, protesters gathered in Sacramento last Monday, carrying American flags and waving signs that said things such as "You Don't Own Me" and "Give My Daughter Her Senior Year."
The demonstrators did not appear to be practicing social distancing.
One person referred to governor Gavin Newsom as a dictator. At his daily press conference the governor said he understood people's frustrations:
"But we must have a health-first focus if we're ultimately going to come back economically."
Fox News played a part in bringing the Lansing, Michigan rally to a broader audience. Last Friday, after one of their broadcasts, President Donald Trump tweeted:
"Liberate Michigan!"
LIBERATE MICHIGAN!

— Donald J. Trump (@realDonaldTrump) April 17, 2020
On Sunday, the president stood up for the anti-lockdown protesters, saying:
"They've got cabin fever," he told reporters at a White House press briefing. "They want their lives back. These people love our country. They want to get back to work."
Later on Monday at the White House briefing, Trump predicted that the economy will stabilize once states start reopening, but noted that it should all be done "with careful hygiene, social distancing and other measures".
Later, White House coronavirus task force coordinator, Dr. Deborah Brinx, said:
"We have asked every governor, we have asked every American to follow federal government guidelines."
More anti-quarantine rallies are scheduled, including in Virginia, where the Virginia Citizens Defense League is backing protesters to organize a rally outside the state capitol.
Last Monday, Gretchen Whitmer, a reporter for ABC, said that the governor of Michigan, and North Carolina's governor, Roy Cooper, had urged Vice President Mike Pence to remind people of the need for social distancing.
What are your thoughts on this situation? Do you believe things will get out of hand if people do not stick to the guidelines? Let us know by joining the conversation in the comments and please share this article to spread awareness on this matter.