Anti-Lockdown Group Leader Tested Positive For Coronavirus
A North Carolina organizer of a group that addressed the state to relax its pandemic restrictions was not able to take part in two rallies due to testing positive for coronavirus, according to a report. 
Audrey Whitlock, who runs the 'ReOpen NC' Facebook group, was under quarantine for a couple of weeks after getting infected with coronavirus, as per the WFAE news publication.
Audrey Whitlock. Image source: Facebook
"I remained in isolation/self-quarantine at my home per the direction of my county health department. I have not attended any events for ReOpen NC," Audrey told WFAE.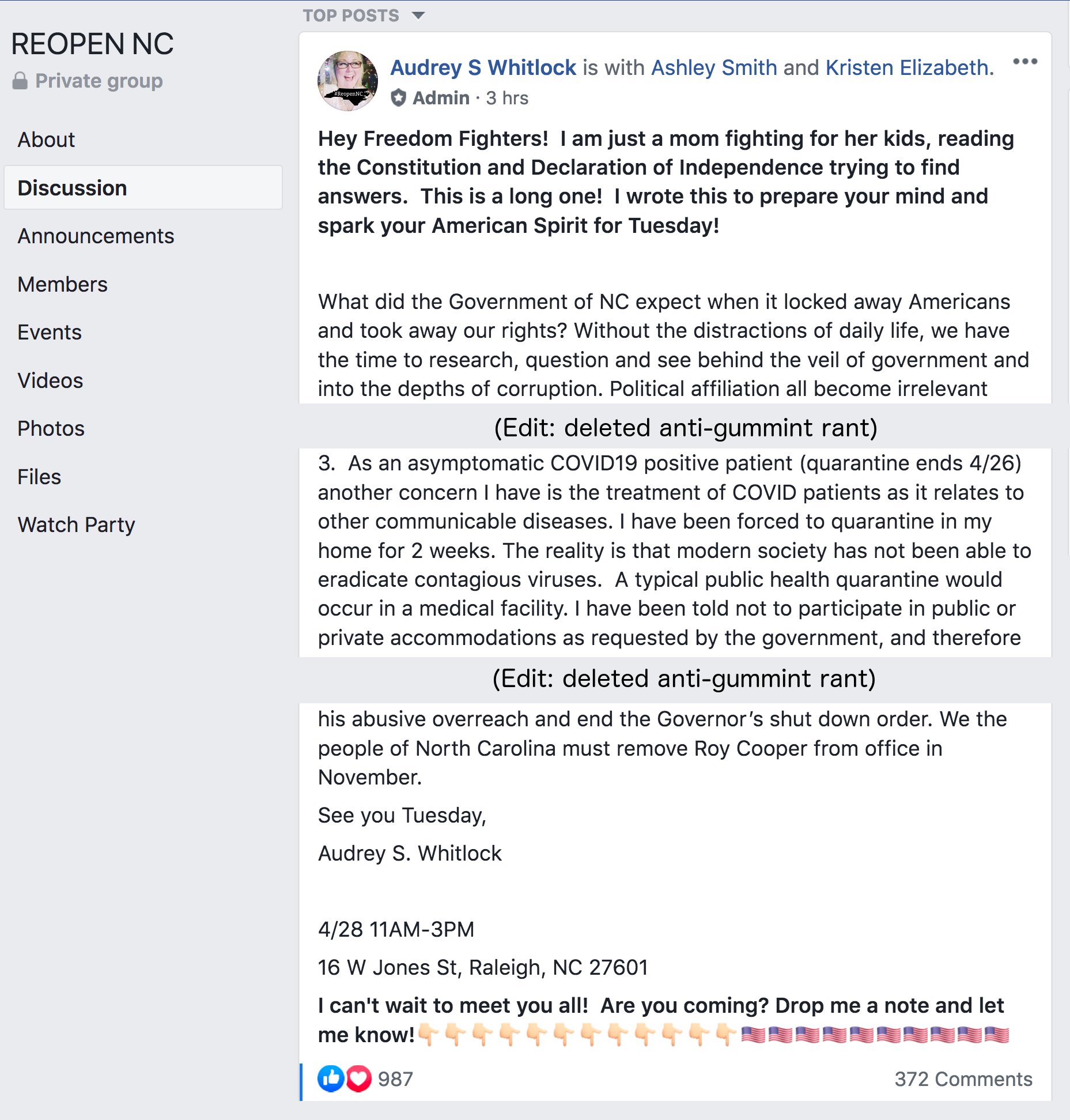 During Audrey's days in quarantine, the group organized two rallies in Raleigh – the state capital – to make North Carolina Governor Roy Cooper consider speeding up the easing of the stay-at-home order, which has been set to be in effect until May 8.
A demonstration that lasted over a week, with more than 100 mostly unmasked protesters got together to defy the social distancing rules, according to the report. 
The group is to hold another rally on April 28 in front of the Raleigh Legislative Building.
Audrey S. Whitlock, an administrator on the ReOpen NC Facebook page, where #ReopenNC was organized

posted a message to the group saying she tested positive and her quarantine period ended Sunday.

So yes there were infected people organizing and walking among the crowd in NC pic.twitter.com/V4iC9Bfgy4

— Silver Report Uncut™ 🇺🇸 (@silver_report) April 27, 2020
Audrey talked about her diagnosis in a private Facebook post on the group page last Sunday.
"As an asymptomatic COVID19 positive patient (quarantine ends 4/26)," Whitlock wrote in the message obtained by the Raleigh News and Observer. "Another concern I have is the treatment of COVID patients as it relates to other communicable diseases. I have been forced to quarantine in my home for 2 weeks," she said.
What are your thoughts on people who do not take the current crisis seriously and then fall ill with the coronavirus? Let us know by joining the conversation in the comments and please share this article to spread awareness on this worrying trend.