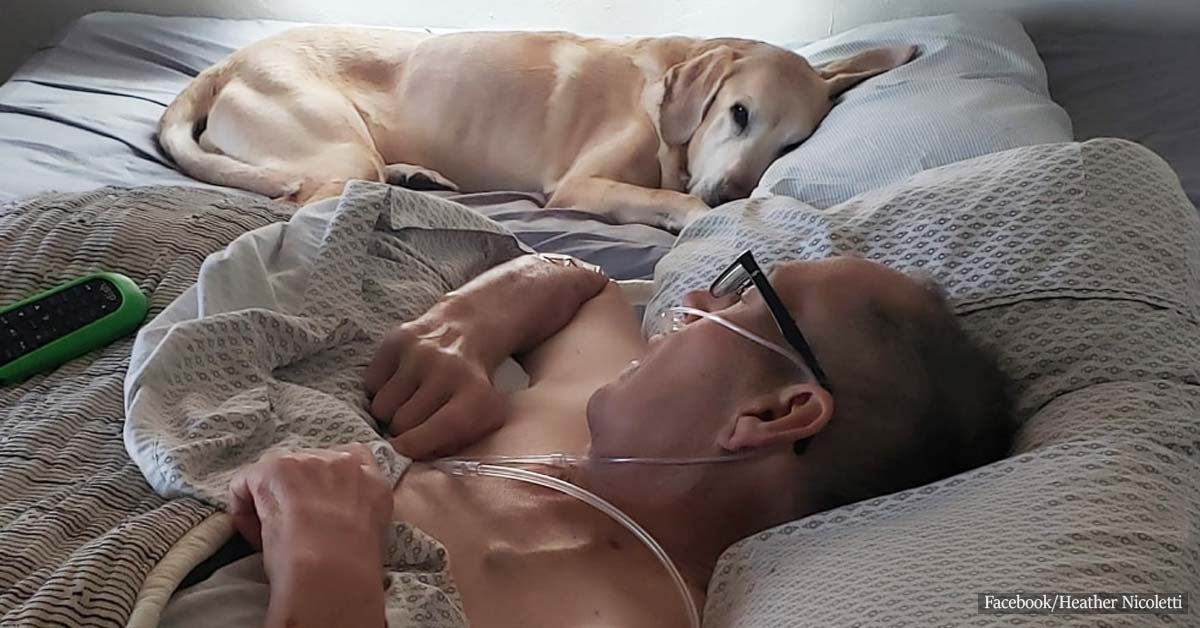 Air Force veteran and his loyal dog died within hours of each other
There is no other bond like the one between a dog and its owner.
A dog's loyalty and love go beyond this world, and this 11-year-old lab proved it in a devastatingly touching way.
When Daniel Hove, an Air Force veteran-turned-assistant fire chief, first received his pancreatic cancer diagnosis, he was surrounded by everyone who loved him, including his dog, Gunner. In fact, Hove's 11-year-old pooch almost never left his side, as Cesar's Way reveals.
Sadly, Hove's condition was only getting worse during his final years. But even though Gunner was a 90-pound dog himself, the pair was always cuddled up together. The dog was so incredibly loyal, he never strayed from his owner's side.
The Air Force veteran's daughter, Heather Nicoletti, shares with Kare 11:
"They were best buddies till the end. They were hunting buddies, they went everywhere together." 
As Daniel and Gunner were practically inseparable, it was no surprise to the family when the pooch eventually fell ill during his owner's final days. Nicoletti admitted the duo were very in sync, even in their last hours.
"My dad was unresponsive, the dog was unresponsive. So once we saw how the dog was doing–he wasn't moving much anymore, not doing well– we knew, it was coming."
Although the family was expecting such a tragic end, when the day came, they were devastated.
They could feel it was only a matter of time before Gunner dies. Shortly after, Daniel passed away too. Heather shares:
"I called the vet clinic I used to work at. They got me in right away and I rushed him up there, put him to sleep. And about an hour and a half later, my dad was gone too."
Understandably, the veteran's daughter was heartbroken over her father's death, but she was thankful that he didn't have to suffer the loss of his best four-legged friend. She believes that Daniel's sickness was what broke Gunner's spirits, and eventually, his health since the two couldn't bear to be away from one another. Nicoletti continues:
"I had said I don't know what's going to be more traumatic for him. To try to take him away to end–to put him to sleep– to end his suffering, or if you let him live through dad dying. I think either way it's going to kill him. We knew they were going to go together. We just didn't know it was going to be hours apart."
The grieving daughter believes the pooch could not live without her father, saying: "I think he chose to go with him."