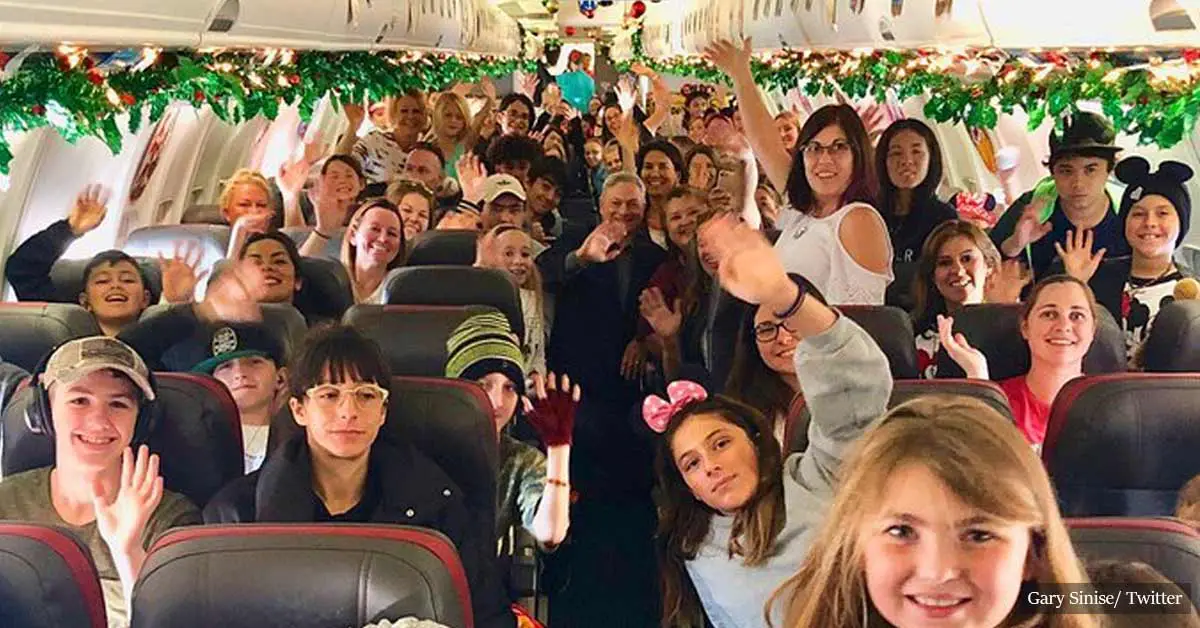 Actor Gary Sinise Took Nearly 2000 Children Of Fallen Soldiers To Disneyland For Free
Don't you think that celebrities who use their wealth and influence to help those in need deserve our admiration?
From giving to charities to creating foundations – all the things they do to contribute the misfortunate deserve recognition. And one of the people who devote a big part of their lives to help others is Gary Sinise.
AMAZING! 1,700 families of fallen service members will be flown aboard the "Snowball Express" to enjoy a 5-day stay at Walt Disney World, thanks to actor Gary Sinise. 🇺🇸❤️🎄 https://t.co/56Zb1OCmpE pic.twitter.com/yt2z1xjmyT

— FOX 13 Tampa Bay (@FOX13News) December 7, 2019
Gary is a musician and an actor you would probably recognize from hit films such as Forrest Gump, Apollo 13 and The Green Mile.
But beyond that, many people also know him fro his work as a philanthropist.  The actor who played Lieutenant Dan in 1994's Forrest Gump currently works hard to help the US military veterans in any way he can.
Gary Sinise's veteran charity adds 'Snowball Express' program to support children of the fallen https://t.co/f0cW9q8Q4z pic.twitter.com/4VhcUnnRY5

— The Hollywood Reporter (@THR) December 18, 2017
He has founded the Gary Sinise Foundation with the goal of serving the needs of veterans, first responders, defenders, their families, and communities.
"While we can never do enough to show gratitude to our nation's defenders, we can always do a little more," Sinise said.
Among the foundation's programs is the "Snowball Expres," which was launched in 2017 and its mission is to honor fallen US soldiers by taking their kids on free trips to Disney World.
A special thanks to @OwensCorning, for their support and partnership of the Kids Lounge during the 2019 Gary Sinise Foundation Snowball Express at Walt Disney World Resort in Orlando, Florida. Children of our fallen military heroes made lasting memories with new friends. pic.twitter.com/9Pkk0q9VR1

— GarySiniseFoundation (@GarySiniseFound) January 29, 2020
More than 1750 children had an amazing time after being flown to the Orlando theme park for a five-night excursion.
Kids and their surviving parents were given "we remember" pins at the event where their fallen family members were honored.
600 flags were raised to represent each of their loved ones who perished in combat.
"The most important thing about [Snowball Express] is that these children don't feel alone. There's a lot of healing and a lot of bonding and a lot of friendship that goes on that helps them through the rest of the year," Gary told CBS Los Angeles.
Check out Fox News' coverage on the story in the video below.
What are your thoughts on Gary Sinise's work of charity? Let us know by joining the conversation in the comments and please share this article if you've enjoyed the read.