An architectural company is building a $5 billion moon-like resort to get people closer to the experience of space travel.  
Moon World Resorts Inc of Canada is set to build a 735-foot high resort in Dubai and it could be completed in 48 months.
If things go as planned, the futuristic holiday ball is expected to lure in 2.5 million visitors every year and will offer a nightclub and a wellness center, among many other things.
The resort will aim to provide a space tourism experience combined with hospitality and technology – all set inside a giant moon-like construction. According to Moon World Resorts Inc, this will give a major boost to Dubai's economy.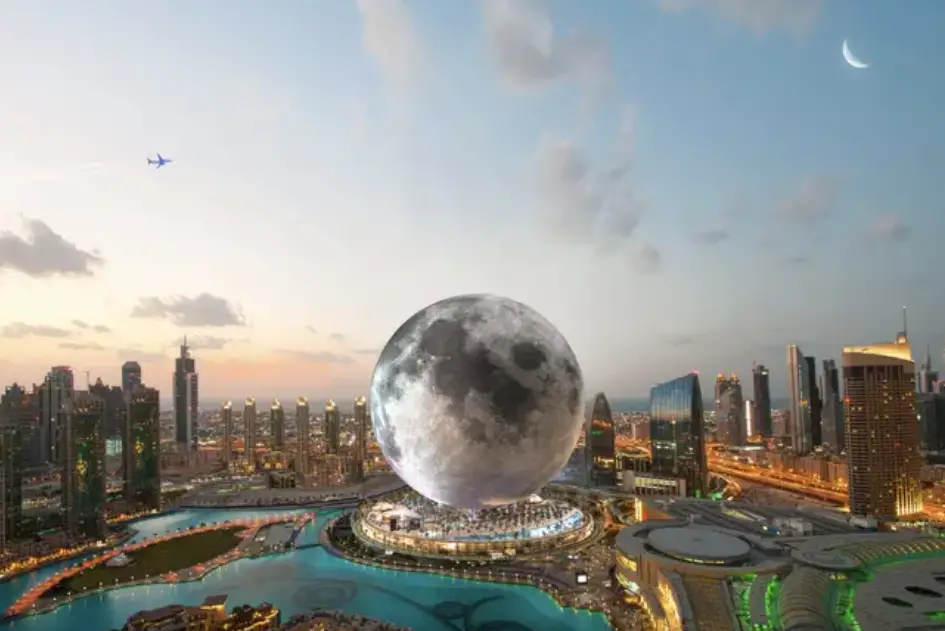 The structure has a 10-acre surface and will include a 'lunar colony', which targets people wanting a budget-friendly space tourism program, as per Hypebeast. 
In addition, the resort comes with 300 private residential 'Sky Villas' that can be bought, with owners automatically gaining membership to an exclusive private club located on site.
In an interview with Arabian Business, Michael R. Henderson, one of the co-founders, said:
"Moon Dubai will be the largest and most successful modern-day tourism project within the entire MENA region, doubling annual tourism visitations to Dubai based on its global appeal, brand awareness and unique multiple integrated offerings."
Henderson also said that '10 million annual visitors' could be 'comfortably accommodated' on the lunar tourist site, adding:
"Moon Dubai will significantly impact every aspect of the emirate's economy including tourism, transportation, commercial and residential real estate, infrastructure, financial services, aviation and space, energy, MICE, agriculture, technology and of course education."
He went on to say:
"Currently, MWR is planning a 2023 global road-show series showcasing Moon to potential regional licensees. One such show will take place in the MENA region, potentially Dubai, UAE, with other options including KSA, Qatar, Bahrain and Kuwait.

"Once the single MENA regional licence has been consummated and the precise location has been chosen, a one year pre-development program will be initiated followed by a four year build out program."
'Moon World Resorts Inc. has announced plans for a $5 billion, 5.5-million-square-foot hotel whose signature feature will be a 1/75,000-sized replica of the moon'https://t.co/rYY0CmYGDY

— Riva (@rivatez) October 21, 2021
A couple of months ago, the UAE Space Agency unveiled a 820-million-dollar fund for Dubai's space sector. 
Emirati space agency's chairwoman Sarah bint Yousef Al Amiri, said:
"A long-term plan and programme for the development of the Emirates' space sector is in place to create economic opportunities, new jobs and help to fund global partnerships and new leaders in technology, space sciences and engineering here in the UAE."
We hope you enjoyed this article. If so, please share it with your friends and family.