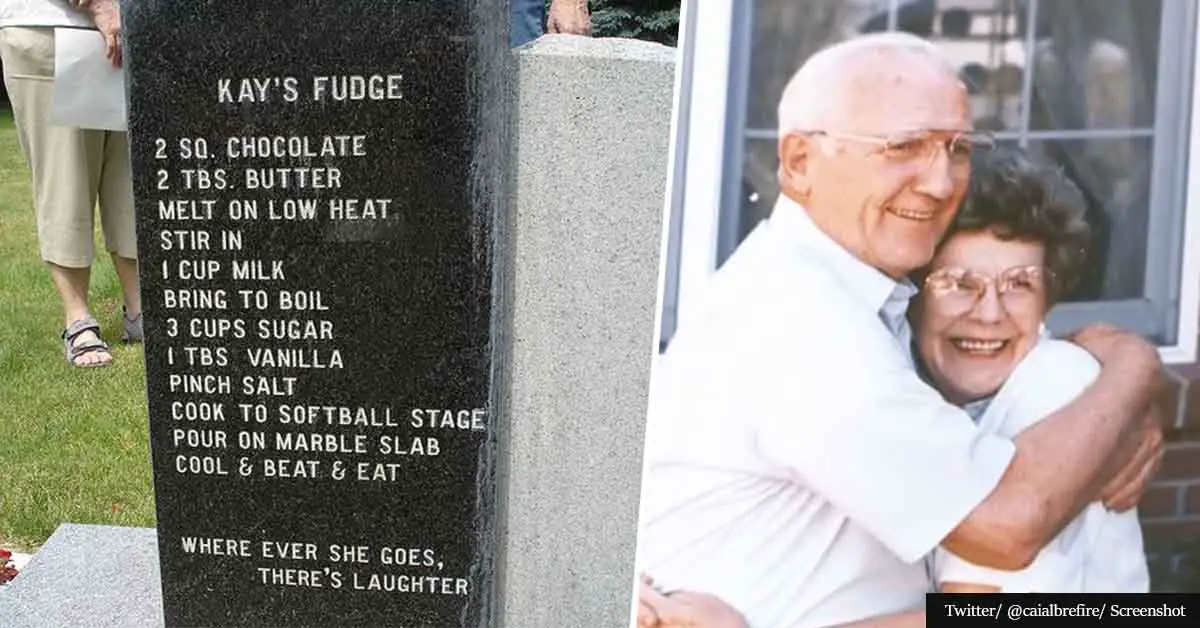 97-year-old woman's gravestone features her iconic fudge recipe
A 97-year-old lady's gravestone features her name, the dates of her birth and her death, and… a homemade fudge recipe. 
Kathryn Andrews, who passed away at the age of 97, made sure the world would never forget her delicious homemade fudge.
As Newsner reveals, her gravestone in the Logan Cemetery in Utah features a full fudge recipe titled KAY'S FUDGE. 
Instead of handing out her emblematic fudge recipe to her family, as some cooks do before they pass away, Kathryn took things to a whole new level by having it carved onto her headstone.
Speaking to FOX 13, Kay's daughter, Janice Johnson, said it was a fitting tribute to her mom. She explained:
"She really loved people. She would write poetry, and she would take fudge whenever people got together."
Moreover, Janice revealed it was her mother's idea to put the fudge recipe on her gravestone, which she now shares with her husband Wade.
Kay and Wade also have an incredible wartime love story. 
Their daughter shared they met at a church event in New York City. It took them one date to realize they were destined to be together. Unfortunately, Wade, a U.S. Force Captain, had to return to Europe to continue his WWII service. But he loved Kathryn so much that he even named his B-24 bomber Salt Lake Katie. 
Thankfully, Wade made it back home. The couple got married in 1944 and had five children together.
Kathryn was known for her unconditional devotion to her family, and, of course, her remarkable cooking skills. According to her obituary, Kay often arranged Sunday dinners, where she prepared mashed potatoes with pot roasts and chocolate Texas sheet cake.
Sadly, her husband passed away in 2000. She died nearly two decades later, on December 17, 2019. The couple now shares a single headstone, featuring their names and Kay's iconic fudge recipe. There is also a touching message saying: "Where ever she goes, there's laughter."
For all the cooking enthusiasts out there, here is Kathryn's delicious homemade fudge recipe:
KAY'S FUDGE: 

2 SQ. CHOCOLATE

2 TBS. BUTTER

MELT ON LOW HEAT

STIR IN 1 CUP MILK

BRING TO BOIL

3 CUPS SUGAR

1 TSP. VANILLA

PINCH OF SALT

COOK TO SOFTBALL STAGE

POUR ON MARBLE SLAB

COOL & BEAT & EAT
What do you think of this sweet story? Would you try making Kay's now-famous fudge recipe? Leave a comment to let us know!