9-year-old told not to doodle in class decorates restaurant with his drawings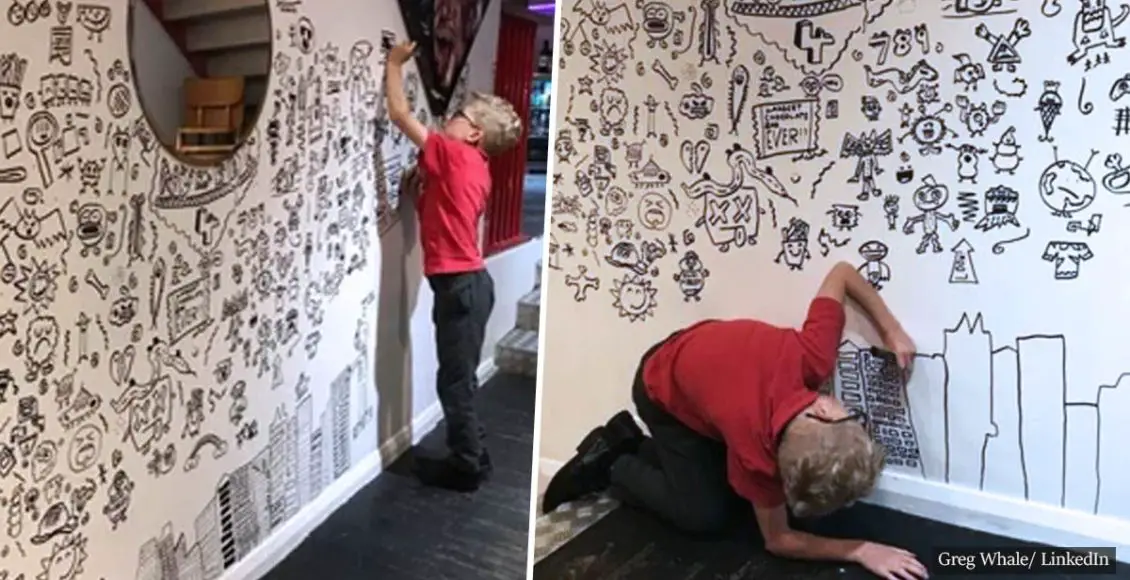 The 9-year-old boy Joe Whale, was constantly getting into trouble for doodling in class.
Instead of making him stop scribbling in his workbooks, his parents encouraged his imagination. They sent Joe to an after-school art class. There he could practice and improve in creating his favorite doodle characters.
The talented boy's teacher was amazed by his work and posted it all over Instagram. This led to a great opportunity for Joe to become a real artist at such a young age.
Joe's drawings caught the attention of the Shrewsbury restaurant Number 4. They contacted his teacher wanting the 9-year-old to go to the building and decorate the dining room with his doodles.
Each day after school Joe's father Greg drives him to the restaurant. Little Joe is allowed to draw his imaginary characters straight to the wall where they would stay permanently.
In an interview for Metro, his dad said:
"Joe is a really talented little boy, he's excelling at school, he's a great footballer and cricketer, but drawing is definitely what he is most passionate about.

He was in school getting frustrated at the little amount of art he could do so he used to doodle on the table's whiteboard in class and get into trouble for doodling."
According to Greg, when the restaurant contacted them, they wanted Joe to complete an art piece in their main dining area.
"We were over the moon.

Joe loves doodling and we're so proud of everything he's achieving, the fact that a completely independent business has asked our nine-year old son to do a professional piece of work for them is incredible."
His art teacher shares she recognized Joe's talent right away.
"I asked his parents for some of his work to assess his level and could not believe what I was looking at. We moved him into an older class straight away. His work is very exact and immaculate, it's very balanced. He goes straight to ink and creates perfect work straight from the start, no practicing beforehand."
The artistic boy shares that he loves seeing his creations coming to life when he draws them. He's happy that he gets to express himself through his funky doodles. His favorite characters are types of food because he finds it funny seeing it revitalize.