37-year-old man's Facebook posts slamming the 'hype' over COVID-19 went viral after he died of it
This man's Facebook posts severely undermining the 'hype' over coronavirus have gone viral after he died of the disease. 
Richard Rose, 37, died at his Port Clinton home due to COVID-19 complications. Prior to his tragic death, the young man wrote several Facebook posts calling the global panic around the virus a 'hype'.
Rose shared these posts weeks before he lost his life to the novel disease, Distractify reports. As soon as the Ohio man began to feel symptoms indicating he had contracted coronavirus, the tone in his posts suddenly changed. His family revealed to 19 News that Rose passed away in his home on the Fourth of July. The 37-year-old man died only three days after testing positive for the virus.
After Richard's unfortunate death, his slamming posts are being shared as a warning that young people are not invincible.
A Twitter user gathered all of Rose's posts about the virus into a video with a tragic end.
Just watch how this unfolds y'all 😳 pic.twitter.com/q5RisfNc11

— 🕌🇸🇦 🇮🇷 🇺🇸 (@ToddThaGod) July 10, 2020
The first of the man's posts slamming COVID-19 was written on April 28. It reads:
"Let make this clear. I'm not buying a f**king mask. I've made it this far by not buying into that damn hype."
Two weeks later, Richard wrote:
"I've gotten sick of turning my tv on to political smear ads and s**t about COVID. So yesterday I turned my cable box in. I've also started snoozing people on here. It's time to block out negativity."
Sadly, the tone of his posts rapidly changed when on July 1, he confessed he felt symptoms of coronavirus.
"I've been very sick the past few days. Symptoms of COVID-19. This morning I finally got swabbed. I should know soon what the results are. I just want to feel good again!"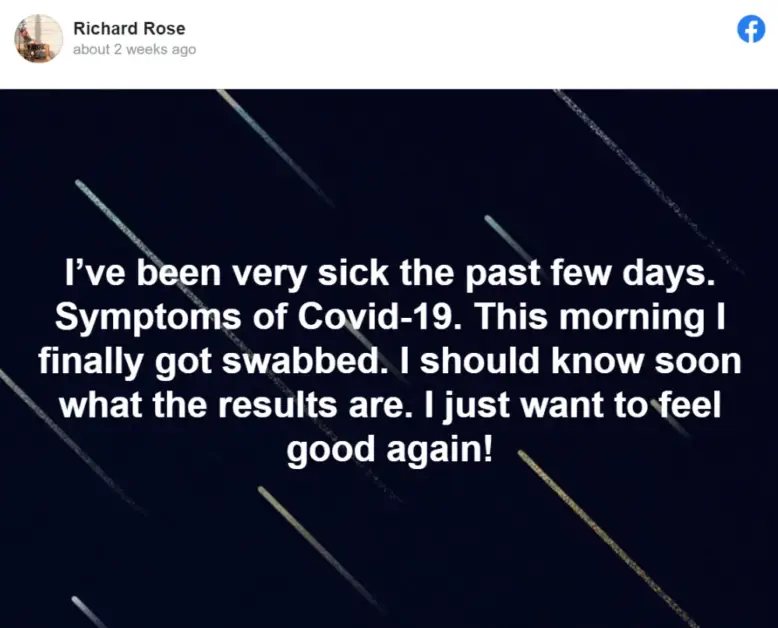 Later that day, Rose revealed he tested positive for COVID-19.
The next day he shared he was out of breath.
Tragically, on the Fourth of July, just three days after being diagnosed with coronavirus, the 37-year-old man died in his home. Nick Conley, a close friend of Richard, shared:
"We were blown away, you know? You hear about this virus and you don't expect it to affect people, younger people like ourselves."
Conley also commented on the now-viral posts, defending his friend:
"Rick is getting slaughtered online right now for his decision that he made not to wear a mask and that's not right."
Richard's friend believes that people need to be compassionate whether they agree with someone's actions or not. He adds:
"Someone has passed away and we should have some compassion towards that."