35 times hotels surprised their guests with creativity
There are quite a few hotels in the world that undoubtedly go the extra mile to make their customers' stay as pleasant as possible. Perfectly cleaned rooms and picturesque views are one thing, but some hotels are doing so much more to put a smile on their visitors' faces.
Dr. Forgacs from Ryerson University told Bored Panda that the main reason a person would return to a hotel would be if they had good memories of the place.
"Not necessarily a gold plated door knob or the extra skirt hangers in the closet; best memories are created through interaction with people. If service excellence exceeds expectations, guests always remember that."
So, here are 35 times hotels used creativity to make their guests' stay beyond awesome and definitely exceeded their expectations!
1. The toiletries at my hotel in Switzerland included a rubber ducky.
2. This hostel in Germany is an indoor vintage RV park.
3. A buddy of mine travels a lot for work, asked for a fort…
4. More hotels should do this.
5. Hotel I stayed at was formerly a train station and had an actual train inside it, with rooms inside each car.
6. This hotel lets you borrow a plant to take to your room so you have a friend to talk to.
7. These do not disturb options at my hotel.
8. My hotel wants you to take the nice soap home!
9. My hotel in China has a card to give to a taxi driver so you can find your way back.
10. This historic sign in my hotel explains how to use electricity in case you had never used it before.
11. This hotel actually makes it easy to connect your laptop to the TV.
12. This bag of old/stained face towels have been re-used as "rags" at this hotel.
13. Hotel maid clearly found my sunglasses.
14. My hotel in Odessa (Ukraine) tells you which day it is by changing the elevator carpet every day.
15. Weather station at a hotel.
16. The hotel I am staying at has the fire evacuation plans at ground level so you can see them if smoke has filled the hallways.
17. This kids menu at the hotel I'm staying at.
18. The shower in my hotel has a little cutout so you can turn it on before getting in.
19. A really cool bookshelf whose shelves spell 'Take a book leave a book', seen at a hotel.
20. Instead of bibles, my hotel has copies of '1984'.
21. The hotel my parents are staying at in NC to watch the eclipse stocked all of the rooms with these.
22. In the Europa Park Hotel in Germany there is a tiny children bathroom in the bathroom.
23. The hotel I stayed at uses lemon grass instead of a plastic straw.
24. This is what happens if you tip Egyptian hotel service generously.
25. A black towel in my hotel room for make-up so the white ones don't get stained.
26. My hotel in Switzerland has different plug sockets for guests from different parts of the world.
27. This hotel shampoo assumes your theft.
28. My hotel room comes with a complimentary android phone with free data and calls.
29. The staff at our hotel made a cool crocodile out of our towels.
30. Sometimes the hotel holding your wedding also has a llama convention booked.
31. A Hotel's reminder on how to climb stairs.
32. This hotel is an old prison.
33. Honorary Manager of Crescent Hotel in Eureka Springs is cat, and this is his door.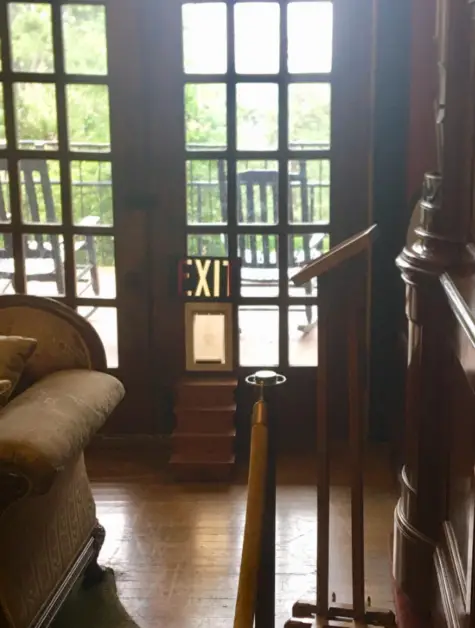 34. I asked the hotel to hide a picture of Robert Downey jr in my room. I forgot all about it and when I went to take a hot bath to wash off a shitty day, I caught sight of this.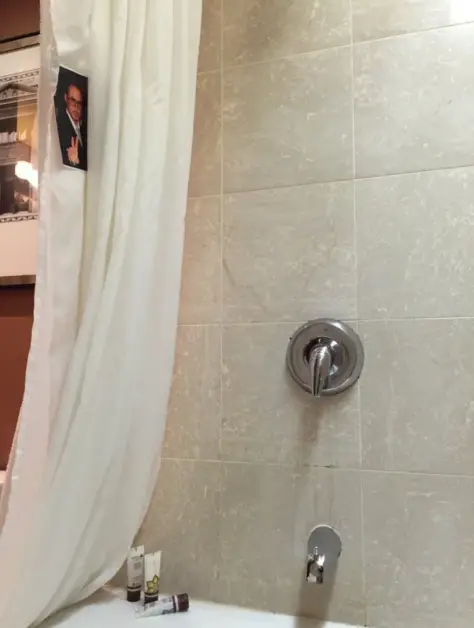 35. This hotel in central London keeps beehives on their roof!