20 heartening photos restoring our faith in humanity during quarantine
These times of self-isolation are quite challenging for every one of us.
The world has never been the same since the beginning of the quarantine. Yet, kindness and humanity are still living in the hearts of many people willing to help others however they can.
Here are 20 heartwarming pictures showing people's empathy and goodness during the lockdown.
1. A heart-melting serenade.
My grandma's living facility is on lockdown; I went to drop off some things for her & found my dad serenading her & her friends on his guitar since he couldn't come in to visit 😭❤️ #Quarantine pic.twitter.com/S4xghMSIro

— Jenny DeLoach (@jennydeloach) March 16, 2020
2. Karma always has its ways.
Back in 2016 we sponsored a refugee family to come to Canada. Today, knowing that we're self-isolating because of travel, they brought bags of food to my front porch. Beans, dates, noodles, lentils, tahini, veggies, meat, and candy for my kid. So kind… and I'm so grateful♥️😭🇨🇦 pic.twitter.com/BksTcxl62y

— Robin Stevenson (@robin_stevenson) March 24, 2020
3. A wholesome WhatsApp group.
Our street now has a WhatsApp group & this morning one neighbour was struggling with loneliness, so earlier we all had a socially distanced cuppa and chat together. This stuff makes a difference. #lookaftereachother pic.twitter.com/O55V9ubhkP

— Nick Doody (@NickDoody) March 28, 2020
4. We need more teachers like this one.
My 6th grader emailed her math teacher for some help, so he came over & worked through the problem with her on our front porch. @Chriswaba9 , our neighbor, MMS teacher & MHS Wrestling Coach. #KidsFirst @MadisonMSNews @MarkOsports @dakotasportsnow @dakotanews_now @stwalter20 pic.twitter.com/aniqt2goPB

— Josh Anderson (@DakSt8Football) March 27, 2020
5. "You welcomed me in your country for 10 years. Today I return my favor to you."
6. The happiness in this man's eyes is priceless!
My uncle didn't go to school so I am teaching him how to write and he wrote the names of his grandkids for the first time. 🥺 pic.twitter.com/Wer5Y6vG0u

— Kennya Ramos 🏳️‍🌈 (@kennya_ramos) March 17, 2020
7. Man in Morristown, NJ thanks ER nurses for saving his wife's life.
8. Grandaughter telling grandpa of her engagement.
9. Children amaze us every single day!
10. Closed football clubs are still encouraging kids to keep active by giving away equipment.
11. Being kind in the lockdown in the most British way possible!
12. "My mom is in complete isolation on her 50th since she is immunocompromised.
My little brother texted her this morning to look out the window before letting the dog out."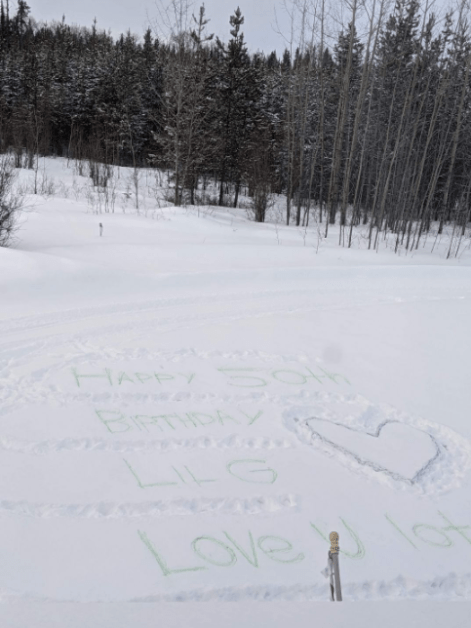 13. "My little sister learned to sew so she could make face masks after a hospital made a post asking for them."
14. "An elderly neighbor is giving away these plants to passers by."
15. Help is on the way!
16. A liquor company transitioned to making a hand sanitizer and sent the first 1000 liters to the RCMP for free.
17. This gas station is helping the elderly in need.
18. "I want people to have a happy birthday even though they can't see their friends or have a birthday party."
19. "Grateful for stories like this and community in a bleak time."
Friends canceled their son's Bar Mitzvah this weekend but decided to keep the contract with their caterer, a tiny Hmong-owned business. They delivered the food to friends in quarantine & sent pans home with others. Grateful for stories like this and for community in a bleak time.

— hodel in the streets, chava in the sheets (@mrotzie) March 15, 2020
20. A 13-year-old is offering his help to neighbors in need.