This 13-year-old opened a bakery, and for every dessert he sells, he gives one to a homeless person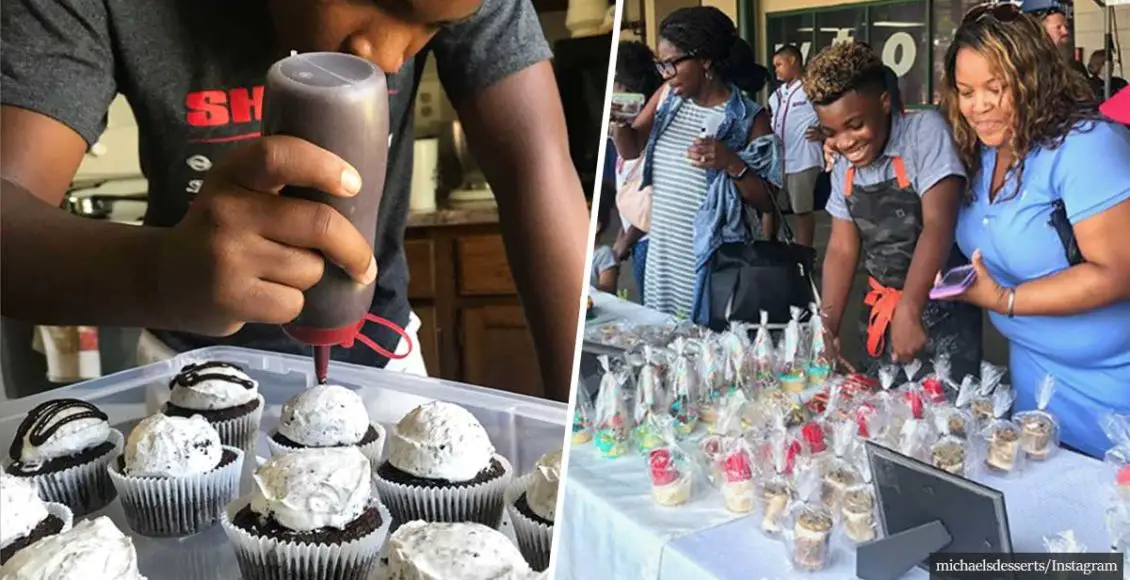 As a little kid, Bowie, Maryland resident, Michael Platt loved to bake. And when he turned 11 he transformed his passion into a lucrative business by founding Micheal's Desserts.
Three years ago Michael decided to model his own business on the shoe company Toms, which donates a pair of shoes for every pair sold. For every dessert Michael sells, he donates one to a homeless person, according to The Washington Post.
In addition, two times per month, Michael treks to McPherson Square in D.C. in order give out food, or he takes his treats to transitional housing or domestic violence shelters.
"I knew that I wanted to make a business, but I knew I didn't just want to make money, I also wanted to help people at the same time," he told WJLA.
The teen's company has partnered with No Kid Hungry, a nonprofit organization that gives out meals, hosts educational sessions, and advocates on behalf of children.
For the past two years, his business has been growing steadily.
Michael bakes everything ranging from cupcakes to cookies, and recently he was proud to introduce his first wedding cake.
Michael told news outlets that each month he sells about 75 cupcakes, 12 cookies, and 12 rotating "chef's choice" items, which he has also named "freedom fighter cupcakes."
He draws inspiration from different historical figures and bases the "chef's choice" flavor on that person.
Being homeschooled, Michael has gotten help and support from his mother, who he calls his "baking consultant."
He is immensely grateful for all the support he has received, and for all the orders people have made.
"I always wanted to have a purpose for what I do," he told The Washington Post. "It's all about helping people — not just having a purpose for yourself, but thinking about, 'How does this touch other things?'"
What do you think about Michael and his work? Let us know in the comment section below.