Palmetto Cheese pulled from 120 Costco stores amid calls for a boycott.
Costco pulls Palmetto Cheese from 120 stores after the owner slammed the BLM movement.
In a now-deleted post, the brand's owner called BLM a "terror organization".
Outraged social media users used #BoycottPalmetto to ask people to stop buying the company's products.
The American corporation removed the popular cheese brand from its stores after the owner publicly called the Black Lives Matter a "terror organization".
As per TODAY, Brian Henry, mayor of Pawleys Island, South Carolina, and founder of Palmetto Cheese posted a disturbing message on his Facebook page on August 25 in response to the murder of two residents. Many considered the message to be "racist". Soon after, the original post was deleted, but screenshots circulated social media calling on customers to #BoycottPalmetto.
Mr. Henry wrote:
"I am sickened by the senseless killings in Georgetown last night. 2 [sic] innocent people murdered. Not 2 thugs or people wanted on multiple warrants. 2 white people defenselessly gunned down by a black man. So why do we stand by and allow BLM to lawlessly destroy great American cities and threaten their citizens on a daily basis … this has gone on too long. Rise up America. This BLM and Antifa movement must be treated like the terror organizations they are."
In case you're looking to buy some cheese. It's a NO for me. #BoycottPalmetto
Costco pulls Palmetto Cheese from 120 stores after owner calls BLM 'terror organization' https://t.co/u8Qx41ZwSi via @TODAYshow

— Mario Boone, Jou. (@MarioBooneTV) September 22, 2020
Georgetown County Sheriff's Office reported that the man Palmetto Cheese's owner spoke of was arrested on August 24 for shooting three people and killing two.
The shooter was Ty Sheem Ha Sheem Walters III, aged 23. He murdered Laura Anderson, 21, and her step-father, Nick Wall. The fatal incident occurred amid an altercation following a car accident that day in Georgetown, South Carolina.
The "racist" statement Brian Henry wrote regarding the BLM movement resulted in his product being removed from 120 Costco stores.
The Post and Courier revealed a photo showing a sign from Costco in Myrtle Beach, South Carolina, specifying that the cheese brand was "discontinued" and would "not be re-ordered." The sign also read:
"Over 120 Costco's throughout the US are no longer carrying this item."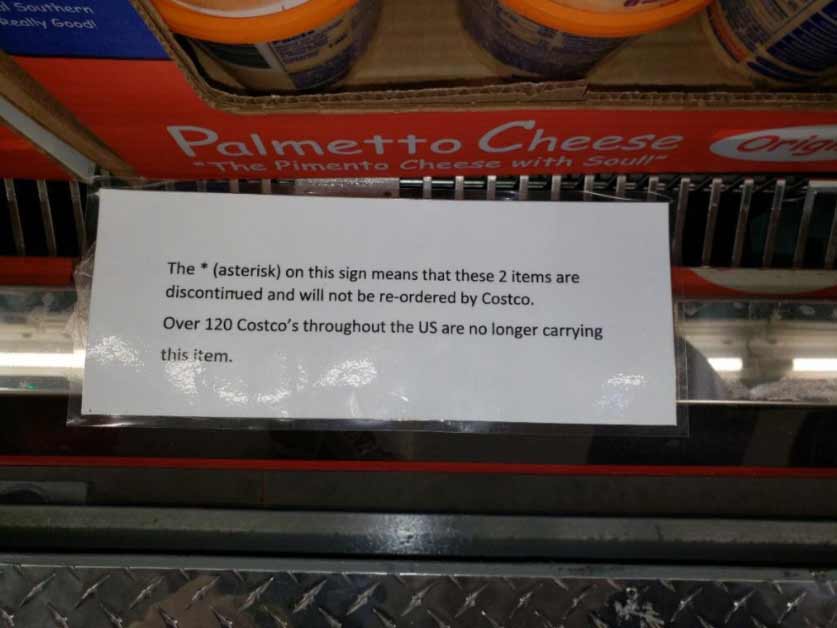 Furthermore, the brand's owner confirmed that his product was in the process of being withdrawn from shelves.
Many social media users were outraged and spoken out in support of BLM, asking others to #BoycottPalmetto.
Done with this cheese. Way to go Costco. (You realize you have a black woman on the cover?) ridiculous. #boycottPalmetto #costco

— Newsjunky🇺🇸🗽 (@citygirltoo21) September 20, 2020
Marvin Neal, president of the Georgetown NAACP branch, called for Henry's resignation as mayor. He told TODAY Food:
"When two White people were allegedly killed by a Black man in Georgetown, SC, Mayor Brian Henry of the neighboring town of Pawley's Island Beach had the opportunity to bring citizens closer together. He instead chose to use his platform to cause further racial divide and controversy by venting his frustrations on social media."
Following the massive outrage, Brian Henry issued an apology for his Facebook post at a press conference at the Pawleys Island Sea View Inn on September 3.
Pawleys Island's mayor admitted that his comments were "hurtful and insensitive" and requested that people have in mind the hundreds of South Carolina workers Palmetto employs before boycotting the brand. He stated:
"I spent that past 10 days listening and learning. The conversations I've had with friends, our staff, the community, and faith-based leaders provided me with a deeper understanding of racial inequality and the importance of diversity sensitivity, which is very much needed to heal Pawleys Island, Georgetown and our country."
Henry announced an endowment called Grace and Grits, which will receive a $100,000 donation in the first year from his

family 

and Palmetto Cheese. 
The endowment will provide funds for scholarship programs, assist local food banks and other enrichment programs. What's more, it will be managed by Diversity and Community Liaison. Additionally, the brand's graphics will also be changed, as critics have blamed the company for exploiting an image of a Black woman for profit.
However, Henry's effort to fix the damage he caused with his insensitive post is considered not enough by many, including Marvin Neal. He claimed that the mayor used his power to promote his agenda and "spread hateful, racist rhetoric with the potential of inciting violence". Neal said:
"Racism cannot and will not be tolerated by the citizens of Pawley's Island Beach and Georgetown County, SC. Mayor Henry's actions reflected negatively upon himself and the community in which he serves."