12 quick and easy weight loss smoothie recipes
Who's up for an easy delicious smoothie recipe? 
When it comes to counting calories, cutting off sweets, and all the other unpleasant steps many of us take while on our weight-loss journeys, smoothies happen to be our best friends. Not only are they good for your health, but they are also so easy to make. When you're running out of time in the morning, or you have a short afternoon break, making a quick tasty smoothie is a great meal choice.
But, are all smoothies good when it comes to weight-loss? 
When you are having a smoothie not only for the good taste but also for its weight-loss properties, you do need to be careful. While it's an amazing way to add some extra protein to your diet, you might also add some unwanted calories if you don't pay enough attention to the ingredients. For instance, many people fail to distinguish meal smoothies from snack smoothies. Therefore, they might mistakenly have a meal smoothie as a snack, which often leads to undesired weight gain.
Meal smoothies typically have a mix of fiber, protein, carbs, and fat. They are generally used as a meal substitute. On the other hand, snack smoothies are lower in calories and nutrition value. They are light, fresh, and usually give you a quick energy boost.
Overall, smoothies are a healthy choice that surely helps with controlling your cravings.
If you're up for a delicious cravings restraint, check out these 12 easy smoothie recipes!
1. Get your greens!
You can make yourself a lovely green smoothie in only 5 minutes! All you need to do is add the nutritious ingredients, including mango, pineapple, ginger, avocado, and spinach. After mixing up this tasty, vegan, dairy-free blend, you will be able to get your greens in one of the healthiest ways possible!
2. Detox like a pro!
If you're looking for a fresh, light smoothie to boost your energy and help you get rid of unwanted toxicity, both physically and mentally, this recipe is just for you. Its ingredients are loaded with nutrients, which support your body's natural detox organs.
3. Chocolate chip smoothie with a dash of mint.
Giving up chocolate is probably the hardest thing you need to do in a  bid to lose some extra weight. But have no fear – you can still satisfy your sweet tooth with this creamy mint chocolate chip smoothie. You will only need a high-speed blender to mix all the components, and you can enjoy this lovely super-snack.
4. Home-made Starbucks mocha frappucino.
Frappuccino lovers, read carefully. You can now have your favorite refreshing coffee drink at home. Plus, it's going t be times healthier than the one in your local coffee shop. What is more, you can add up some good ole' fashioned collagen to get that extra dose of protein.
5. Simple frozen fruit delight.
When it comes to easy-to-make smoothies, it's always good to go back to the basics. A simple frozen berries icy smoothie is perfect for the occasion. Besides, you can always add some extra ingredients to spice it up.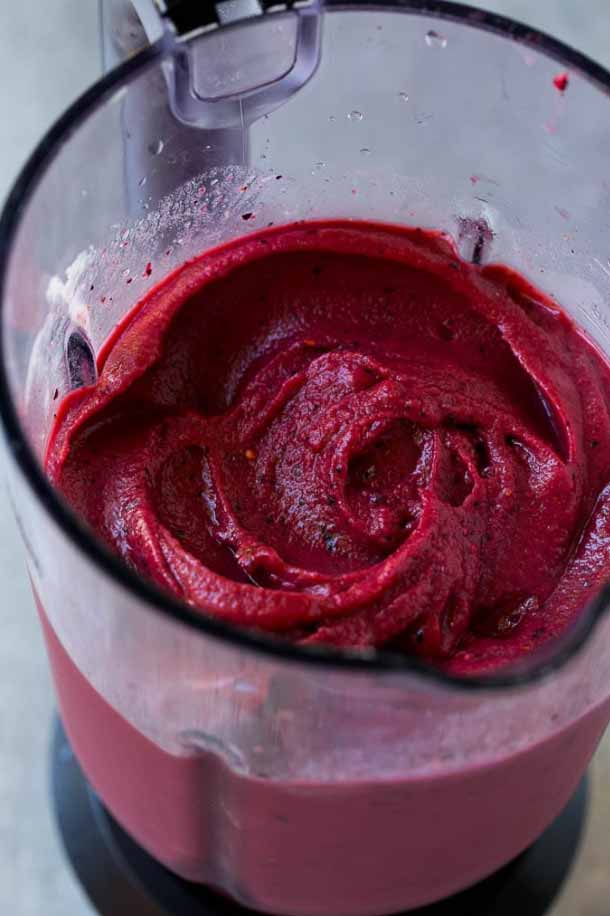 6. Sweet banana split smoothie.
This recipe might be your favorite so far. It contains rich ingredients that will help you say your cravings goodbye. Although this creamy delight is significantly high on natural sugars, it is still a much healthier choice compared to a tub of banana chocolate ice cream or an actual banana split.
7. Vegan snickerdoodle smoothie.
While we are still on the banana wave, here's a lovely recipe for a snickerdoodle smoothie. Not only it's absolutely delicious, but it's also vegan and gluten-free. In under 400 calories, you can get the unforgettable taste of a snickerdoodle plus 14 grams of protein. However, it is a bit high on sugars, but you can always alter it to your own taste and preferences.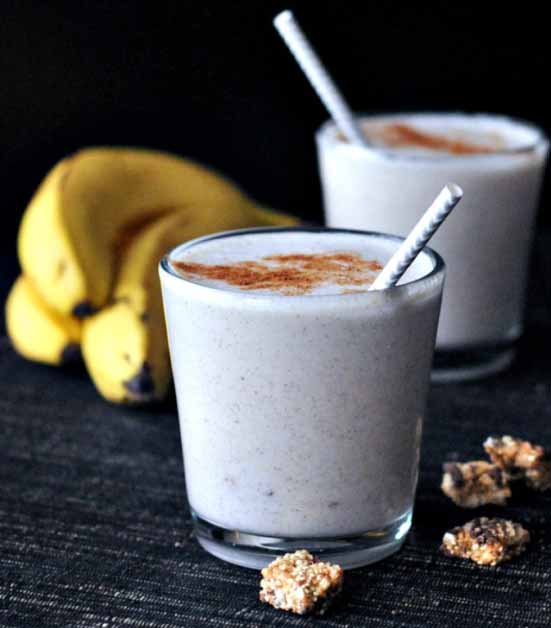 8. Cinnamon bun smoothie.
This smoothie is perfect for the cozy fall days. We all love cinnamon buns, but they aren't exactly a healthy option. Luckily, you can make this creamy banana cinnamon smoothie that tastes exactly like your favorite fall dessert. Containing yogurt, oats, chia seeds, and fruit, it offers a great blend of fiber, protein, carbs, and most importantly, healthy fats.
9. Skinny strawberry shortcake smoothie.
Bananas are cool and all, but strawberry season is something else. This low-calorie smoothie has only three ingredients and gives you an amazing sweet berry flavor. If you feel like starting your day with a quick easy smoothie, you should definitely try this one!
10. Oatmeal cookie blend.
Who doesn't love an oatmeal cookie? This is yet another smoothie recipe that will help you curb your cravings and still get the taste you desire. The high fiber containment will keep you full for a while, which makes it a perfect breakfast replacement.
11. Golden pineapple turmeric(you read that right) smoothie.
Maybe adding turmeric to your smoothie doesn't sound right, but it's absolutely worth trying. The pineapple flavor definitely helps with masking the strong taste of the spice. Moreover, turmeric is extremely beneficial for your health. No wonder why it's a key ingredient in Indian cuisine.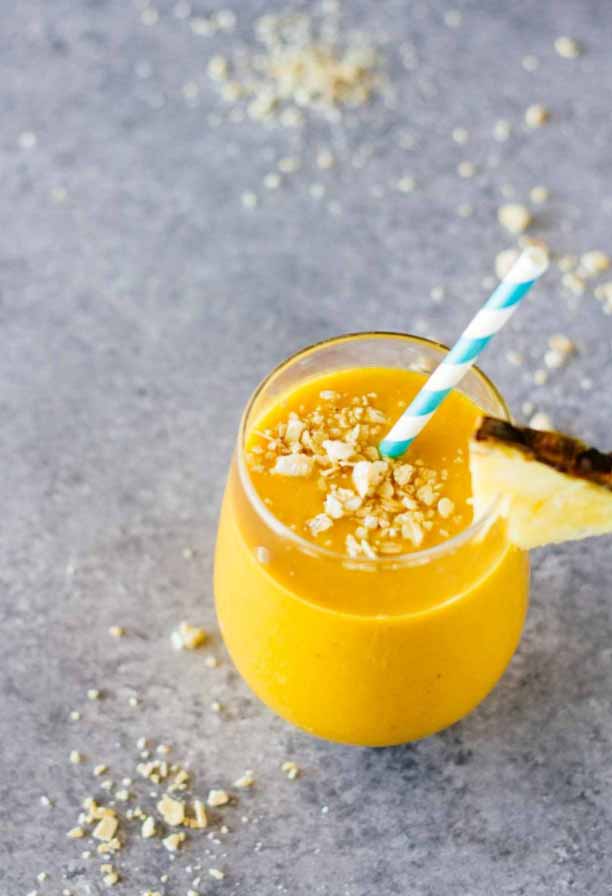 12. Pineapple kale freshness.
Get some extra greens with this pineapple kale smoothie! It's light, it's fresh, and it's amazingly delicious. It packs fiber, protein, and a whole host of vitamins, antioxidants, and other nutrients! What is more, it will have your energy levels boosted after the very first sip.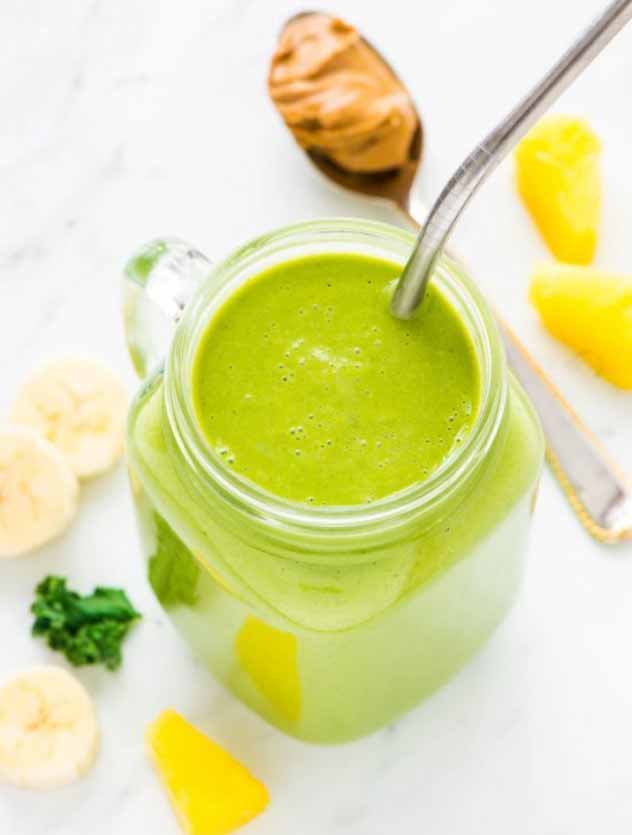 Which one of these 12 easy weight-loss smoothie recipes is your favorite?
Would you like to add a healthy smoothie recipe to this list? Leave a comment to let us know!