108-year-old woman says the secret to long life is champagne and chocolate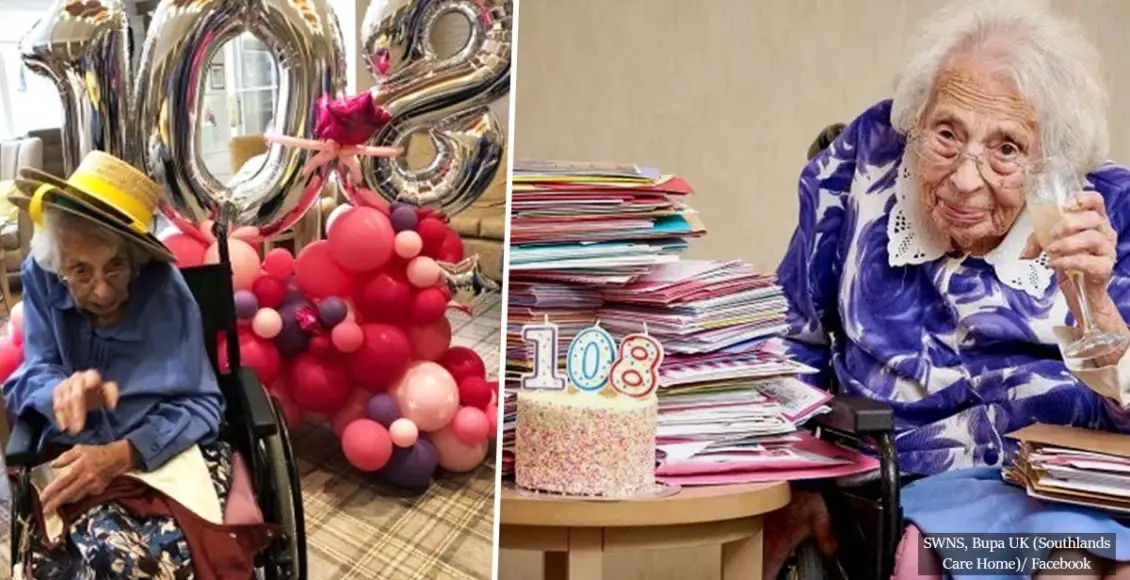 A 108-year-old English lady has revealed the secret of longevity.
Champagne and chocolate – these are the two things she never misses in her daily routine.
Dorothy Flowers celebrated her birthday on October 22. The birthday girl received 654 cards from well-wishers across the globe. This happened after a plea from colleagues at the Bupa Southlands Care Home in New Yorkshire where she lives went viral.
Helene Ballinger, the resident manager, shared with Metro that they were hoping to receive 108 cards – for each year Mrs. Flowers has lived.
They were overly excited when they got many more birthday cards from all over the world. Talking about Dorothy, Helene adds:
"Dorothy loves company, so she'll sit with us at the reception desk each day. She's such a regular that she's got her own drawer, which we keep full of chocolate buttons.

Her real secret for longevity though has to be champagne. It's the only thing we ever see her finish a glass of. 'Needless to say, we've been toasting her birthday."
It's the little things that make a great difference. Even though Dorothy has trouble speaking these days, the numerous well-wishing cards put a lovely smile on her face.
Previously, Dorothy has put down her longevity to drinking champagne and watching the horse races. In fact, she and her late husband Leonard were working together for the Racecourse Betting Control Board, commonly known as The Tote.
The couple didn't have children, but Mrs. Flowers was close to her niece Judith Barrett. When Judith found out about the birthday cards, she said:
"It's the small gestures that can make a big difference. We never dreamt that my aunt would receive so many cards.

While she's not able speak any more, the smile on her face said it all. It was a wonderful surprise and has helped make her day so special.

While she's very independent, she's always been happiest when surrounded by others, and the cards have made her feel very loved."
Speaking with the help of her caretaker, the 108-year-old champagne lover says:
"I'm lucky to have made many happy memories during my life and—even at 108—I'm still making more."
This inspiring English lady surely has a teste for the exceptional things in life. And her long admirable life tastes like fine champagne and sweet chocolate buttons.