Woman who sent a 'message in a bottle' in 1995 finally got a response
An eight-year-old was playing with his friends near the water behind his house in Nova Scotia last year when he stumbled upon something astounding. 
"It was lying under a pine tree," Nyima Mitchell said as quoted by Yahoo. "I thought it was just some bottle that washed up here, but then I saw it had the paper in it," he told CTV.
Little Nyima got a pair of pliers to pry the top of the bottle and to his surprise found an old torn letter from August 12, 1995, inside. 
The sender was a then 14-year-old Quebec girl named Nellie Nadeau who wrote the letter while on vacation in the Magdalen Islands that same summer. The bottle traveled for 25 years through the Gulf of St. Lawrence before it was finally discovered by the boy.
The letter opens with:
"Dear friend, me and my friends have decided to write someone." 
Britta Mitchell, Nyima's mother said.
"I thought, 'wow, it looks like a teenager wrote this,"
So she and her son searched the web for Nellie and eventually they found a 39-year-old doctor in Alaska who seemed to fit the description of the outdoor-loving child from the past.
"The description on it, I think it was the hospital website, it said she grew up in Quebec and she was very outdoorsy, and I thought, 'well, the age is right," Britta said.
Nyima sent Nellie a hand-written letter that reads:
"Hello Nellie,

I found a message in a bottle in Chéticamp that was maybe sent by you 25 years ago from the Magdalen Islands. Please let me know."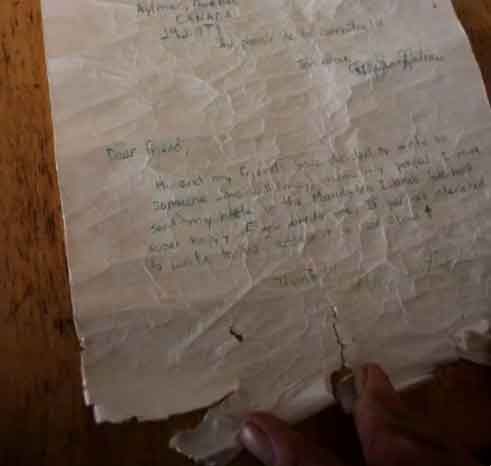 Sadly, the letter did not make it through, but eventually, they got in touch through the web.
"She said it gave her the chills for a few days, like it was really something," Britta said of Nellie's response. "So now we're waiting for her next letter. We still didn't get it, but I think she's working on it."
Needless to say, Nellie was astounded that she got a reply to her 25-year-old letter.
"You sort of hope when you launch it [that someone will get it], but afterward realize that the probability of it ever making it intact to someone is really low," she said. "If it did, that person might not even be interested in writing you back."
The mother and son say that although they got in touch with Nellie through the internet, they'd rather respond to her by traditional mail. That way they can preserve the magic.
They all hope to see each other in the near future. 
"I think we both want to keep it that way," Britta said. "And she said she actually wants to come the next time she is in Eastern Canada and meet us, so that's super exciting."
A pen-pal friendship 25 years in the making that started with a message in a bottle. #TheMoment pic.twitter.com/OdzYlXWqwx

— CBC News: The National (@CBCTheNational) March 17, 2021
What are your thoughts on this story? Let us know by joining the conversation in the comments and please share this article if you've enjoyed the read.