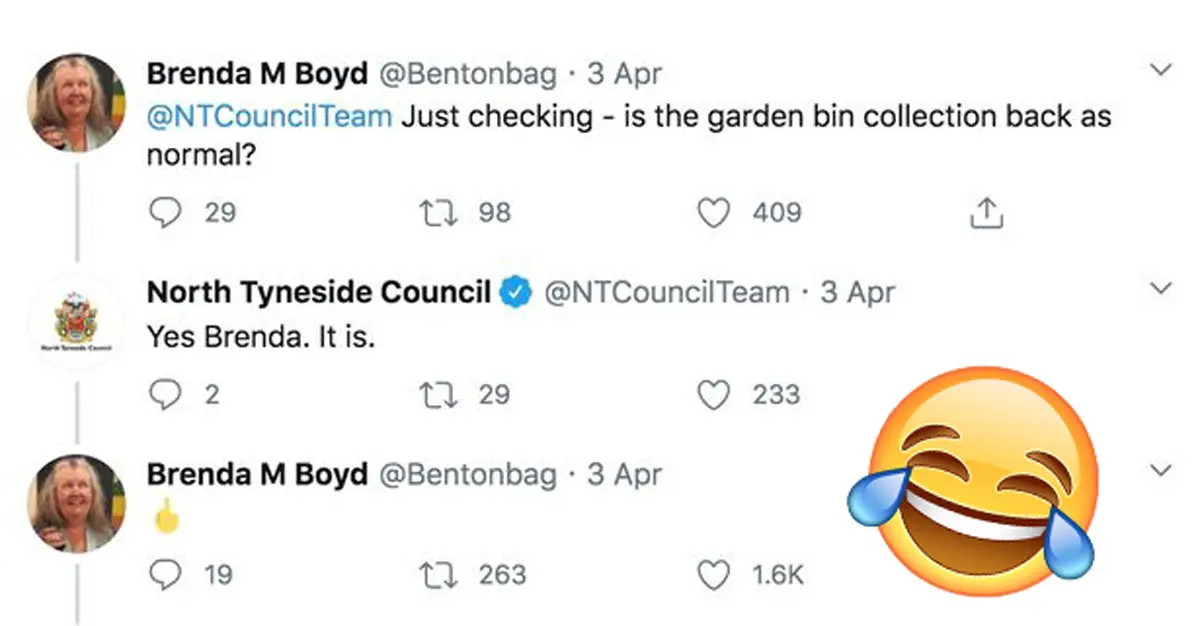 Woman sent MIDDLE FINGER emoji to Council (by accident)
The social media message exchange between a UK council social media officer and a resident has gone viral, with thousands of people sharing a conversation just too funny to miss out on.
In the hilarious Twitter exchange a confused Brenda M Boyd gave the council the middle finger by accident on April 3 after asking whether they had resumed the garbage bin collections.
After the council answered that their services had been resumed, by mistake, Brenda sent out an emoji of a hand showing the stinky finger.
In truth, she wanted to send a thumbs-up sign and was ashamed and shocked when she found out what she actually sent.
The council replied by saying:
"Just checking Brenda… Is that the emoji you wanted to send?"
Brenda then said:
"It was meant to be a thumbs up, but I may have the wrong glasses on – sorry if it was offensive."
She continued saying:
"Oh my goodness I've just had another proper look – really sorry."
Funnily enough, the person behind the computer was not offended by Brenda's emoji – quite the opposite in fact:
"Seriously Brenda don't worry about it. You've brought tears to my eyes. After a weird couple of weeks, it's good to laugh."
The hilarious conversation has been seen thousands of times and here is how people around the world reacted:
"Don't mess with Brenda, particularly when she's got the wrong glasses on," one person said.
Another person wrote:
"Sure Brenda, blame the glasses. :D"
A third Twitter user said:
"Yeah…. That emoji was close to hand as it were…"
Another wrote:
"Hahahhaha ahaha Just thinking of how I would have handled it and no way I would have asked was that the right emoji just would have sat starring with tears in my eyes Face with tears of joy"
A Facebook user said:
"Omg i had to widen the screen. I was looking for the aubergine till i spotted the middle finger lol. That is something i would do" 🤣🤣🤣
BBC's Breakfast host Dan Walker also shared it around and said on his Instagram page:
"This has made me howl with laughter" 
What are your thoughts on this hilarious situation? Let us know by joining the conversation in the comments and please share this article if you've enjoyed it.