Woman physically abused her dog, laughed at the man who tried to stop her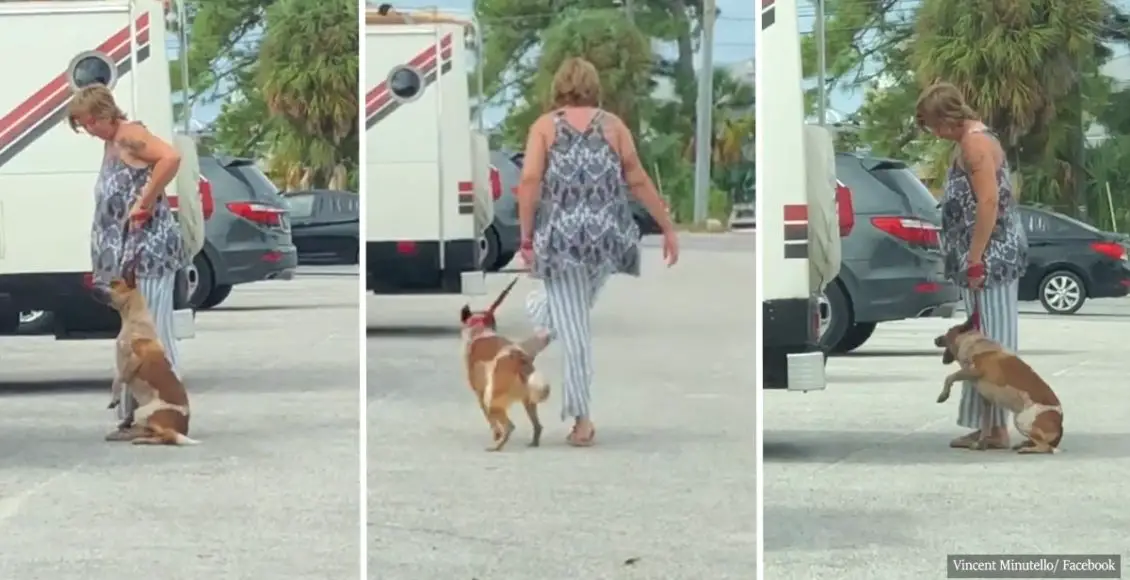 A Florida woman was recently captured on video abusing her dog.
Footage recorded by a witness shows the woman, 26-year-old Michelle Sieber, kicking and choking her dog with the leash. When the man approached her trying to defend the miserable dog, she laughed.
The sweet white and brown animal was simply trying to walk beside her. He appeared to be a well-mannered and complainant companion but this terrible woman repeatedly yanked him up by his leash.
At some point, the dog even gagged and gasped for air after being put down from his hanging.
Vincent Minutello stood up for the innocent dog.
"Hey, can you go a little easy on that dog, please?" he said.
But apparently to Sieber, this was funny.
The video is enough to make you want to crawl through the screen. The heartlessness of this person towards this innocent animal is just soul-crushing.
"You're choking him. You're hanging your dog," Minutello persisted.
His words were ignored.
And then Sieber snapped back at him, "I'm not hanging him!"
Minutello pointed out that the animal clearly couldn't breathe.
The video speaks for itself
**Update 27Sep19 Commissioner and mother of Michelle Sieber, Rea Sieber, makes a statement. Fast Forward to 2:20:50.https://youtu.be/mBCC_WDvxAg** Update 22Sep19 your voices of concern have been heard world wide. News media from around the world are covering this story all because of everyone's support against animal abuse. I really hope everyone can focus on the positive that is coming from this video and not the negative. Violence and threats are completely against the message I am hoping to spread. Michelle A. Sieber to my knowledge has not been bailed out with her bail set to $5,000. She is facing Felony charges. The dogs are SAFE and being held until the investigation is over. ** Thank you for all the support! For those who would have choose the violent route I understand your frustration. However documenting is key to a habitual offender. The link below confirms her booking into the Pinellas county jail. https://iontb.com/woman-arrested-after-video-released-of-her-abusing-a-dog-in-tarpon-springs/Great job everyone!*** Update she has been found and the dogs are safe. Great job TSPD!! Thanks everyone for your help.******** Update this was reported to local authorities by me early this morning. They have identified the woman in this video earlier on. Tarpon Springs Police Department was extremely supportive and started an investigation. Please don't incriminate yourselves with violence. That is a short term reaction to what seems to be a long term problem. With this video hopefully we can put a stop to it. To my knowledge they have not located her or the vehicle yet but I will keep everyone posted. Thank you.*******Tarpon friends please share if you see the van let me know where or call Tarpon Springs Police Department****Who do I call to report animal abuse?

Posted by Vincent Minutello on Friday, September 20, 2019
Minutello shared the video on social media and thousands of people were disturbed by the woman's behavior, calling for her arrest. In addition, the case was reported to the police. Thankfully, a few days later, they were able to find Sieber in Clearwater where she was arrested. Her two dogs were taken and brought to animal control.
Justice Prevails
Luckily, the dogs checked out okay (that includes the one in the video). Sieber has been charged with animal cruelty which is a felony.
The torturer's mother is a commissioner in Tarpon Springs and a local business owner who has contributed greatly to her community. She was clearly disappointed when she recently gave a statement at their Board of Commissioners Meeting on September 24th.
"It is with great regret that I make this statement. My daughter, Michelle, has been shown in a video on the news and on social media mistreating one of her dogs. I've had the opportunity to review the video and I understand it's significance. I'm quite distraught by her behavior but she is my daughter and I will support her getting the help that she needs for her illness. She was raised better than that and is now suffering the consequences of her behavior in the Pinellas County Jail."
You can watch the full WFLA New Channel 8 report below.
What are your thoughts on this disturbing story? Let us know in the comment section.