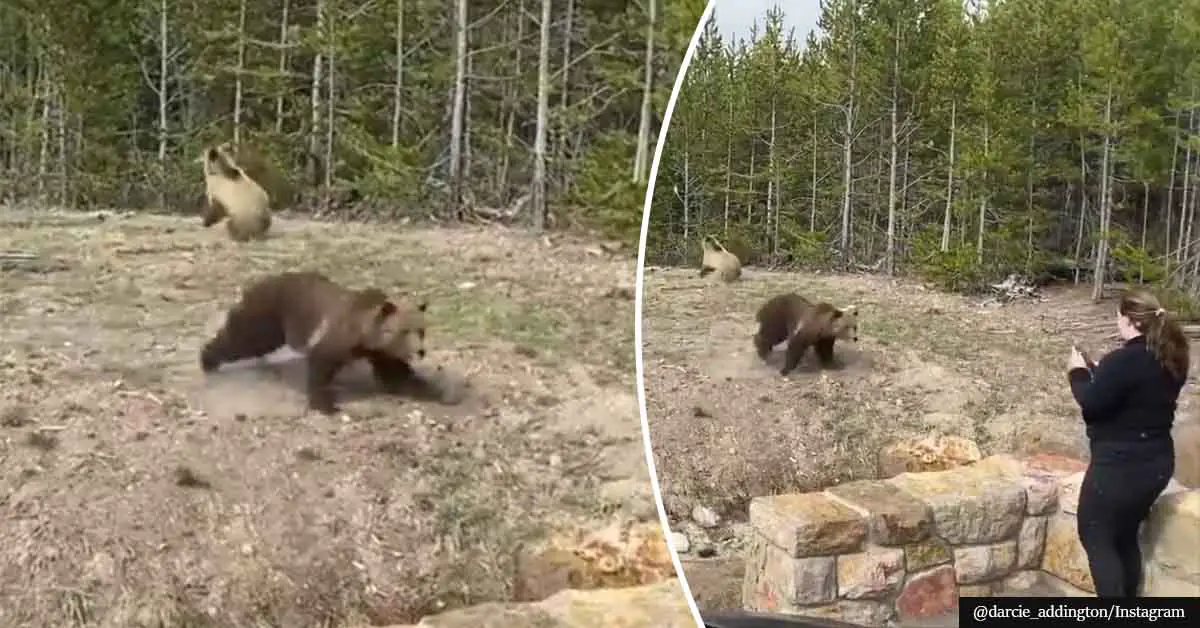 A woman is facing jail time for getting too close to a grizzly bear for photos. 
Back in May, 25-year-old Samantha R. Dehring, from Carol Springs found herself in trouble with a grizzly mother at Yellowstone National Park, as she tried to protect her babies.
The woman pleaded guilty on Wednesday, to wilfully remaining, approaching, and photographing wildlife from 100 yards and was slapped with a 4-day prison sentence – as well as a $1,000 fine, a $1,000 donation to the protection fund of the park and a year-long ban from visiting Yellowstone National Park, according to New York Post.
Image: Facebook
The United States Attorney's Office, District of Wyoming, said Dehring was spared on the count of "feeding, touching, teasing, frightening, or intentionally disturbing wildlife," but was given one year of unsupervised probation, in addition to a court processing fee of $30 and an assessment fee of $10.
Yellowstone National Park's website states that visitors are required to remain a minimum of 100 yards from the bears and wolves who live there.
Fearing for her cubs, the mother bear can be seen running towards the woman as she tries to approach to take a photo.
NEWS RELEASE: Illinois woman charged in Yellowstone case involving a grizzly receives four days in federal custody and fines @TheJusticeDept @SpecialAgentNPS

Full release at: https://t.co/somAE6IGRc pic.twitter.com/wSIXlinKSw

— Yellowstone National Park (@YellowstoneNPS) October 7, 2021
The video was widely viewed and shared on social media with one person saying what Dehring did was "absolutely insane."
Another person said:
"Aw the other bear ran away all scared poor thing."
A third wrote:
"You can tell these bears are used to dealing with dumba** humans. They make a production of charging then veer away. How often do you hear of them doing this out in the woods? No she would have been mauled, perhaps killed had this happened there. The shame of it is its the wildlife that pay the price."
And yet another commented:
"She came into THEIR home. Mom was protecting her family as any mother would. Stupid hooman. Smh."
View this post on Instagram
The charges against Dehring were announced after she shared a number of photos of the bears on her social media. 
United States Attorney Bob Murray said of the case:
"Wildlife in Yellowstone National Park are, indeed, wild. The park is not a zoo where animals can be viewed within the safety of a fenced enclosure. They roam freely in their natural habitat and when threatened will react accordingly. Approaching a sow grizzly with cubs is absolutely foolish."
He went on to add that the woman was lucky to survive and that she is now a "criminal defendant and not a mauled tourist."
What are your thoughts on this story? Let us know by joining the conversation in the comments and please share this article if you've enjoyed the read.