Woman Finds Husband's Secret Instagram Page With Recipes He Makes For Her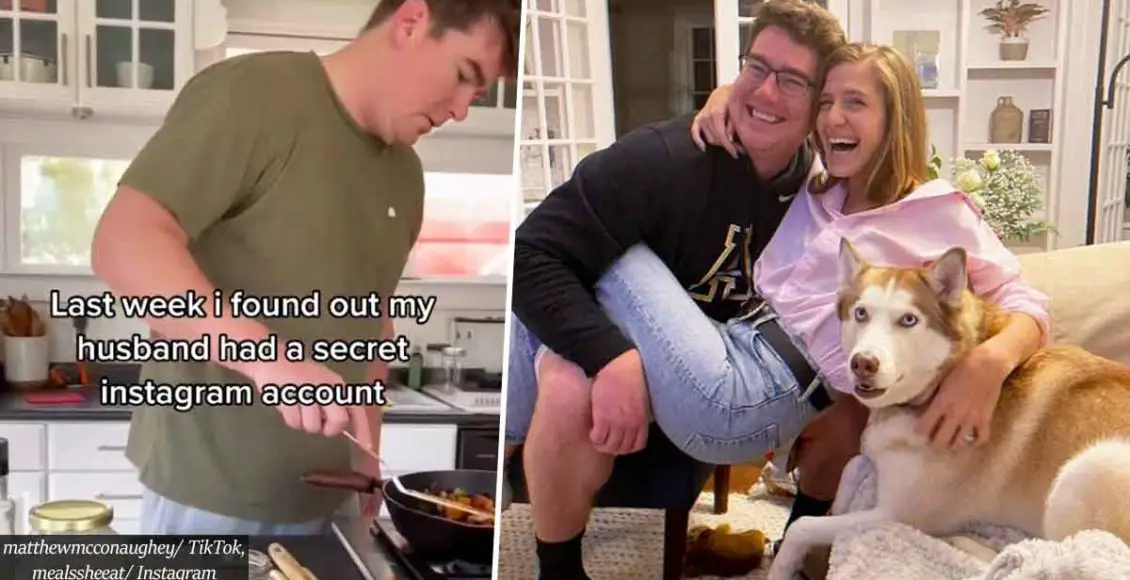 TikTok user Rachael Sullivan was in for quite a surprise and made a now-viral video with the caption "Last week, I found out my husband had a secret Instagram account." after Instagram suggested she follow her husband, Tom. 
"It was on the 'people you may know' section," Rachael told TODAY Food. "It said 'Tom Sullivan @MealsSheEats,' and I was like, 'Who is this 'she'?'"
 

View this post on Instagram

 
When she checked out the pictures on his account, Rachael said she was touched because each of the images in her husband's feed had food recipes he has been cooking for her for the past year now to help regulate her hormones.
"I went to the doctor for a checkup and my hormone levels came back all whacked out and I had cysts near my ovaries," she explained. "That's when I was diagnosed with polycystic ovary syndrome. They recommend you do a gluten- and dairy-free diet, and Tom just went full force into it."
VIDEO HERE
https://www.tiktok.com/music/original-sound-6786274026110094085
Tom has been a passionate cook for 11 years and set up his Instagram as a way to save all his recipes since he often finds himself reading through different recipes and combines them to create his own special dishes.
"I have all these recipes everywhere," he said. "An Instagram page just seemed like an easy place to organize them. It was for when Rachael would say, 'Hey, what was that meal you made here,' or when friends would ask what Rachael posted on her Instagram and ask for the recipe."
The loving husband's recipes are all inspired by the book 'Woman Code', written by Alissa Vitti, which contains numerous foods women are suggested to eat during their menstrual cycles in order to regulate their hormones naturally.
 

View this post on Instagram

 
Whether it's black-eyed peas during the luteal phase or lamb in the ovulation period, Tom sticks to the list and prepares meals tailored to help Rachael feel good.
"Tom knows more about menstrual cycles than most women do," she joked. "And, I'm six months regulated right now, which is super exciting."
The couple says they are hoping to improve their chances of having a baby and joked that if Rachael gets pregnant, Tom will probably find a book about the greatest foods for pregnant women. Meanwhile, their story has gone viral, and Tom's Instagram page rose from just 69 followers to a whopping 45,000 after Rachael shared what he'd been doing for her.
 

View this post on Instagram

 
In her TikTok video, Rachael said of Tom:
"I literally love this man so much. And there's nothing I want more in life than to just have his babies."
What are your thoughts on this loving story? Let us know by joining the conversation in the comments and please share this article if you've enjoyed the read.