"I'm Not Leaving You Mama!" This Is What Love Looks Like
The animal kingdom is full of normalities and abnormalities, but one thing, for the most part, remains a constant: The bond between a mother and her baby. We have seen this connection throughout various species, but nothing quite like these two koalas in Australia.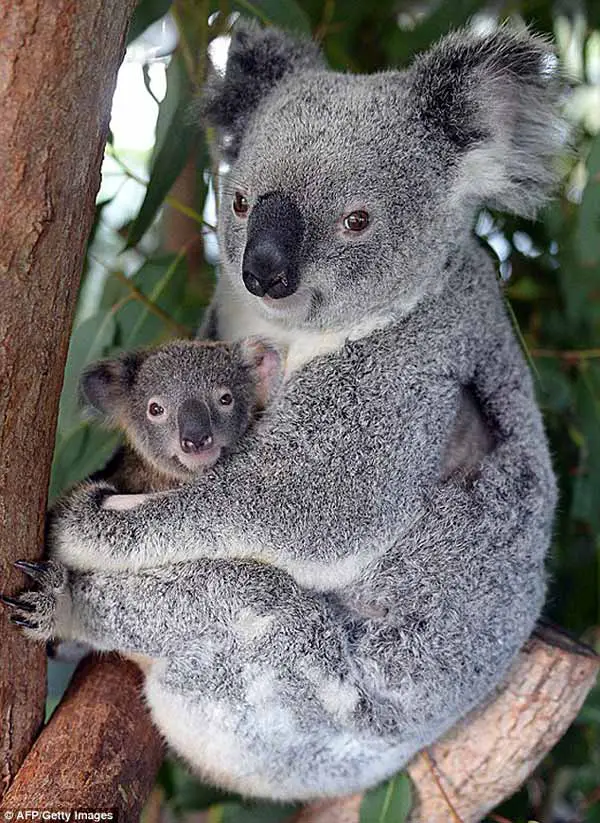 On June 7th, Australia Zoo Wildlife Hospital received two patients, Lizzie, and her joey, Phantom, after a car had hit them. Phantom, 6 months old, managed to avoid any serious injury from the accident. Lizzie wasn't as lucky. She had facial trauma, a collapsed lung, and many minor injuries. To keep her alive, she was going to need surgery.


But she didn't have to go through the life-saving procedure alone. Phantom wouldn't leave his marsupial mama's side; he clung to her while she received her treatment. Veterinary staff let them remain in each other's company due to the fact that separating them would be too stressful on both koalas, and because of Phantom being too young to be on his own.
"There were grave concerns for Lizzy when she came in but thankfully she was able to be stabilized," RSPCA Qld Wildlife Coordinator Lee Pirini said.

Lizzie was in Australia Zoo Wildlife Hospital for almost two months, and during that time Phantom was by her side. When Phantom needed to be weighed, he was kept in a pouch to feel safe while away from his mother.
Wildlife Veterinarian, Dr Rebecca Millers, treated both koalas and was delighted to watch them progressively make their return to the wild.
"There's nothing more rewarding than achieving a successful rehabilitation for these two beautiful koalas. They weren't with us for long but in the short time we had them, we all fell completely in love with this adorable pair," Dr Millers said.
"Phantom was very affectionate; clinging to his mum for comfort during her procedure, but soon after, Lizzy was the one doing all the cuddling. We hope they continue their loving relationship as they settle back into life in the wild."
Lizzie has made a full recovery, with Phantom alongside her. They have been released back into the wild and are both doing well.

Phantom and Lizzy's story is a reminder for everyone to be on the lookout for wildlife while driving on the roads, regardless of where you are in the world. The Australia Zoo Wildlife Hospital sees  a large number of koalas who are victims of car accidents, and with the average cost to treat a koala ranging from $1500 – $5000, public support for the hospital's work is crucial. The facility receives no ongoing government funding, and relies on donations from the public to help save koalas just like these two bundles of love.

To learn more about the Australia Zoo Wildlife Hospital and to donate, go to: www.wildlifewarriors.org
Written by Raven Fon