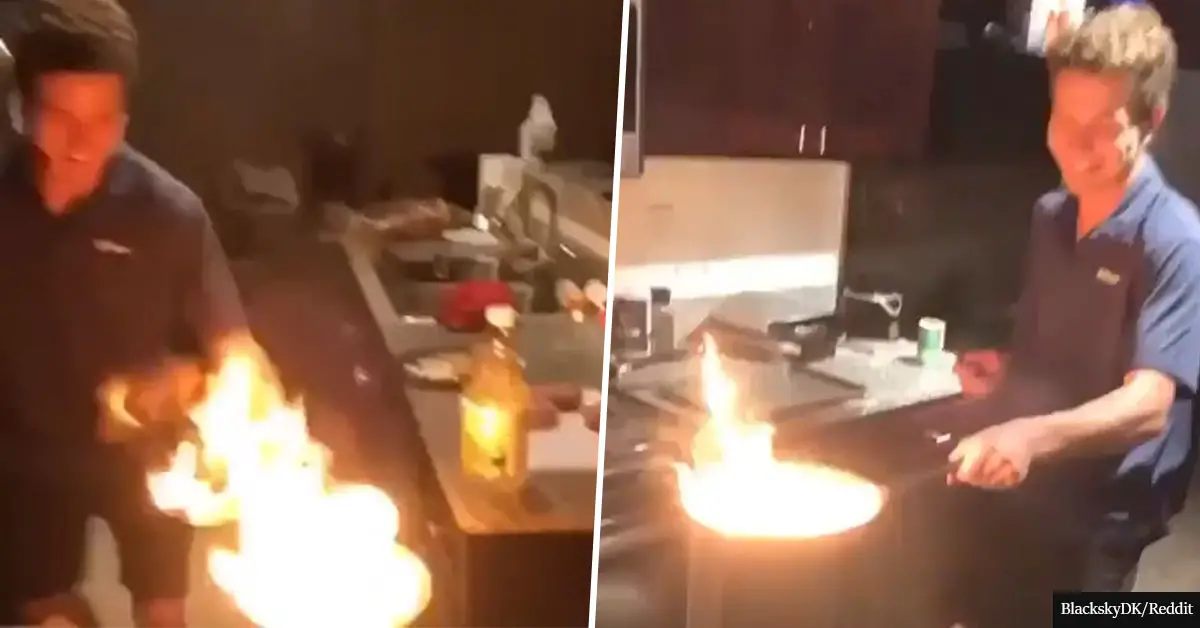 Viral Video Shows What Happens When You Put A Grease Fire Into The Sink
A viral video shows how dangerous it is to try to extinguish a grease fire with water. 
Grease fires are normally started when oil, fat or grease stuck in the oven or on a cooker actually ignite.
A grease fire is extremely hot and can spread fast if not contained in time and in the proper way… and water is not the solution.
Firesafe UK reported that 7,000 people in the United Kingdom hurt themselves in kitchen fires every year.
Do you know how to extinguish a grease 🔥? Put a lid on it to smother the fire. NEVER put 💧 on a grease fire. #FirePreventionWeek pic.twitter.com/ePYgOqwdOy

— Lafayette County Fire Dept. (@LafayetteCo_FD) October 9, 2020
A video of a dangerous grease fire has now gone viral.
The man in the video can be seen smiling as he moves the firey pan to the sink, and as soon as he puts it inside the sink, he turns on the tap, which immediately forces him to back off as the flames go up to the kitchen ceiling. By the end of the video, the pan has been dropped to the floor while still burning.
Putting a grease fire into the sink 🃏 pic.twitter.com/W1KtmoW6gW

— Public Outsider (@publicoutsider) August 22, 2021
It is evident that the water was far from helpful, and according to firefighters, it is crucial to know how to handle a grease fire properly. 
A Fire Rescue 1 article, which quoted Captain Jeremy Francis and Firefighter Steven Malzachar from the Bismarck Fire Department and Fire Chief Steve Nardello from the Mandan Fire Department, says that grease fires can be dealt with by putting a metal lid or baking tray on top of the flames to starve them of oxygen.
Some more tips include pouring baking soda or salt onto the flames if they are not too big, and spraying the fire with a dry chemical fire extinguisher if nothing else works.
Ever nervous of a potential grease fire? Check out the attached photo on how to extinguish a grease fire! #madisonlansdalestation #FPW2020 pic.twitter.com/KHO4nFtKaL

— Madison Lansdale Station (@LansdaleStation) October 9, 2020
If the fire is too large to handle, it is advised for people to exit the house and close the door behind to stop the spread before calling the fire brigade.
What are your thoughts on this story? Let us know by joining the conversation in the comments and please share this article if you've enjoyed the read.