VIDEO: Friends casually play volleyball near erupting volcano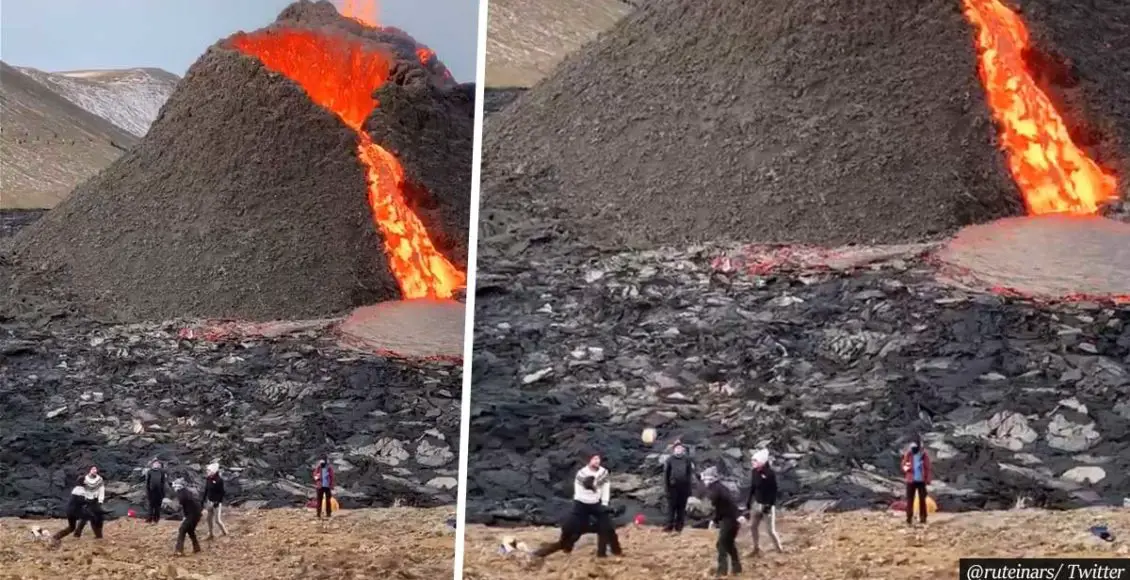 'The most Icelandic scene' – A group of friends was captured carelessly playing volleyball with an erupting volcano in the background. 
An apparently courageous group of friends proved that volcanos are not that frightening as we know them from history and action movies. They were spotted having a casual volleyball game in front of the Icelandic Fagradalsfjall volcano bursting with a steady stream of lava, as UNILAD reports.
The video of the group enjoying their game with the petrifying scene of an erupting volcano in the background has been recently circulating the internet. It was first posted by Twitter user Rut Einarsdóttir, with the caption: "Possibly the most Icelandic scene I have ever seen."
People casually playing volleyball at the #volcano in #Fagradalsfjall, #Iceland yesterday 🌋

Mögulega það íslenskasta sem ég hef séð. pic.twitter.com/nU3VeDqziR

— Rut Einarsdóttir (@ruteinars) March 28, 2021
Although the sight of the bursting lava is beyond doubt startling, the friends' group doesn't really seem to be bothered. They are simply hitting a volleyball back and forth without acknowledging the blazing picture behind them.
The Fagradalsfjall volcano erupted for the first time in known history on March 19, 2021. 
According to Volcano Discovery, a strong seismic crisis began in the area near the Icelandic volcano back in February. Eventually, on March 19, the volcano had its "first historic eruption" in 10,000 years.
Meanwhile, another social media user described the friends playing volleyball with the boiling hot lava in the back as "The most Icelandic video you will see today."
The most Icelandic video you will see today 🇮🇸pic.twitter.com/YBAaDoJ3il

— Scott Duncan (@ScottDuncanWX) March 28, 2021
As for the players, they have surely proven to be amongst the bravest people on the internet right now.
Check out what experts have to say about the Fagradalsfjall volcano eruption: 
What do you think of 'The most Icelandic scene'? Did you know that the Fagradalsfjall volcano has been quiet for the last 10,000 years? Let us know in the comment section!