SF Shoplifting Crisis: Women flee from CVS with bags allegedly stuffed with stolen goods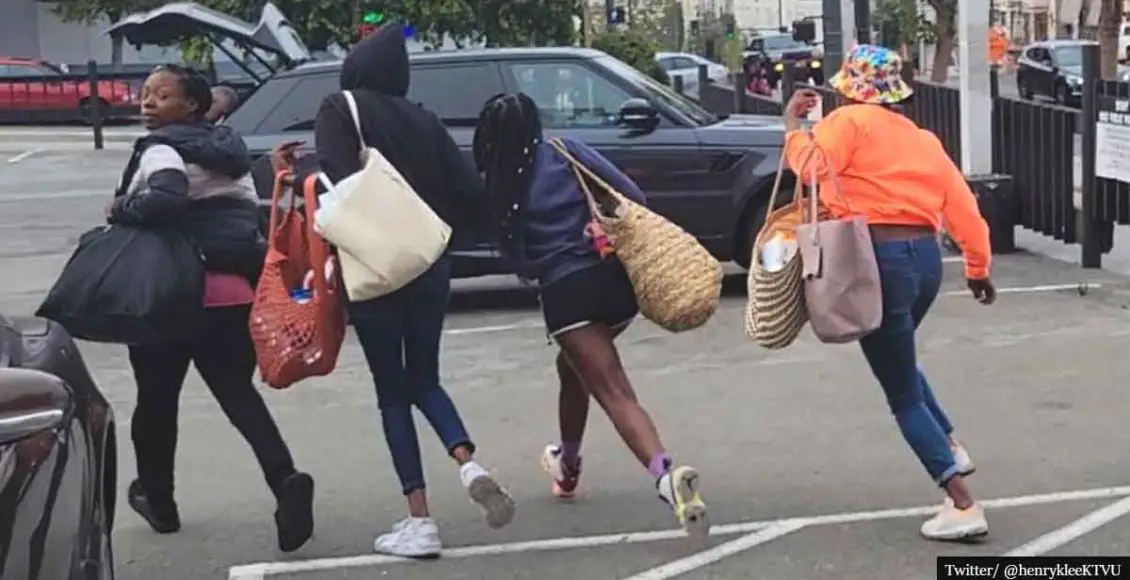 Caught on camera: A group of women ran out of a San Francisco CVS Pharmacy with bags allegedly filled with stolen goods. 
On Monday, around 5 pm, by the CVS Pharmacy at Van Ness Avenue and Jackson Street, several women were captured on camera while fleeing with bags allegedly stuffed with stolen goods. As Fox News marks, this incident is amongst the spree of retail thefts in the city.
Henry K. Lee, a KTVU FOX2 reporter who posted the video on Twitter, explains:
"These 4 women ran off after going into CVS Pharmacy at Van Ness & Jackson in SF and 'picking the place dry,' witness says."
Steve Adams, the witness who filmed the thieves while fleeing from the drugstore, told Lee that when he asked the employees if they were going to call the cops, "they just shrugged."
2/2: After these 4 women ran off after boosting merch from @cvspharmacy at Van Ness & Jackson in SF, witness @SteveAdams80182 says he asked staffers if they were going to call @SFPD "but they just shrugged" pic.twitter.com/m6zWHOnYC6

— Henry K. Lee (@henrykleeKTVU) July 27, 2021
The witness told the reporter: "This sort of thing is becoming so normal."
In the last few months, San Francisco, Los Angeles, and other California cities have been struggling with a drastic rise in shoplifters. Locals are accusing the passage of Proposition 47, according to which theft under $950 is now considered a felony or misdemeanor.
Just last week a viral video showed two men casually walking away from an LA TJ Maxx with armfuls of stolen goods.
Thanks to Prop 47 thefts under $950 will not be prosecuted, so cops will not bother showing up. Just a reminder that you get what you voted for, California! pic.twitter.com/jWUPdJzy0A

— Adam Carolla (@adamcarolla) July 20, 2021
According to San Francisco authorities and retail officials, shoplifters have regularly made off with merchandise to be resold. Robert Rueca, a spokesman for the SF Police Department, said that thieves are not "stealing one or two items that someone might need to get by," adding:
"Our investigations have shown that there are organized fences where people are selling these products that they steal."
California Retail Association President Rachel Michelin stresses that the money from stolen goods is ultimately used by crime syndicates. As per Michelin, millions of dollars worth of merchandise have been stolen only in San Francisco.
California officials are now making efforts to curb the shoplifting incidents in the state, which mainly affect small businesses.