Secrets Of A Long Lost Empire: Explorers May Have Unearthed The "Island Of Gold" Which Disappeared 700 Years Ago
Adventurers have discovered astounding treasures from a long-forgotten empire that sank into the sea centuries ago including priceless jewelry and gold coins.
Fishermen found a jewel-encrusted statue of Buddha, worth millions of dollars, and it is believed that they may have uncovered the whereabouts of an ancient Indonesian kingdom on the island of Sumatra, called the "Lost Island of Gold"
And the incredible 8th-century life-size statue of the Indian Śramaṇa was far from being the only hidden treasure found in the area.
The legendary island used to be home to the Srivijaya civilization – a Malay Buddhist empire that dates between the 7th and 13th centuries and disappeared a century later – and it has been explored by researchers and fishermen for the past half a decade.
Explorers who had been searching through the crocodile-infested Musi River, found bronze monks' bells, gemstones, coins and even golden ceremonial rings.
The fishermen also uncovered a beautiful little gold and gem ring with claws, which is thought to have been worn by a sacred bird, in addition to a buffalo and rider ornament, and a few beads and sandalwood coins made of gold.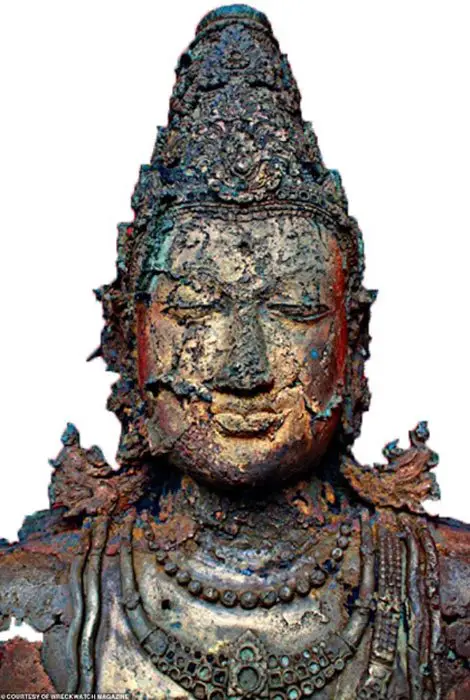 In an interview for the Daily Mail, British maritime archaeologist Dr. Sean Kingsley said:
"Great explorers have hunted high and low for Srivijaya as far afield as Thailand and India, all with no luck.

"Even at Palembang, the traditional location of the vanished kingdom, archaeologists failed to turn up enough pottery to boast even a small village.

"Srivijaya, the last mighty lost kingdom on earth, has jealously guarded its secrets."
Kingsley went on to say that the "extraordinary" findings had been fished out of the waters in the last few years.
"Coins of all periods, gold and Buddhist statues, gems, all the kinds of things that you might read about in Sinbad the Sailor and think it was made up. It's actually real," he added.
In addition to having been an empire, Srivijaya was also a maritime and commercial kingdom that existed between the 7th and the 13th centuries.
Britannica reports that Srivjaya is now known as Indonesia, but originated in Palembang on the island of Sumatra.
It is said that there are tons of Chinese coins and sunken ceramics found in the riverbed.
According to Kingsley, people used to live near the river and he is of the mind that their civilization collapsed in the 14th century.
He went on to say that people's "wooden houses, palaces and temples all sank along with all their goods."
What caused the empire's collapse remains a mystery, but archeologists believe that Srivijaya fell victim to a volcanic catastrophe, similar to Pompeii.
What are your thoughts on this incredible discovery? Let us know by joining the conversation in the comments and please share this article if you've enjoyed the read.