Reporter tries to keep her cool on live TV as her cats fight in the background
Some might say that working from home is a piece of cake, but that's not always the case. Sometimes we can get way more distracted while working from the living room, than from the office. Yes, there are no annoying co-workers around, but we still have to put up with our family, or in this case, with our pets.
Recently, the Philippines journalist Doris Bigornia has experienced the struggle of being distracted by her pets while working from home.
And it happened while she was live on air!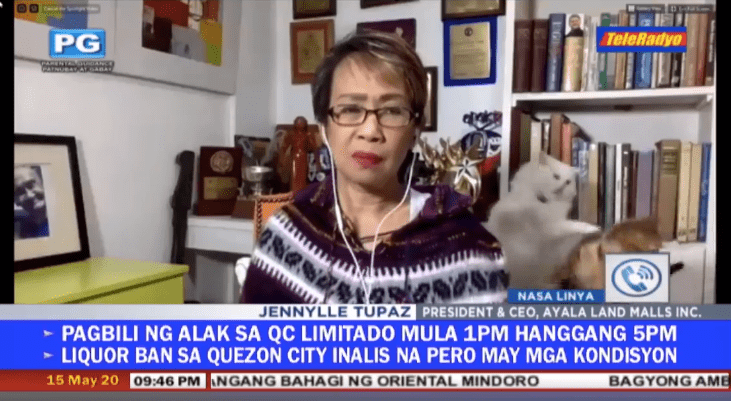 The hilarious feline encounter happened last week, on May 15. While Bigornia, a reporter for ABS-CBN News, was interviewing a guest, her two cats decided to steal the spotlight. In the video, they can be seen fighting each other in the background, while she was live on TeleRadyo's SRO (Suggestion, Reaction, and Opinion) with co-anchor Alvin Elchico, as UNILAD reports.
The experienced journalist managed to keep it cool and continued with her broadcast as usual.
Unlike her cats, Bella Luna and Nala, who definitely couldn't control their temper. 
Well, Bigornia did show a slight look of irritation, as she briefly gave her cats some serious side-eye. After all, they were stealing all of the attention.
The comical incident caught the eye of many viewers, proving why cat videos are so darn famous. In fact, one of the netizens who shared a video from the interview showing the cats in action was Bigornia's daughter, Nikki.
MY CATS HAVE NO CHILL 😹😹 @DorisBigornia pic.twitter.com/nJr3ZCedbG

— 𝙽𝚒𝚔𝚔𝚒 𝙱𝚒𝚐𝚘𝚛𝚗𝚒𝚊 𓃠 (@nikkibigornia) May 15, 2020
As Nikki shares, Luna and Nala certainly had 'NO CHILL'.
However, the now-popular felines clearly made up shortly after their fight. This can be seen in another video Nikki posted, not long after they traded blows behind the journalist. Bigornia's daughter shared a touching moment of Luna and Nala cuddled up, licking each other, as they have never fought before in their life.
LAMBINGAN NOW, RAMBULAN LATER 😹 pic.twitter.com/LDU123qtHl

— 𝙽𝚒𝚔𝚔𝚒 𝙱𝚒𝚐𝚘𝚛𝚗𝚒𝚊 𓃠 (@nikkibigornia) May 17, 2020
This wasn't the first time Luna and Nala were caught on live TV. Previously, Nikki, clearly a regular poster of her cats' adventures, shared pictures showing one of their cats carelessly 'cleaning' herself in the background, while Doris was working.
NO SHAME! 😹😹 pic.twitter.com/HybcYWQKr0

— 𝙽𝚒𝚔𝚔𝚒 𝙱𝚒𝚐𝚘𝚛𝚗𝚒𝚊 𓃠 (@nikkibigornia) May 12, 2020
Have you had similar hilarious encounters with your pets in the leading role while working from home? Share your story in the comment section!