16 Bad Ass Quotes from Motorhead Frontman Lemmy Kilmister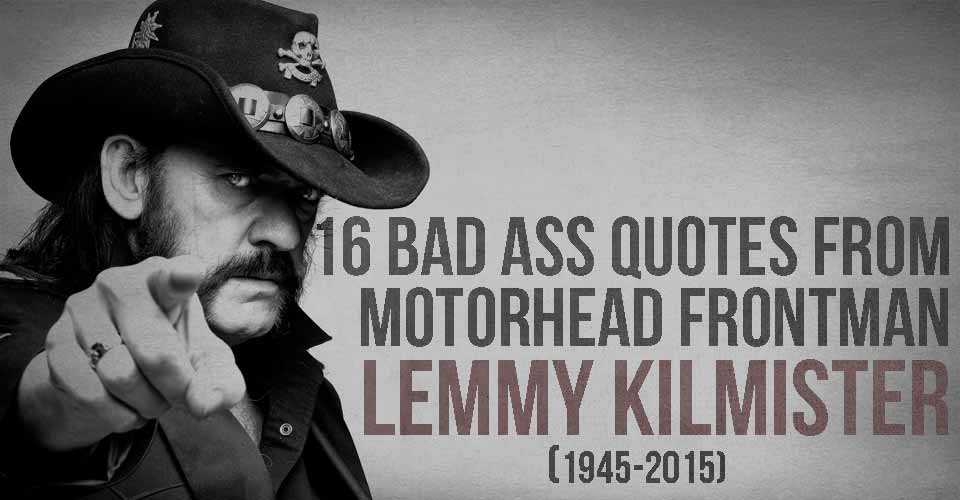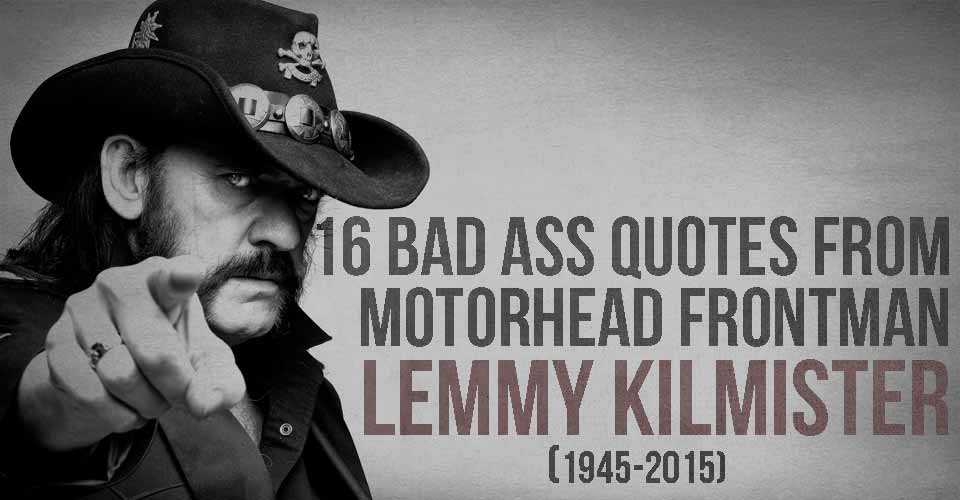 On December 28th, 2015, the world lost a hard-rocking musical legend. Lemmy Kilmister of Motorhead fame lost his battle with cancer, but he never lost his zest for living.
Shortly before he died, Lemmy said, "Death is an inevitability, isn't it? You become more aware of that when you get to my age. I don't worry about it. I'm ready for it. When I go, I want to go doing what I do best.
If I died tomorrow, I couldn't complain. It's been good." Well, sir – you lived a great life, were the epitome of rock'n'roll, and you will be missed.
"Integrity is everything to me. I will not die ashamed. I will live on my deathbed knowing that I gave it my best shot, and everything else is meaningless to me."
"People don't read anymore. It's a sad state of affairs. Reading's the only thing that allows you to use your imagination. When you watch films it's someone else's vision, isn't it?"
"People don't become better when they're dead; you just talk about them as if they are. But it's not true! People are still assholes, they're just dead assholes!"
"My ethic is: 'Eat, drink and be merry, for tomorrow we die.' You can be as careful as you want, but you're going to die anyway, so why not have fun?"
"Home is in here [tapping temple]. Where you live is just a geographical preference."
"If you didn't do anything that wasn't good for you it would be a very dull life. What are you gonna do? Everything that is pleasant in life is dangerous. Have you noticed that? I'd like to find the bastard that thought that one up."
"That was a great time, the summer of '71 – I can't remember it, but I'll never forget it!"
"As you go through life's rich tapestry, you realize that most people you meet aren't fit to shine your shoes. It's a sad fact, but it's true. A good friend is someone who'd hide you if you were on the run for murder. How many of them do you know?"
"In my life so far, I have discovered that there are really only two kinds of people: those who are for you, and those who are against you. Learn to recognize them, for they are often and easily mistaken for each other."
"I don't do regrets. Regrets are pointless. It's too late for regrets. You've already done it, haven't you? You've lived your life. No point wishing you could change it."
"It seems that our brave new world is becoming less tolerant, spiritual and educated than it ever was when I was young."
"Apparently people don't like the truth, but I do like it; I like it because it upsets a lot of people. If you show them enough times that their arguments are bullshit, then maybe just once, one of them will say, 'Oh! Wait a minute — I was wrong.' I live for that happening. Rare, I assure you."
"If you think you are too old to rock 'n' roll, then you are."
"If you're going to be a fucking rock star, go be one. People don't want to see the guy next door on stage; they want to see a being from another planet."
"People have forgotten that sex is fun. It's the most fun you can have without laughing. People have forgotten that. It's all deadly serious. AIDS. You can get gonorrhea from a blowjob. So what? That's the risk you have to take. If you're going to have sex, fuckin' have sex and be happy about it. Don't be looking over your shoulder all the time. It ruins everything."
"People just rip each other to shreds over the years. Nothing kills a relationship like commitment."