"Pure love and joy" – Girl helps her disabled friend take a spin on her new electric wheelchair
"A moment of pure love and joy" – Heartwarming video shows a little girl helping her disabled friend get used to her new electric wheelchair. 
Meet Abbie and Ruby – the best friend duo that will melt your heart. 
The family of Ruby, a little girl suffering from the incurable disease of H-ABC, a rare genetic disorder that progressively damages the nervous system, shared a touching video. As Newsner notes, the footage shows Abbie, Ruby's best friend, encouraging her to try out her new electric wheelchair.
With comforting words of support, Abbie inspired Ruby to take a spin on her new chair. And as she did, the smile on her face showed everyone just how much she enjoyed the ride, as well as the support she receives from her bestie.
On the Facebook page A Rare Ruby, alongside the emotional video, the girl's parents wrote:
"This is Ruby and her friend Abbie. This was a moment of pure love and joy, one of the everyday miracles that are part of our lives caring for a terminally-ill child."
The post continues:
"Ruby has a form of leukodystrophy called H-ABC. Because of leukodystrophy, Ruby's brain has trouble sending messages to her body to tell it what to do. Leukodystrophies have no cure, and are eventually fatal."
The heartening video was taken back in 2018 when it was viewed about 7 million times across social media. 
However, Abbie's act of kindness inspires many even today.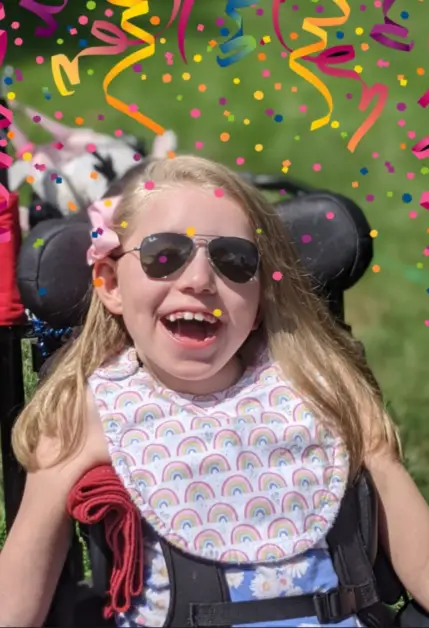 Ruby's parents add:
"It's not easy for Ruby or our family. But, then, in this moment between Abbie with my daughter Ruby, we are inspired by the power of love and connection.

We have been overwhelmed by how this moment has touched millions of people."
The post continues explaining that people who want to help are welcome to donate to The Rare Ruby Fund, as well as the GoFundMe page A Rare Ruby Fighting H-ABC. 
Today, three years later, Ruby's family continues to raise awareness about the rare disease and hopes there will be a cure for their little princess.