A thoughtless man at a wildlife park in China exited his car to approach a group of 11 white tigers. 
In a now-viral video recorded at the Beijing Wildlife Park, a man can be seen resting just a few meters away from a pack of white tigers, for God knows what reason.
Meanwhile, a group of people can be seen calling him to get away from the tigers, from afar.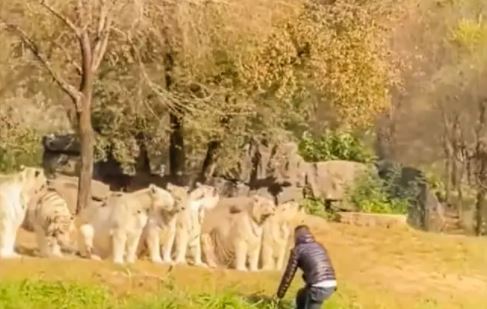 The footage was reportedly taken on October 23 and, needless to say, it is quite a frightening sight. 
The following day, the Beijing Wildlife Park made a statement saying that the man in question had exited his vehicle to approach the tigers while ignoring warnings from nearby staff not to do so.
It would seem that the man, who has since been identified by authorities as Jiang, 56, purposefully tried to aggravate the tigers by making gestures and sounds.
He can also be seen staring at them intensely as they proceed to gather around him.
Horrifying moment was captured when a tourist breaking into the tiger area in #Beijing Wildlife Park confronted 11 white tigers on Saturday. Fortunately, the tourist was not injured. pic.twitter.com/rqFMEj6Doo

— People's Daily, China (@PDChina) October 24, 2021
Fortunately for him, they did not decide to attack. 
According to news site Baidu, staff fed the tigers to take their focus away from Jiang. Police were then told that he had broken the park's rules, having trespassed into a forbidden area.
After seeing the CCTV footage, police announced that the man had been taken into custody, and an investigation into his actions is currently taking place.
What are your thoughts on this story? Let us know by joining the conversation in the comments and please share this article if you've enjoyed the read.