The breathtaking story of Peter Bol – Australia's 800m Olympic medal hope, who fled war-torn Sudan as a child.
Peter Bol, who competes for Australia, just became the fastest 800m runner at the semi-finals in Tokyo. 
The Sudan-born athlete marked an Australian record time of 1:44.11.
When Bol was just a child, he was running from a war-torn country, and now he has the chance to win the gold on Wednesday's 800m finals. 
At the age of 27, Peter Bol is now Australia's leading 800m runner, with a great chance to win at the Tokyo Olympics. But his undeniable talent for sports is not the most incredible thing about this athlete.
When Peter was only a four-year-old boy, he and his family fled war-torn Sudan to a refugee camp in Egypt. They spent several long years struggling to make ends meet while still living at the camp. Thankfully, they had a second chance at having a peaceful life after moving to Australia.
Today, 19 years later, the promising young man is still running, but not from war – he is running for Australia! 
As Daily Mail reports, on Sunday night, Bol won the semi-final of the 800m track event in an Australian record time of 1:44.11. That fateful night, he became the first Aussie in 53 years to make an 800m Olympic final since Ralph Doubell won gold in Mexico City in 1968.
 

View this post on Instagram

 
However, the remarkable success at the semi-final hasn't made Peter forget where he comes from and what he is running for.
In a 2016 interview with the Sidney Morning Herald, Bol shares:
"It was completely different, it was just nice, even the air was fresh and it was just a feeling – pretty much the same feeling if you just made it to the Olympics – a feeling of excitement. We came to Australia for the obvious reason – Australia is one of the best countries in the world … I have been around a few countries and Australia is the best country to be in so my family definitely made the right choice."
The athlete recalls that when he was just a child, his family was forced to run from Sudan, as "there was a civil war at the time."
Peter continues:
"[In] Egypt, I just remember always being with my family, it was still a bit difficult to be in, it was a bit tough over there to live. It wasn't all good memories."
Luckily, Bol's family was able to move to Australia in 2002, when he was still a young boy. Growing up, he never knew he would become a runner, as he had always dreamed of becoming a professional basketball player. But life apparently had other plans for him.
When Peter was 16, a teacher at his school noticed his potential as a runner after watching him compete in a cross country event.
The educator was impressed by Bol's talent and persuaded him to take running seriously. Speaking to Athletics Australia, the athlete said:
"Shortly after an athletics school carnival, one of my teachers, Helen Leahy approached me and convinced me to join an athletics club. I thought it was a pretty good deal specially because it meant I'd be fitter for basketball so I agreed and she delivered."
Ever since then, running became Peter's purpose.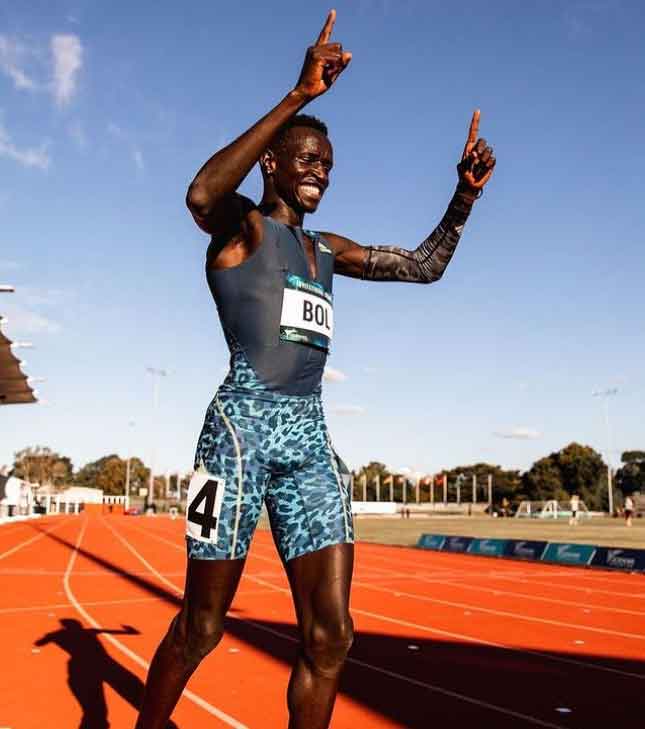 At the age of 19, he won the national junior 800m title in 1:48.90 and shaved that time down to 1:45.41 within three years. Then, in 2016, he became sixth at the Rio Olympics. Although he was disappointed with his results back then, he focused on becoming his best self for the Tokyo Games.
After his success at the semi-finals, Bol has a great chance at winning the gold medal on Wednesday. Speaking to Channel Seven, he said:
"I put myself in the best position to qualify. Even if I didn't, I would have been happy with it. Job's done today but still a lot to go. We can't underestimate any of these runners. Any day, someone can come out."
He explained:
"I went to Europe for three weeks and raced two races; they weren't the best in terms of positions but they were the best for preparation. When I went to Gateshead and came third I said to [manager James Templeton and coach Justin Rinaldi] that I think we can win a medal. I didn't want to get too excited, I had to get to the final first. But we're here making history, two Australian records in a row and I look forward to the final." 
What do you think of Peter Bol's story? Do you think he could grab the gold on Wednesday? Leave a comment to let us know!