People Form Human Ladder To Rescue Two Girls Trapped Inside A Burning Apartment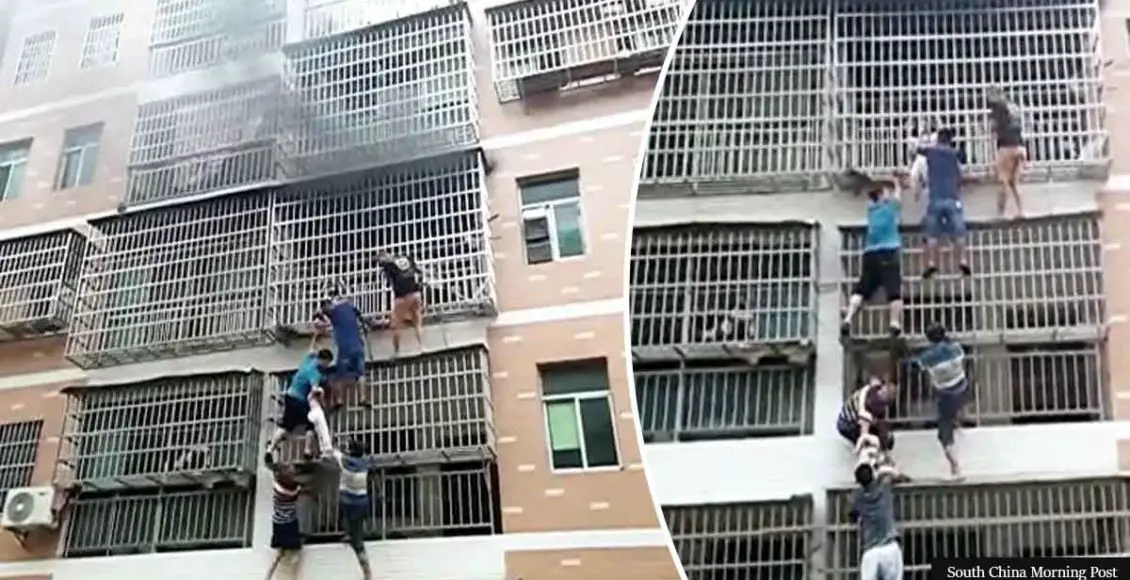 Yongzhou, China: In a heroic effort, a group of people took action the moment they saw two little girls in need of rescue. 
The children were alone inside an apartment when a fire started spreading and put their lives at risk. In order to save them, the locals formed a human ladder to bring the girls down one at a time.
The incident happened on August 5 in the Hunan province in southern China, as per Yahoo! TV. The fire started after the girls' mother left them alone at their apartment on the 2nd (or 3rd) floor. With nobody around to watch them, the children found a lighter and started playing with it, which ultimately resulted in a big fire.
Neighbors, who saw what was happening, didn't hesitate to jump into action, and around six people climbed onto the wall of the building and formed a human ladder to make their way to the burning apartment. The girls were carefully brought down one by one, and eventually, the fire brigade went in to kill the fire.
Fortunately, the children did not sustain any injuries. 
The South China Morning Post shared the video on social media with the caption:
"Six people in China formed a human ladder to rescue two girls who were trapped in a burning flat."
The video has been seen more than 200,000 times so far.
What are your thoughts on this story? Let us know by joining the conversation in the comments and please share this article if you've found it of value.