'Nun' Caught Dancing With Skeleton Next To Graveyard In England
A haunting photo shows a woman dressed as a nun dancing with a skeleton at the old Hull graveyard in England.
The creepy incident was caught on camera by an eyewitness who was driving by in his car on Spring Bank West just outside the graveyard.
The person who took the photos was left in shock at the bizarre sight that took place last Saturday on the busy road into the city, and for some reason, the images also have a true ghostly feeling to them.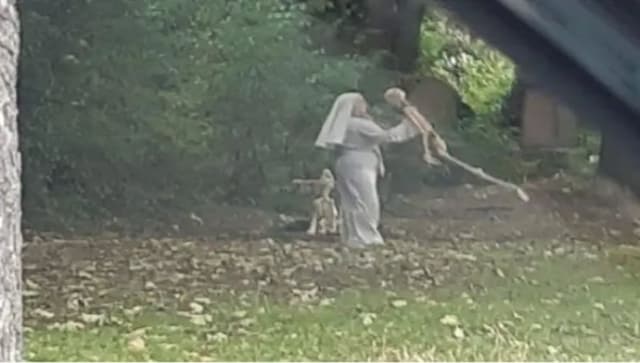 The now-viral images show the woman, who is dressed like a nun, dancing with a skeleton. In one of the photos, the woman can also be seen playing with something else as well that seems to resemble a dog.
"Literally, she was stood at the cemetery on Spring Bank West opposite the turn off for Hymers school. She was dancing with a skeleton. It was clearly attracting a lot of attention with people stopping to watch nearby and people in their cars looking," a stunned eyewitness said, according to the Daily Mail.
Another person who was also taking photos said that the woman in the costume might be fooling people as part of a prank. And if that's the case, it surely seems to have worked like a charm…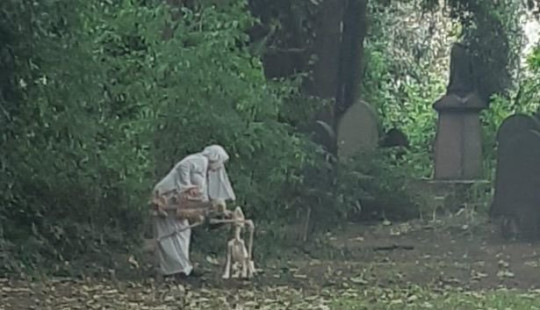 Some info about the Hull General Cemetary
The Hull General Cemetery is one of the city's most historic sites and has not been in use for more than half a century. It was created in 1847 and was used until 1972, after which it closed down.
The historic graveyard houses a number of special monuments and burial sites including those of victims who lost their lives during the cholera outbreak in 1849.
What are your thoughts on these haunting images? Let us know by joining the conversation in the comments and please share this article if you've enjoyed it.