On Friday, April 24th, the Hubble Telescope marked its 30th anniversary since its launch into space. To honor this remarkable date, NASA is using the telescope to help us celebrate our birthdays too.
What did the Hubble see on your birthday?
A new feature of NASA's website allows visitors to witness a stunning image taken by the telescope on their birthdays.
Considering Hubble has only been in space for 30 years, the image people see may not exactly match their birth year. However, it will still show them a breathtaking view from the exact month and day they input, as reported by KDVR.
The Hubble Space Telescope has given us a new image of a nursery for stars in a nearby galaxy to the Milky Way. ✨

Have questions about this new image? Leave them in the comments below! Join Hubble experts later today from 2-4 p.m. EDT for a Q&A. pic.twitter.com/uLyDF6MpM0

— Hubble (@NASAHubble) April 24, 2020
Since the telescope has been operating 24/7 for the past three decades, there is some absolutely astonishing cosmos snippet linked to each date of the year.
For their new feature, NASA chose 366 of the most extraordinary images.
For instance, on November 20th, the birthday of the man whom the telescope is named after, Edwin Hubble, the Hubble Telescope shows an image from 2005 of Arp 148, a galactic duo likely in the midpoint of colliding.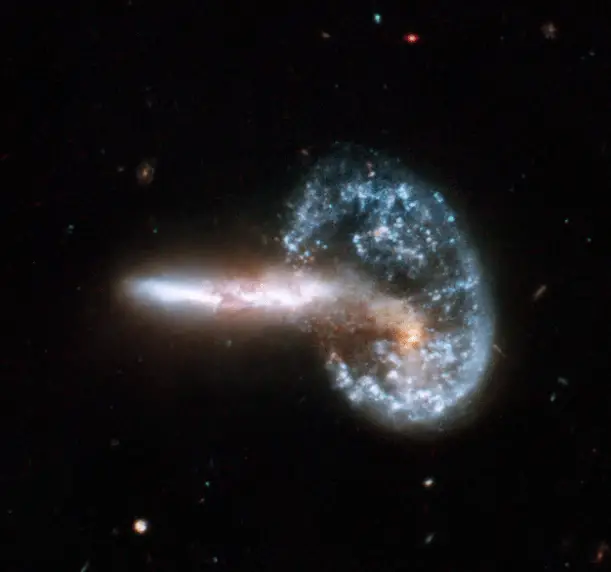 Image credits: NASA
As for Hubble's own birthday, April 24th, the novel NASA webpage displays a picture of the Cygnus Loop supernova remnant—a relic of a star that exploded in a massive cataclysm nearly 15,000 years ago.
The image is from 1991, the telescope's first anniversary of its space launch.

Image credits: NASA
The new space trait combines engaging fans from all around the globe and exhibiting some of the most amazing cosmic discoveries.
Interestingly, the Hubble Telescope has made over 1.4 million observations since it was first launched in 1990. What's more, it was a subject of publication of more than 17,000 scientific papers. This made the telescope one of the most productive scientific instruments ever built.
From shots of planet formations to gigantic black holes, Hubble has provided significant data that has helped researchers make crucial astronomical discoveries.
#Hubble30 Enjoy not one but 30 #HubbleClassic images in our Flickr album "30 Years, 30 Images," featuring one cool image for each of Hubble's 30 years in space: https://t.co/SO4bzv319G pic.twitter.com/b4IT8CSbp7

— Hubble (@NASAHubble) April 28, 2020
The idea of a 'large space telescope' was first conceived in 1946, by Lyman Spitzer, Jr., a Yale astrophysicist.  But it wasn't until 1990 when the Hubble set off to space to study other galaxies and explore the evolution of the universe.
Currently, due to the ongoing COVID-19 pandemic, NASA has delayed the in-person celebrations for the telescope's 30th anniversary.
However, people can still enjoy the awe-inspiring images online. Moreover, with the hashtag Hubble30, everyone is free to share their birthday space snaps on Twitter, Facebook, and Instagram.
What did Hubble discover during its 30th year in space? Take a look at some of the highlights as it embarks on another year of exploration! #Hubble30 pic.twitter.com/10hXF0WuyY

— Hubble (@NASAHubble) April 27, 2020