Media Blackout: Tens of Thousands of Italian Bars & Restaurants Defy COVID Closures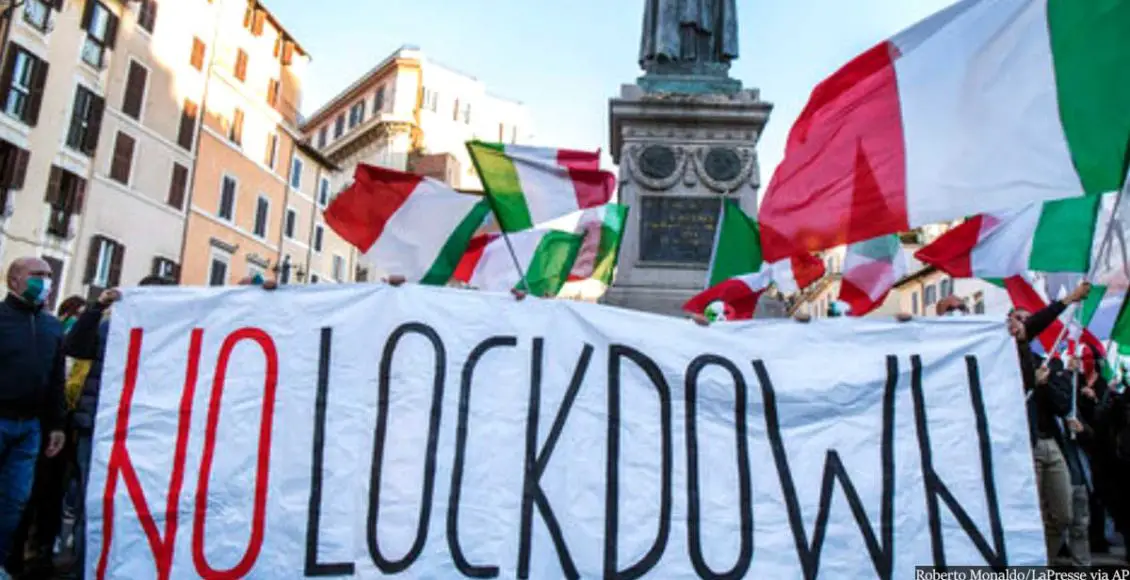 Italian bars and restaurants break COVID rules by opening their doors to the public.
The mainstream media has failed to cover the "mass civil disobedience" taking place in Italy.
Around 50,000 bars and restaurants have defied lockdown rules by refusing to remain closed.
The campaign against lockdown measures is known as #IoApro or #IOpen.
An estimated 50,000 bars and restaurants have defied government orders in Italy.
A mass civil disobedience campaign has begun in Italy. Business owners have started to ignore and defy the lockdown rules and regulations put in place by the government as bars and restaurants remain open despite orders to close. Although the exact number of open venues is not known, it is estimated that around 50,000 venues have opened their doors to the public. If this number is accurate, it is expected to increase significantly as the #IoApro (#IOpen) movement grows every single day.
Euronews, one of the few mainstream media networks that have covered the campaign, spoke to several restaurant owners.
Armando Minotti, owner of Loste Ria restaurant, shared: "Let's call this a polite protest. If the guards come in, and they surely will, we will let them in. We will accept the fine but we are going to stay open and we're not going to close anymore because it's impossible to go on like this." In addition to this, the owner of Fuoco & Farina restaurant also commented on the campaign. "Yes, if this civil disobedience — because that is what it is, civil disobedience — is successful, I would like to stay open. I don't want to close anymore," Max Vietri said. "Either all businesses close, as we did last March, then that is okay with me. But you cannot make me close, and leave the other businesses open. There must be clear rules. This government is changing the rules every week which is absurd."
Politicians like Vittorio Sgarbi are encouraging the protestors:
A very angry Italian opposition MP (@VittorioSgarbi) backs the #IoApro (#IOpen) movement & calls for an insurrection against government restrictions on businesses, he says "Open up, & don't worry, in the end we will make them eat their fines".
The revolution starts tomorrow. pic.twitter.com/E03qAnviGw

— Robin Monotti (@robinmonotti) January 14, 2021
It is expected that, sooner or later, business owners all around the world will follow Italy's example.