Man 'retires' from Pornhub with a touching message after finding love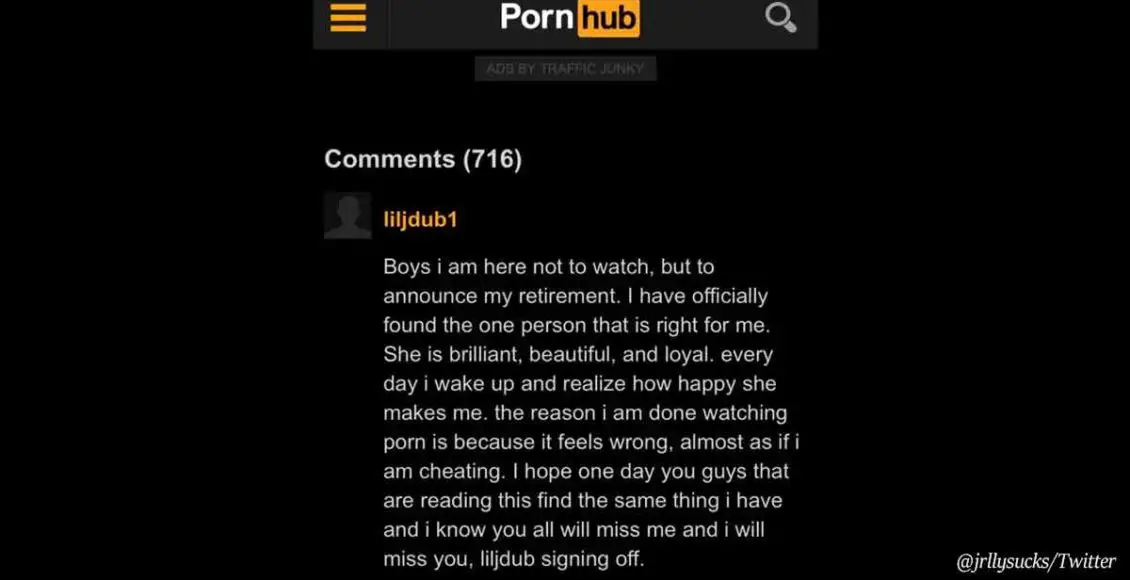 Let's take a moment to appreciate this man's grand gesture! After finding love, he 'retired' as a regular Pornhub user with a touching statement. 
An emotional farewell message has the internet community in awe. This man has just retreated from the popular adult site Pornhub after, as he claims, he found "the one." 
I came for a nut but arrived at a conclusion pic.twitter.com/oB9ZXI9HQ5

— j (@jrllysucks) April 5, 2021
The adult platform ex-user, who goes by the nickname Liljdub1, stated that he had officially found the right person for him, so he is "done watching porn." As per Indy100, his message reads:
"Boys, I am not here to watch, but to announce my retirement. I have officially found the one person that is right for me."
The man describes his loved one as a "brilliant, beautiful, and loyal" person.
He continues:
"Every day I wake up and realize how happy she makes me. The reason I am done watching porn is because it feels wrong, almost as if I am cheating. I hope one day you guys that are reading this find the same thing I have and I know you all will miss me and I will miss you."
The last words of his heartfelt message are: "Liljdub signing off."
hell yea https://t.co/iNfR5ussJ0 pic.twitter.com/A7lRgK3TeX

— ajeb kohl (@sssaladah) April 7, 2021
Thousands of Twitter users have praised the former user of the X-rated platform.
If only people actually had this thought process 🥴 https://t.co/fV6MVsTwgK

— 𝕸𝖆𝖉𝖘☽♓︎☾ (@_madelynmarie) April 7, 2021
Meanwhile, others have argued that retiring from watching porn when coupled up is not necessary. Some even claimed that watching adult content together with your partner contributes to sustaining a loving relationship.
idk i feel like abstaining from pr0n and all that while in a relationship isn't a great option, it's basically saying to your partner "okay now you're responsible for all my sexual needs" and that's an unfair expectation to put on them

— кешір (@keshir_) April 7, 2021
What do you think of this man's 'retirement' from Pornhub? Would you do the same for your significant other? Let us know in the comment section!