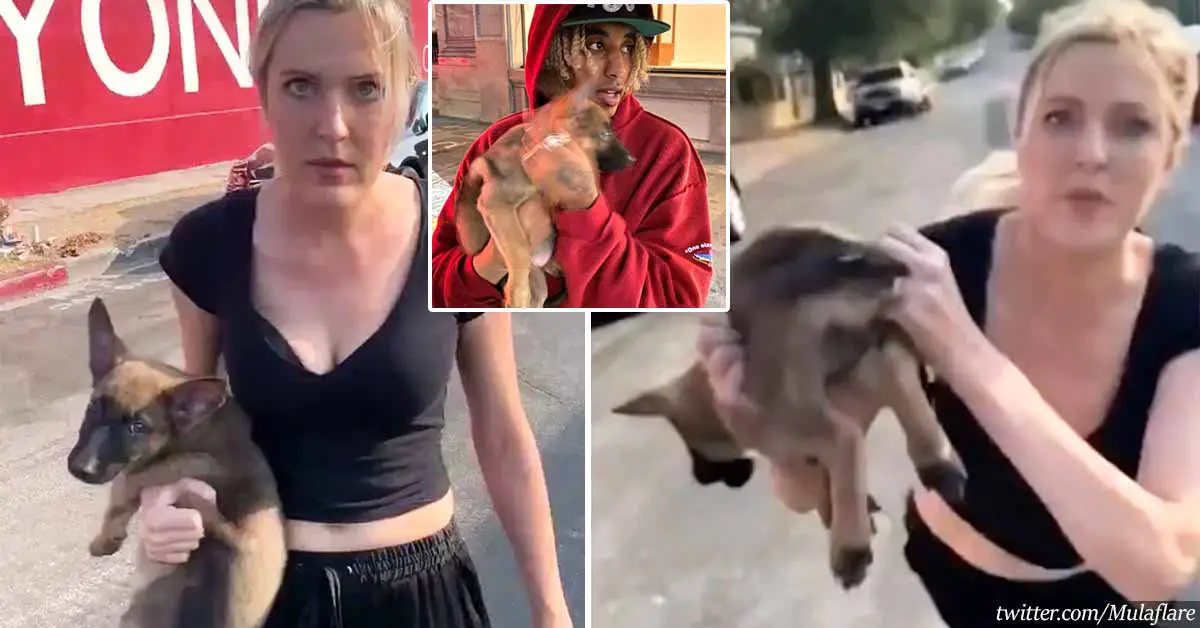 One innocent puppy became a victim of an allegedly racist woman who hurled the poor animal at a black man. 
A white woman tossed a puppy at a black man in the middle of a race-based argument, 9GAG reports. The incident was caught in a disturbing video. Thankfully, the puppy was not hurt. What's more, the man it was hurled at decided to adopt it and give it the loving home it deserves.
Idk what's goin on but I got a new dog pic.twitter.com/noLZKNYO6d

— glogloglo (@Mulaflare) October 10, 2020
Last week, Glo Mula, a rapper, was stopped from entering his car by a woman who confronted him, saying:
"Mafia it's called the military of the United States of America, you're black."
Shocked by the woman's words, the man asked her to repeat what she had just said. Clearly aggravated by her racist behavior, the man said: "So what if I'm f**king black? What's up?" 
The woman can be then seen spitting on the ground and trying to get closer to Mula. At the time, she holds the puppy in her arms.
She then says, "So what if I'm f**king white?" to which the rapper replied, "I didn't say nothing about race you racist b**ch. You're the one bringing up f**king race."
As the man tries to defend himself from the woman's verbal attacks, she responds by insulting his family. 
Neurotically walking around, the woman says:
"Do you have love in your life? Your mom and your sister and your brother, do they really love you?"
Furthermore, when Mula asks her about the puppy she holds in her arms, and whether it belongs to her, the unstable woman suddenly hurls the dog at him. The poor pupper bounces off his tiny body and lands on the pavement crying out of fear.
In a while, the woman returns, claiming she has a mental health record and accusing the man of stealing her dog.
Luckily, this insane situation has a happy ending.
Glo Mula decided to adopt the puppy and give it a loving home. He named it Movie and created a special Instagram account where he shares pictures of the adorable dog.
Before, Movie was an innocent victim of a woman who was apparently dealing with some mental health issues at the time. Now, he is the happiest pupper ever, having a new home and a caring owner!
Glo Mula has also established a GoFundMe page for little Movie, so others could help him create the perfect environment for the playful pup.