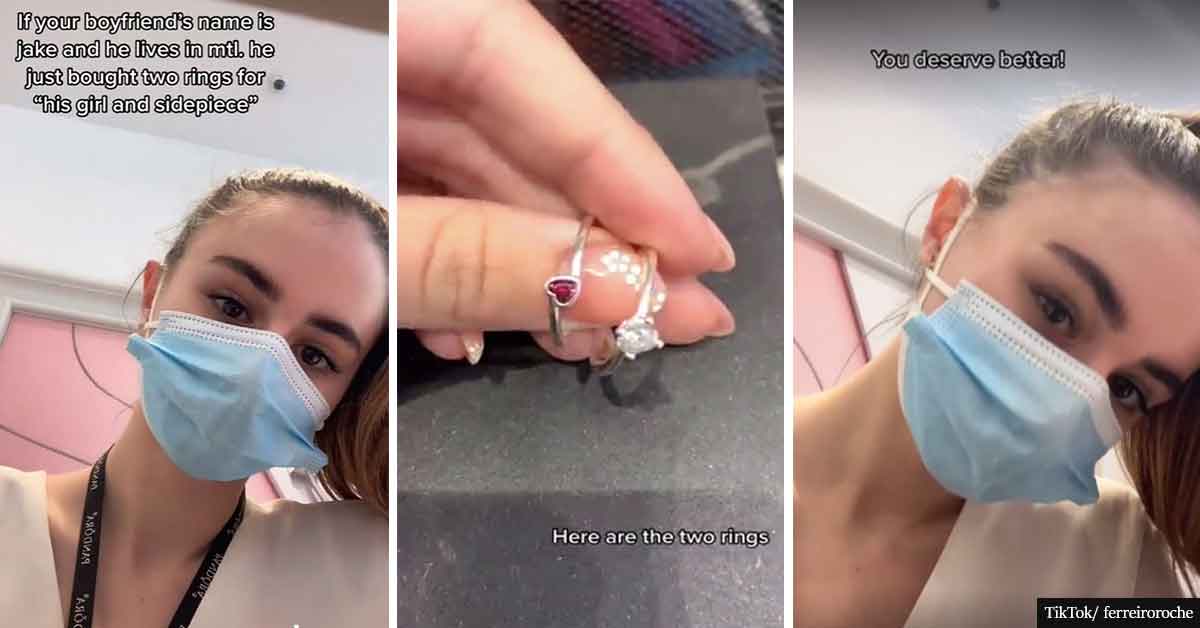 Jewelry store worker exposes a cheater who buys a ring for his girlfriend and one for his "side piece"
A jewelry store employee exposed a cheater in a viral TikTok.
A woman who was working in a jewelry store in Montreal, Canada, called out on a guy who bought two rings – one for his girlfriend and one for his "side piece."
As Comic Sands reveals, Eli, known on social media as @ferreiroroche, exposed the cheater in a now-viral TikTok video. She captioned the clip with the words: "Gotta support my girls."
While Elie was showing both rings – the one for the main girl and the one for the side chick, she added a text, saying:
"If your boyfriend's name is Jake and he lives in [Montreal]. He just bought two rings for 'his girl and his side piece'. 

You deserve better."
The comments below her video varied, from people claiming that all Jakes should be avoided by default, to people praising Elie, saying: "This girl is doing God's work."
The TikTok reached a massive amount of 2.6 million views in no time.
Many social media users also raised concerns that Elie might lose her job after posting the video. However, she confirmed that she quit a week earlier, and she posted the clip on her last shift.
What is more, she shared an update, according to which the infamous Jake got what he deserved.
@ferreiroroche

Reply to @ferreiroroche update: thank you to everyone who sent it around!
In the clip, Elie wrote:
"He has been caught! 

I received a dm three days ago asking me to confirm with a pic of him and both girls were not aware. She sent me a picture of the rings but both girls wanted to keep their names private. They are both no longer speaking with him and all three of us have a snap group chat."
What do you think of what Elie did? Was she right to expose the cheater? Leave a comment to let us know!