Guy sends back cheating ex-girlfriend's apology letter GRADED
Petty or brilliant? You decide.
No matter what you might think, this man definitely took it next level when deciding to 'mark' his ex-girlfriend's apology letter to him.
Truth be told, when a relationship ends due to one of the partners' unfaithful behavior, there is not much room for positivity and civility to be expected between the two parties. However, more often than not the 'cheater' tends to reach out in some way, shape or form in order to seek forgiveness.
In the situation of Nick Luntz, one could very clearly distinguish the pattern of an alleged cheating ex-partner trying to come back into one's life.
Whether it is by a long text, tweet, message, or in this instance a handwritten letter, there is always this try to reach out and 'amend differences'. However, somehow these exchanges seem to very often find their way to the Internet for people to witness.
Therefore, without further ado, here is what college student Nick Luntz had to say in regards to his ex-girlfriend's apology.
When your ex writes you an apology letter so you grade it to send it back pic.twitter.com/MczdjcCiil

— Nick Lutz (@NickLutz12) February 17, 2017
Nick took it upon himself to take a red pen and 'correct' all the areas he thought were lacking substance correct grammar, or just had bad formatting.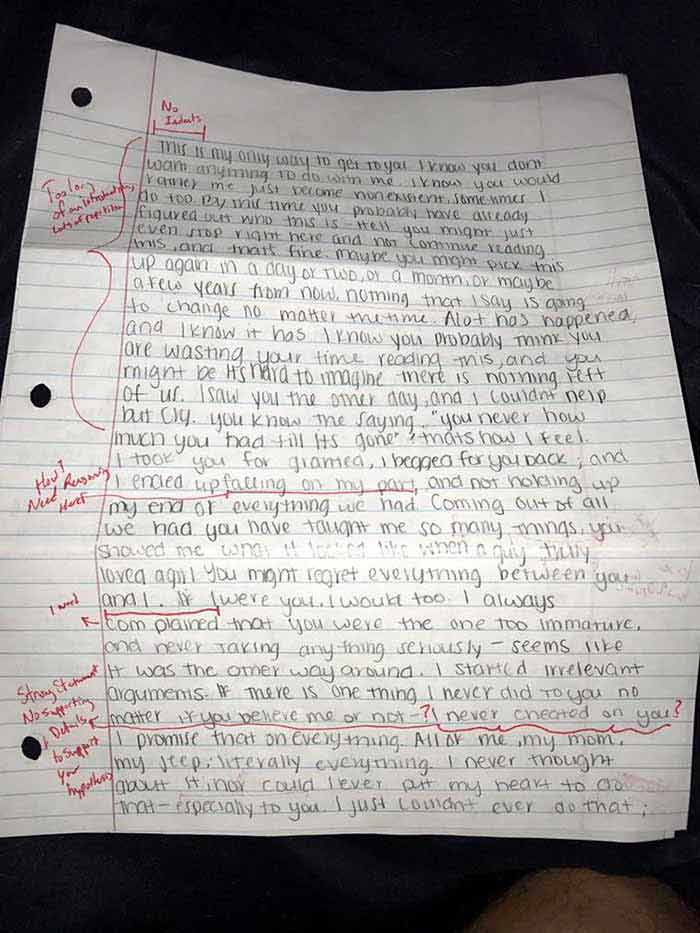 He clearly also didn't take a liking of her lack of 'supporting evidence' to her strong claims of 'never cheating'.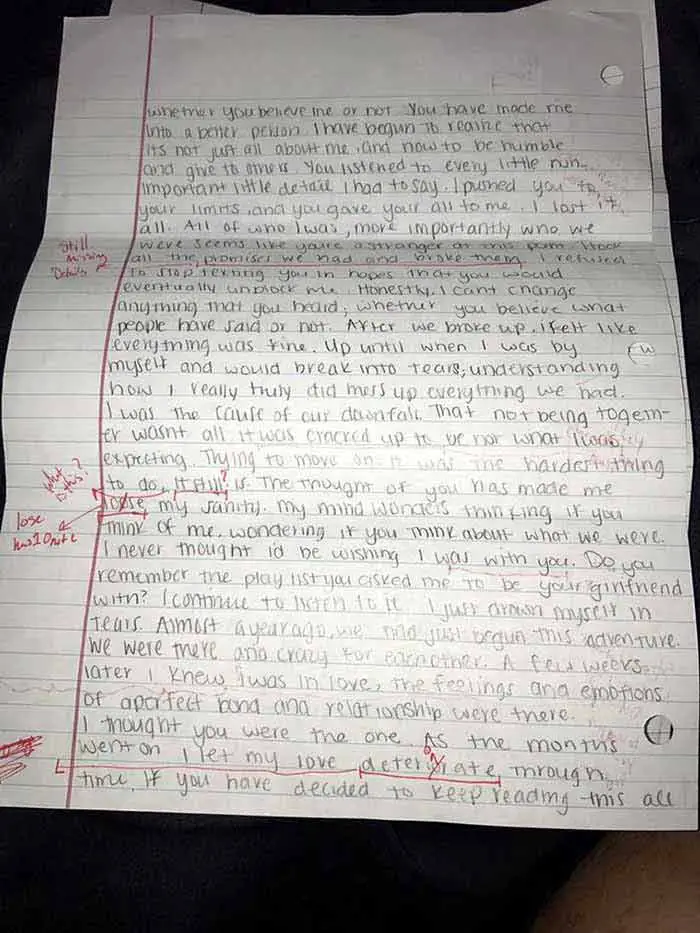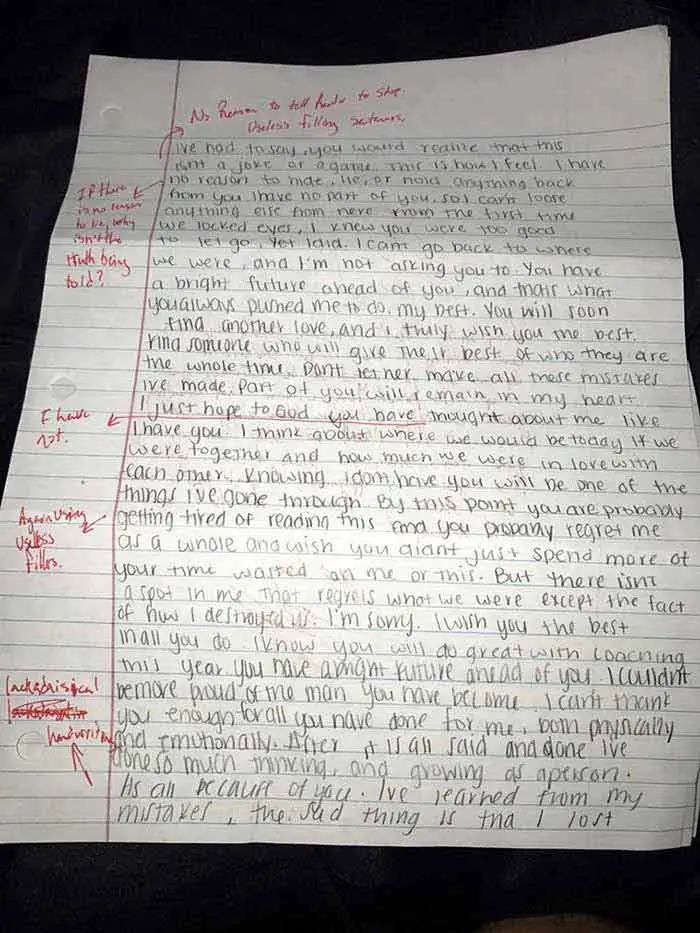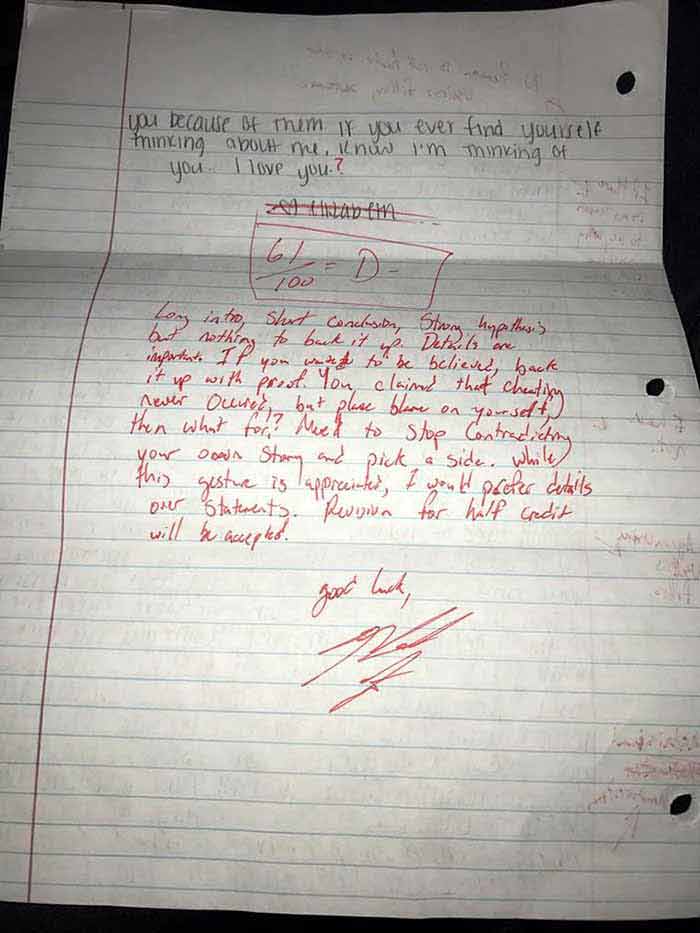 Lastly, he added his final grade and conclusion to her 'work' which read the following:
Long intro, short conclusion. Strong hypothesis but nothing to back it up. Details are important. If you want to be believed, back it up with proof. You claimed that cheating never occurred, but place blame on yourself – what for? Need to stop contradicting your own story and pick a side. While this gesture is appreciated, I would prefer details over statements. Revision for half credit will be accepted, Good luck.
He proceeded to post it on Twitter and it did not take long for it to become unexpectedly viral, garnering a big response from people on the Internet who shared similar past experiences with cheating partners.
Some of the reactions included:

And even an invitation to a date…

If you enjoyed this article do not forget to share it and leave your comments in the comment section!