Giant teddy bears socially distance customers at a Paris cafe
Even as the COVID-19 quarantine has been lifted in quite a few locations, some restrictions are still mandatory. Social distancing is definitely one of them.
However, this happens to be a serious issue for restaurants, bars, cafes, and other places trying to get back up on their feet by attracting as many customers as it's legally possible.
That's why many owners are implying different strategies to make sure their venues are safe for visitors.
Most commonly, they are spacing their tables out to the prescribed 1.5-meter distance. Meanwhile, others are using more creative ways to keep their customers apart.
For instance, this cafe in Paris is using giant fluffy teddy bears as a way to implement social distancing into their business.
Enforced social distancing by bears at a Paris cafe yesterday. pic.twitter.com/Bobjq1jJvp

— Lorenzo The Cat (@LorenzoTheCat) June 26, 2020
Not only they are keeping their customers safe, but they are also providing a cozy environment where people won't feel too awkward while staying six feet away from each other. Plus, the teddies can keep company to the ones without someone to share their morning coffee with.
This little Paris cafe isn't the only place where they have been taking care of their customers in such a curious way, as LADbible reveals. In fact, turning such a serious measurement into a way to attract people to your place is becoming a whole new trend amongst business owners.
Crossing two pool noodles and lots of creativity, Cafe & Konditorei Rothe in Schwerin was one of the pioneers in imposing innovative ways to practice social distancing while enjoying a cup of coffee and a lovely meal.
While some people have expressed their concerns about the idea of reusing the noodle hats, this still remains a unique way to follow the rules.
What's more, as schoolchildren in China have returned to their classrooms, they have been wearing not only protective face masks but also handmade social distancing hats of their own. The special headwear reminds the kids that they must stay at a safe distance from one another.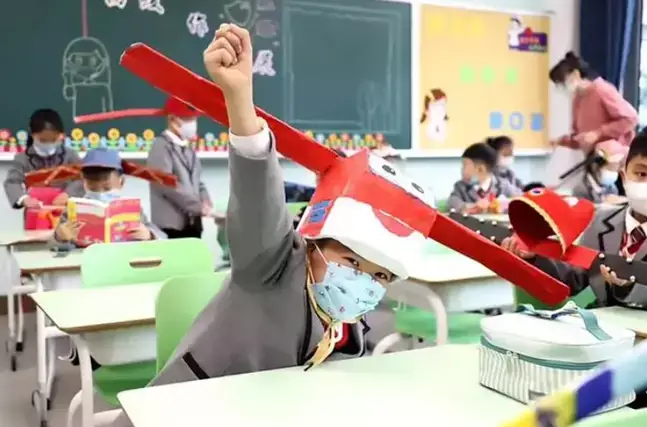 On April 26, at Yangzheng School in Hangzhou, capital of Zhejiang Province in East China, four first-year pupil classes were permitted to return to class. Their lessons resumed a day later. Footage from inside the classroom shows the children wearing not only masks but also adorable hats that keep them alert to maintaining social distancing at school.