From a child of slaves to the first female self-made millionaire: Madam C.J. Walker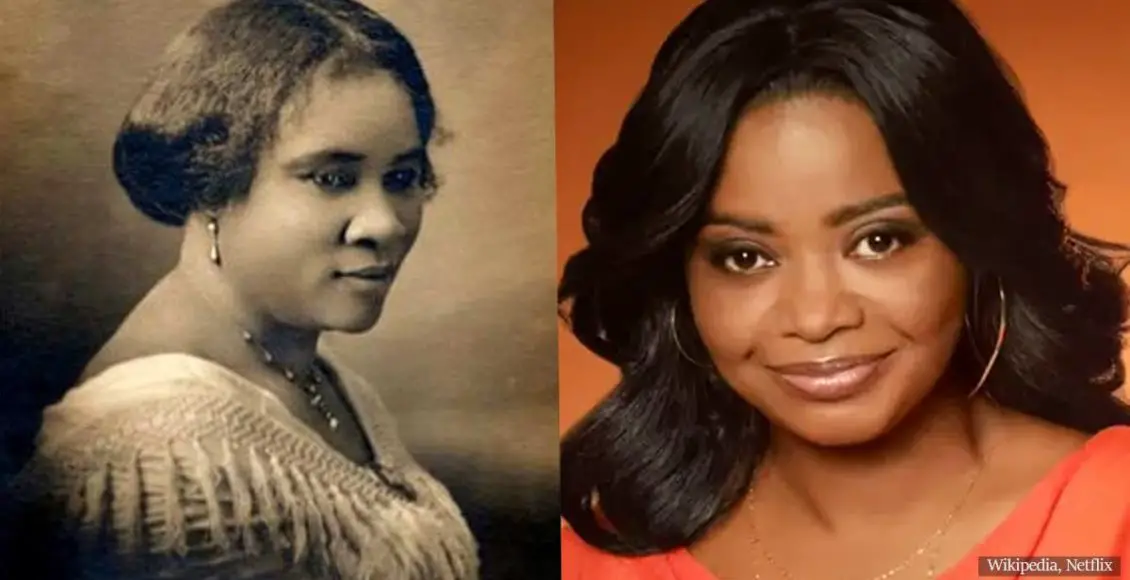 Meet the entrepreneur, philanthropist, and activist, Madam C.J. Walker.
She was America's first-ever self-made, empire-building millionairess.
From living in unimaginable poverty, Walker became one of the wealthiest African American women of her time. But her path to success was filled with extreme challenges and severe hardships.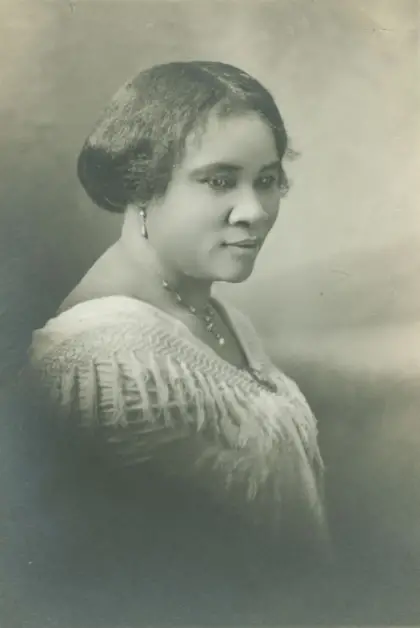 Madam C.J. Walker was born as Sarah Breedlove on December 23, 1867, near a cotton plantation in Delta, Louisiana, Women In History reports. She was one of six children of Owen and Minerva Anderson Breedlove, former slaves-turned sharecroppers after the Civil War. Her birth was remarkable, as she was the first free-born child in the family. Tragically, she became an orphan at the age of only 7.
Then, seven years later, Sarah married her first husband, Moses McWilliams, in a bid to escape her brother-in-law's cruel mistreatment. Unfortunately, in 1887, her husband died, making her a single mother of their two-year-old daughter Lelia.
Being unable to make ends meet on her own, two years later, Sarah moved to St. Louis, Missouri, where her four brothers were working as barbers. There, she found work as a cook and a washerwoman earning only $1.50 a day, Biography reveals. Her salary was just enough to send her daughter to public school.
In St. Louis, Walker joined the African Methodist Episcopal Church, where she met leading black men and women. Their education and success were an uplifting factor for her further in life. She also met her second husband, John Davis, but their marriage was troubled, and the couple divorced shortly after.
Poverty was still a major issue in her life. Exhaustion and the unhygienic conditions she lived in took their toll on her health.
Within a few years, she developed a scalp disorder that caused her to lose much of her hair. But her access to cleansing agents, as she was still a washerwoman, helped her find a cure for her hair loss.
Sarah began to experiment with both home remedies and store-bought hair care treatments in an attempt to improve her condition. After she found the perfect mixture, her hair begun to grow back. Her revolutionary discovery helped her scalp heal while paving her way to immense success.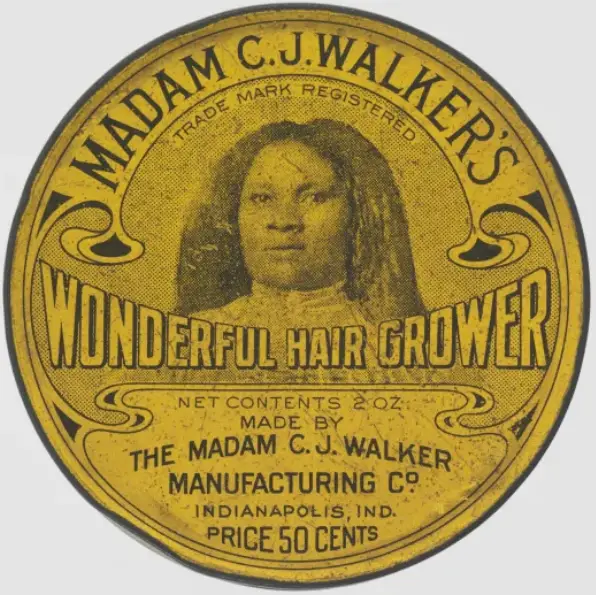 Sarah became her own living advertisement. When other women noticed the incredible results on her hair, they eagerly wanted to know what magical mixture she was using.
Her third husband, Charles J. Walker, whose name she took, was working in the advertising business. With the help of her skillful husband and the small amount of money she had, Walker started bottling and selling her lotion. Her target was urban African American women who cared a lot about their looks and wished to have healthy, long, shiny hair.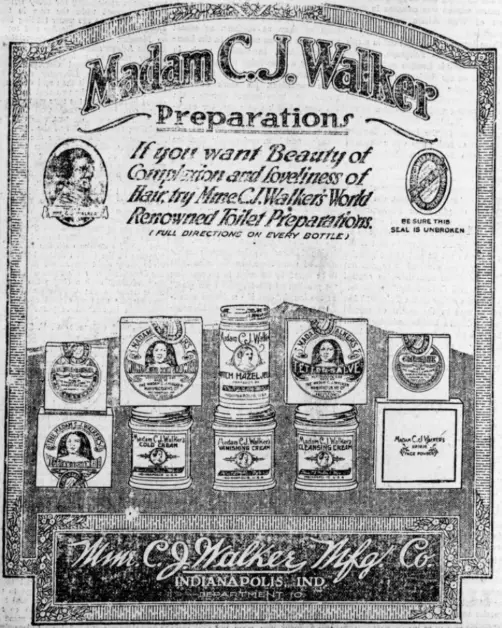 Women believed Walker's product will grow their hair, while it actually healed their scalps and improved their hair condition.
By 1910, as Walker transferred her business operations to Indianapolis, the Madam C.J. Walker Manufacturing Company had become wildly successful.
The profits she made were the modern-day equivalent of several million dollars. She and her daughter Lelia could finally afford luxuries they had never even dreamed of.
From a child of slaves, living at the bottom of society, Madam C.J. Walker became the first African American female self-made millionaire.
Her company not only manufactured cosmetics but also trained sales beauticians called 'Walker Agents'. The empire-building woman became well-known throughout the black communities of the United States.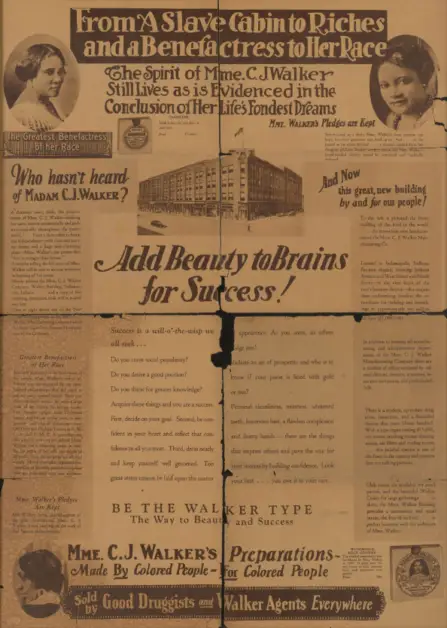 Madam C.J. Walker transformed herself into a millionaire who empowered other women. She used her tremendous influence as a philanthropist and a political activist amongst the African American society. 
After she and Charles divorced in 1913, Walker traveled throughout Latin America and the Caribbean, promoting her business. While doing so, she also began recruiting others to teach her innovative hair care methods.
Meanwhile, her daughter, now-known as A'Lelia, helped facilitate the purchase of property in Harlem, New York. She knew that the area would be an important base for future business operations. And when in 1916 her mother returned from her travels, she would continue to operate her business from the very same Harlem property.
There, she also founded philanthropies that included educational scholarships and donations to homes for the elderly. She even had an influence over the NAACP, and the National Conference on Lynching, among other organizations, focused on improving the quality of African Americans' lives.
Two years later, in 1918, Walker built an Italianate mansion she called Villa Lewaro. The villa became a gathering place for many luminaries of the Harlem Renaissance – a golden age in African American culture. In fact, Villa Lewaro was designated a National Historic Landmark in 1976.
Madame C.J. Walker died in 1919, at the age of only 51, leaving a fortune of over $1 million, as revealed by Smithsonian Magazine.
Before her death, she began working on an arts center called the 'Walker Building' in Indianapolis. It was officially opened in 1927. For decades, the building was an important African American cultural center. Currently, it is an official National Historic Landmark.
In 1998, Madam C.J. Walker's face was on a United States Postal Service's stamp as part of its 'Black Heritage' series.
Earlier this year, Netflix released mini-series on Madam C.J. Walker's life, called "Self-Made".