Former garbage collector is accepted into Harvard Law School
This student used to collect garbage to pay for college, and now he's accepted into Harvard!
Harvard Law School is going to welcome Rehan Staton, 24, from Bowie, Maryland, this fall, Daily Mail reveals.
Staton was on the verge of giving up on his dreams, but he overcame his fears and applied to the prestigious university despite the challenges he's been through.
His mother abandoned him when he was only 8-years-old. His father struggled to make ends meet. A major injury halted his hopes of becoming a professional boxer. Still, the 24-year-old managed to find the strength to fight for what he deserves.
Graduating senior Rehan Staton overcame obstacles that might have derailed others, going from trash truck to the commencement stage as #UMD's winter student speaker #UMDgrad https://t.co/eN2miWeYql pic.twitter.com/kyoYdAUzuZ

— Univ. of Maryland (@UofMaryland) December 17, 2018
To help support his father and his older brother, Rehan took a job as a garbage collector at Bates Trucking & Trash Removal sanitation company. At the company, he finally found people that saw his enormous potential. The owner's son, Brent Bates, was amongst the ones who helped Staton get back up on his feet.
In an interview with CNN, Rehan shares:
"It was the first time in my life people were lifting me up for the sake of lifting me up and not because I was good at sports."
Throughout Staten's entire life, he felt like all the people he was supposed to look up to were those who constantly undermined him. However, he believes that working as a garbage collector helped him lift his spirits and find the courage to follow his dreams.
"I had to go to the 'bottom' of the social hierarchy – that's to say formerly incarcerated sanitation workers – in order to be uplifted."
Staton's father often had to work two or even three jobs at a time to put food on the table.
There were times when Rehan was missing meals, as his dad was always at work, not being able to look after him. At times, they didn't even have electricity at home.
All the struggles his family was going through took their toll on his education. By the 7th grade, Staton's grades rapidly worsened. One of his private school teachers suggested he should be placed in special education.
Instead of bringing him down, this hardship encouraged him to turn to sports. It was at this point that Rehan became passionate about athletics, martial arts, and boxing. At the time, his father met an aerospace engineer, who offered to tutor the boy for free, for the rest of the school year. This opportunity seemed like the light at the end of the tunnel.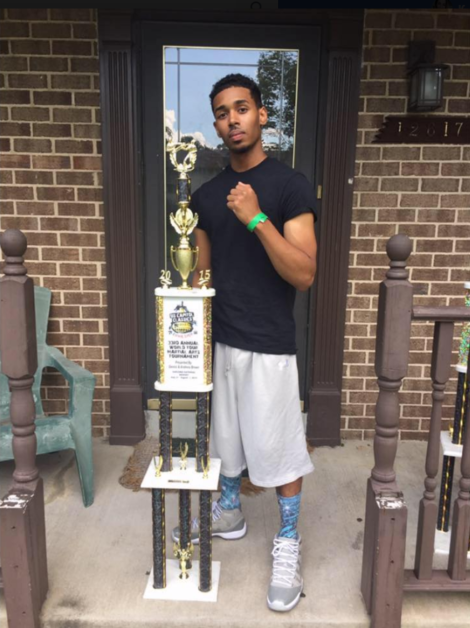 Staton's grades swiftly improved, and he started training for becoming a professional boxer. What's more, he even got on the Honor Roll list, which made the teacher who previously recommended he be placed in special education apologize to his father.
Unfortunately, just when things were starting to line up, Rehan's dreams of becoming a boxer were crushed by a severe injury. 
When he was in the 12th grade, he had a double shoulder injury, which made his goals of becoming a professional athlete nearly impossible. He even shares he was rejected from every college he applied to.
The young boy was forced to get a job, so he could at least help his family keep the roof over their heads. That's when he started working at Bates Trucking & Trash Removal. His job as a garbage collector turned out to offer him more opportunities than he could ever imagine.
"We have become more than our majors, we protest where we find injustice & we learn to value the voices of others. Even the voices we don't agree with." @RehanStaton, student speaker at @UofMaryland commencement #UMDgrad #UMD pic.twitter.com/xamw6hpFqM

— The Education Trust (@EdTrust) December 18, 2018
Even though most of Staton's colleagues were formerly incarcerated, they all encouraged the bright boy to continue with his education. The boss's son introduced him to a professor at Bowie State University, who helped him with the admission. What's more, his brother Reggie, who was a Bowie State sophomore at the time, chose to drop out, so he could support the family and help his little brother follow his dreams.
All the support Staton received led to him thriving at the University of Maryland, where he became president of organizations and earned a 4.0 GPA before graduating in 2018.
After he graduated, Staton went on to work in political consulting with the Robert Bobb Group while studying for the LSAT. Moreover, he earned a place at several law schools including Harvard, Columbia, University of Pennsylvania, the University of Southern California, and Pepperdine.
Looking back to all the challenges and hardships he's been through, Rehan shares he believes he made "the best out of the worst situation". 
"Each tragedy I faced forced me out of my comfort zone, but I was fortunate enough to have a support system to help me thrive in those predicaments."
After high school I got rejected by every college I applied to, so i opted to work in the sanitation field to help my pops out.

A chance to go to college came and My brother chose to drop out so I could go.

Years later… I got accepted to Harvard Law School.

I love you, bro pic.twitter.com/QNSoDHHsnq

— Rehan Staton (@RehanStaton) June 25, 2020
And for all this success, Staton especially credits his job as a garbage collector, where he felt the most supported by the people whom he worked side by side with.
The 24-year-old's success story now inspires many young people to never stop following their dreams. Rehan himself started counseling and tutoring youngsters facing adversity, in a bid to help them use their full potential regardless of the difficulties they're going through.