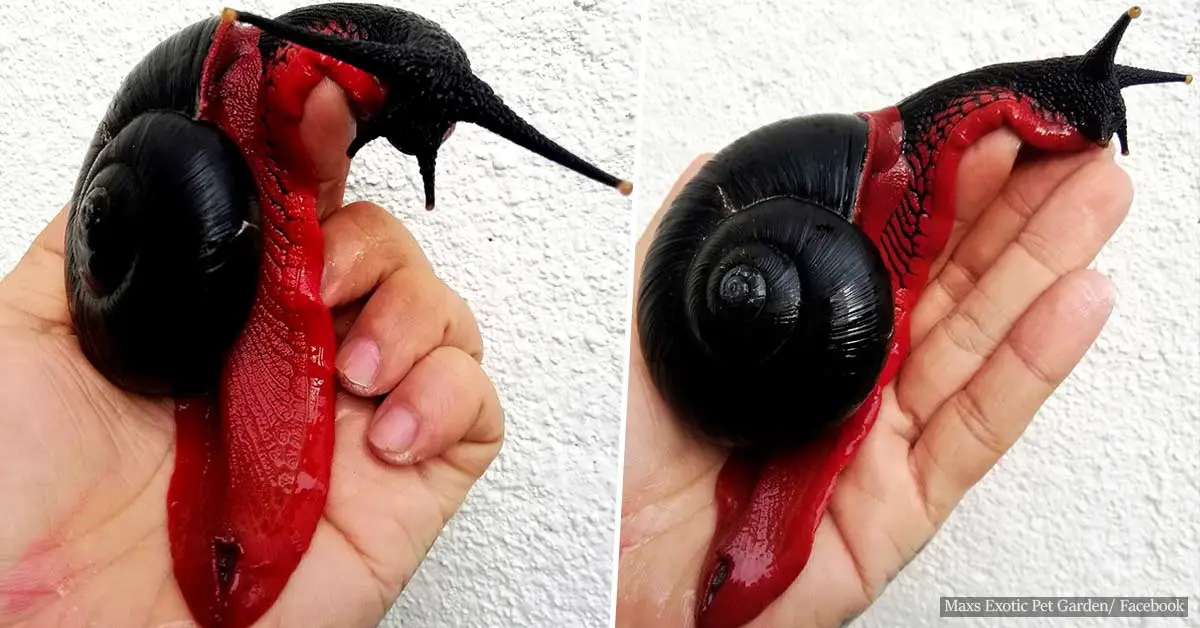 Fire Snails are real and absolutely stunning! Here's why
Nature never fails to amaze us. Have you ever heard of fire snails?
Well, they are real, and they can only be found in Malaysia.
Fire snail 🐌🔥 pic.twitter.com/kKWPulhZEm

— ・✦ 𝔇𝔞𝔶ร𝔦 ☾*:・ (@wildflowerdaysi) March 8, 2020
Here are several awesome facts about probably the coolest-looking snails out there!
1. The only place you can find a fire snail is Malaysia.
In fact, they are the largest endemic snails in the whole country. The species was discovered in 1938, in Telom Valley, Cameron Highlands, SAYS reports. It has also been seen in Temenggor in Perak and Kelantan.
The vampire-looking slug was called with the cool name 'fire snail' due to its bright-red color. Its original name is Platymma tweediei.
2. They love cool, humid weather.
Fire snails live within a 100km radius in Cameron Highlands. The weather there is perfect for these special creatures, whose solid black shell perfectly contrasts their vivid red color. As they are firm admirers of the cool, yet humid climate, Tanah Rata, for instance, is the perfect location for fire snails, compared to places in Europe.
As malacologist Junn Kitt Foon explains in a 2014 research, the rare species lives 1,000 meters above sea level because it can only survive in specific conditions.
gm, ga, ge, here is a pretty fire snail from Malaysia pic.twitter.com/R95WXlTTKj

— still j👁nkerfied, still dipshit (@cortmanteau) March 8, 2020
3. Fire snails have an ordinary diet.
Just like most snails, Platymma tweediei feed on plants, moss, and fungi. Nothing special to see here.
4. Exotic pet keepers see fire snails as highly treasured species.
The fire snail is extremely valued by exotic pet keepers from Germany, Russia, Czech Republic, and Malaysia itself. Some believe the species became popular not only because of its unusual looks but also because of its large size – their shell can grow up to 7cm in diameter.
Platymma tweediei or FIRE SNAIL is arguably the largest snail from the Peninsula of Malaysia 🤯🤯🤯 (H/t @boredpanda ) pic.twitter.com/l8liNAAe11

— Lee Trott (@MC372) May 7, 2020
5. Platymma tweediei are difficult to breed in captivity.
Unfortunately, oftentimes fire snails are unable to survive for long after being taken out of their natural habitat. Therefore, exotic pet collectors need to constantly source new ones.
Sadly, deforestation in Malaysia is another reason why these amazing creatures are on the brink of extinction. Junn Kitt Foon's report states that in 2014, the country lost 23% of its cloud forests to tourist development and commercial logging, including those in Cameron Highlands, where fire snails live.
Wouldn't it be awesome if you found a fire snail while on a trip to Malaysia? Well, if this ever happens to you, please admire it from a safe distance, and let it live in its natural habitat.