Dr. Dre's homeless daughter launches $50,000 GoFundMe campaign to help her 'find a safe home'
Dr. Dre's daughter, who recently revealed she is homeless, launched a fundraiser to help her find a home for her and her children. 
Earlier this month, LaTanya Young, 38, the eldest daughter of rapper Dr. Dre, revealed she is homeless, as she receives no help from her father. Now, she says she has no choice but to appeal to strangers for money.
Young has launched a GoFundMe page, hoping to raise $50,000. The cash would help her "find a safe and stable home" for her and her four kids.
Speaking to Daily Mail, the 38-year-old delivery driver, who claimed she lives inside a rental car, said:
"I think GoFundMe campaigns are for people in desperate situations and I'm in a desperate situation. Some people were in awe of what I am going through and asked if I had a GoFundMe. 

I really don't want to accept any handouts but I appreciate anything that is offered. I have worked all my life and I know how to work for money but I'm in a difficult place right now.

I believe in investing in your kids. That's what I want to do for my kids so they are never in a position like I am right now."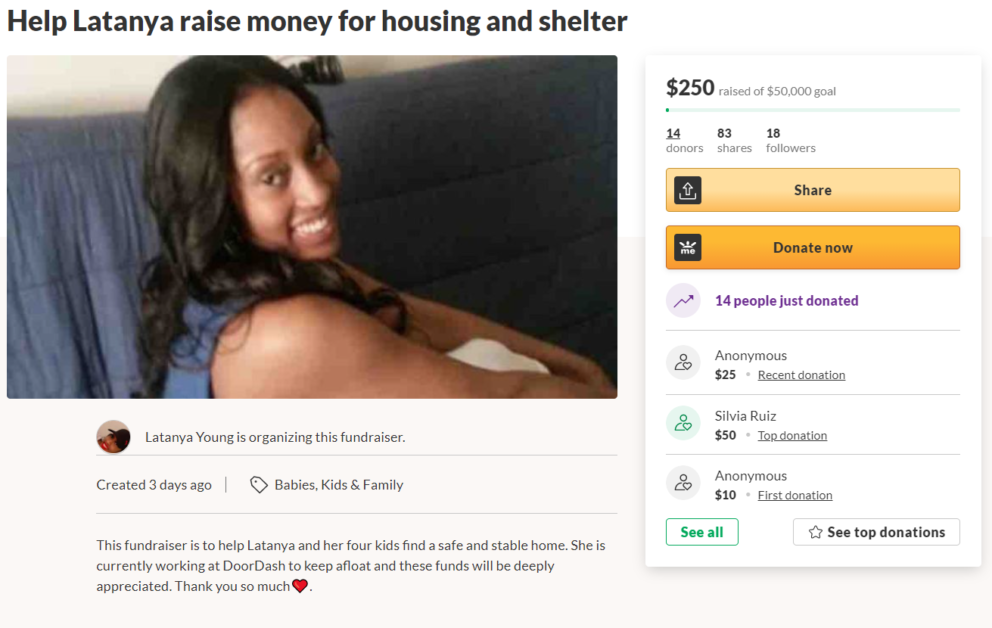 Although she hasn't seen Dr. Dre in years, LaTanya believes there is still hope they could revive their father-daughter relationship. 
Young, daughter of Andre Romelle Young(Dr. Dre) and Lisa Johnson, claims she hasn't seen her father in 18 years. She also notes that she doesn't even have his phone number, and she has to communicate with him through his team.
Nevertheless, LaTanya is still hopeful they could find a way back to one another. She commented:
"I know my dad is a busy man but I hope he will see it and reach back out to me on a father-daughter level."
The mom-of-four opened up about her financial issues last week, saying:
"I'm trying to keep my head above water. I've been in debt for a while. I'm homeless and I've been reaching out to my dad for help. I'm just trying to communicate with him and see if he wants to talk to his grandkids.

My kids are old enough to know who he is. They are in shock that he doesn't want anything to do with them."