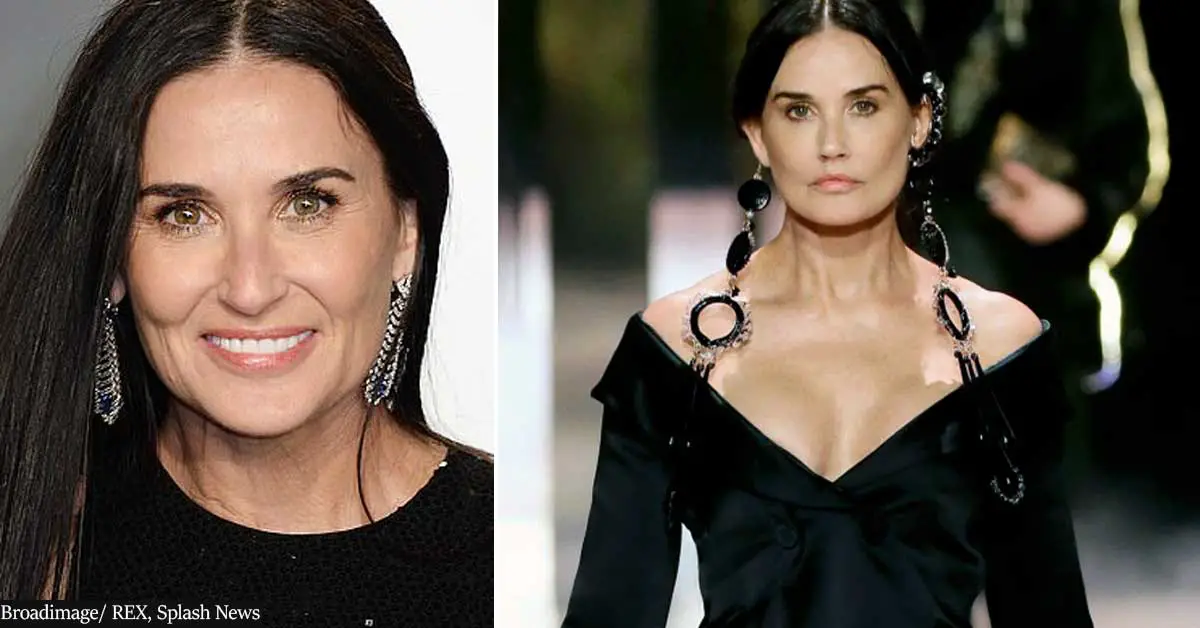 Demi Moore's appearance on the Fendi runway sparks plastic surgery rumors
Demi Moore's dramatic new look has sparked questions and plastic surgery rumors.
The 58-year-old star modeled in Fendi's Spring-Summer 2021 show at Haute Couture Fashion Week in Paris.
Moore looked unrecognizable on the runway as she showed off exaggerated cheekbones and a plump pout.
While some believe that her transformation is the result of plastic surgery, others believe that Moore's makeup artist is responsible for her new look.
Demi Moore showed off a new dramatic look on the Fendi runway at Haute Couture Fashion Week.
The 58-year-old star and model was almost unrecognizable on Kim Jones' Fendi Spring Summer 2021 runway. Besides her plunging black satin blouse and statement earrings, Moore showed off enhanced, exaggerated cheekbones and a plump pout. Minutes after her appearance on the runway, social media users began to comment on her dramatic transformation. Some wondered whether Moore's new look was the result of cosmetic surgery while others blamed her makeup artist for the "terrible" makeup.
Twitter users were quick to share their disbelief and confusion online.
Others were certain that her transformation was the result of plastic surgery.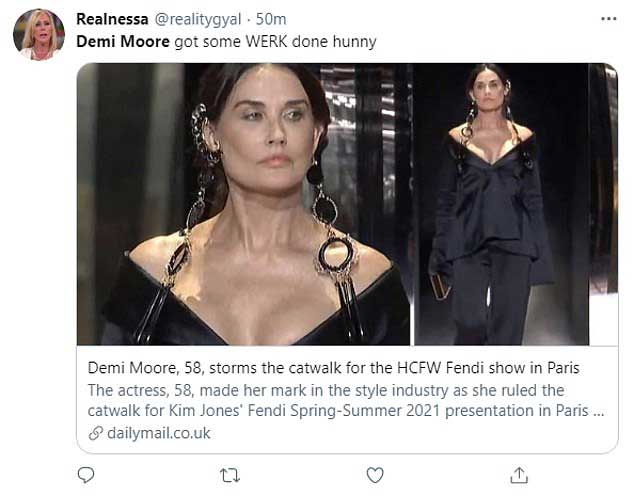 While Demi Moore has been accused of having plastic surgery in the past, the star claimed that she has never had any work done.
For decades, Demi Moore's looks have been regarded as age-defying. Nevertheless, almost 20 years ago, the star was accused of spending nearly $250,000 on plastic surgery, the Daily Mail reported. Taking this further, it was believed that she had transformed her face and body for her appearance in the 2003 film, Charlie's Angels: Full Throttle. At the time, Moore commented on these rumors and insisted that she had never had any cosmetic surgery done. The Daily Mail further reported that at the time, the star had shared: "I don't like the idea of having an operation to hold up the aging process – it's a way to combat your neurosis." In addition to this, in a 2019 interview with the Daily Mirror, she commented on the aging process, saying that sometimes she looks at the mirror and does not recognize her own reflection. 
It remains unclear whether the star's new look is the result of cosmetic surgery or the work of a makeup artist.