Deaf mother designs special face masks with see-through window for lip-reading
Another compassionate act of goodness amid the coronavirus pandemic: A deaf mother designs face masks with a plastic window over the mouth, allowing others like her to practice lip-reading.
The thoughtful designer Justine Bane is now receiving hundreds of orders from care homes for her unique face masks.
I've made this Visible Mask for the deaf, lipreaders and or those whose work for / with the deaf or those love to smile!…

Posted by Justine DB on Friday, May 22, 2020
At first, the 42-year-old mother created the masks for herself and her 10-year-old daughter, Teona, to help them communicate, as they are both deaf.  Justine was concerned that if her little girl was not able to lip-read while at school, she wouldn't be able to socialize with her friends.
Teona's father and carer, Carl Bate, also wears one of the crafty face masks which his wife makes on her sewing machine at home. Ever since the Manchester family shared Justine's considerate invention on social media, they have been inundated with orders from care homes. What's more, other deaf people in their community have also ordered many of the special face masks.
On Saturday, they had already sold more than 40 masks for £5.99($7.42) each.
According to Mail Online, Mr. Bate said:
"We can't make them quickly enough for what people need. From the messages we are getting a lot of people from care homes – people who have got dementia and children who have got certain types of autism where they are actually scared of people with this full face mask on."
The 50-year-old carer also shares that the see-through window helps children with autism or other mental disorders not to get scared. Mr. Bate continues:
"A lot of messages are from people with carers that work with care homes that want these masks where they can actually see the lips so it is not scary. They look a bit different but it is the interests of the patient that is important. You can look stupid but as long as your patient is feeling calm it is a benefit for that person."
Justine's husband adds that the family's cause was never about making money. It was created to help their daughter by making her life easier.
The face masks designer has been deaf since birth. She understands how difficult sign language can be, as she started learning it at the age of 16. Hence, her masks with a transparent window over the mouth will help many deaf children who need lip-reading to communicate with their friends.
Although Justine and Carl admit the reaction to the see-through face masks has been 'overwhelming', they are glad that it has helped to bring the deaf community together.
Been up since 6am making this masks – myself and my daughter are deaf, we rely heavily on lip reading, this Visible…

Posted by Justine DB on Monday, May 25, 2020
Mr. Bate shares that his wife has been completely honest with the customers that her face masks were not 'PPE quality as there is no filter'. However, people from care homes didn't mind that, as they prioritized the ability to communicate with disabled people more easily. Carl adds:
"The deaf community can be quite a hard place to socialize. It does bring a lot of deaf people together. The amount of people who have come up to her and asked for these masks is quite overwhelming. She's loving the fact that she's helping others make a better quality of life in this situation."
Even though making face masks for the hundreds of orders she receives can be quite challenging, what matters the most for Justine is that she is contributing to the deaf community's unity.
As Mr. Bate claims, his wife has 'always been someone who can put her hands to something'.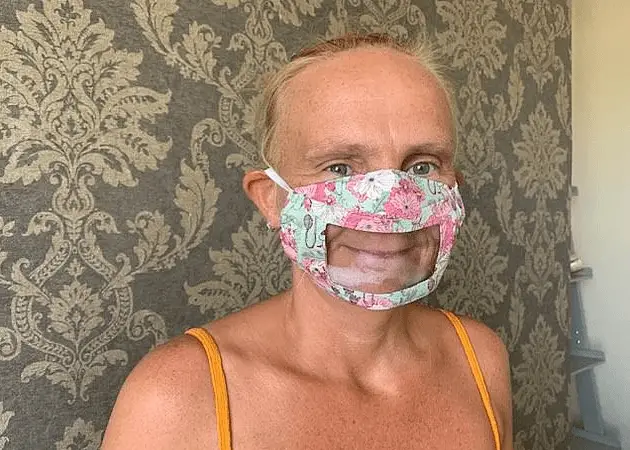 After many attempts to make the face masks effective without being too thick, the family has found the 'perfect' method. Justine's husband explains:
"The plastic is stitched into the fabric and it needed to be something that's not going to be too thick that it's not going to blur the lips when lip-reading with condensation. Somebody mentioned that if you rub household soap on it then rub it off with a dry cloth it doesn't condensate. A few people have messaged asking if we are going to put a filter in but that's impossible with the clear plastic – you are defeating the object of the plastic."
The family is still working on getting into a rhythm to meet their customers' needs.
So after a long day Justine on her own today making masks. My job was to find a another sewing machine and do a…

Posted by Carl Bate on Sunday, May 31, 2020
Mr. Bate shares that at first, it wasn't easy for him and his wife before coming into terms with one another.
"It wasn't easy. I had my ways of doing it and she's got her way – but her way was the best way."
After nearly four days of different attempts, they chose'three or four different designs put into one'. Currently, the masks are designed only for adults with an option for adjustment.